CELEBRATE
You'll find amazing promotional giveaways and deals, special anniversary items at concession stands and elsewhere at the ballpark, events in the community, and much more during this special season.
STORIES
Enjoy tales and recollections from players, friends, and fans who've been a part of the past 50 years.
On this day
IN RANGERS HISTORY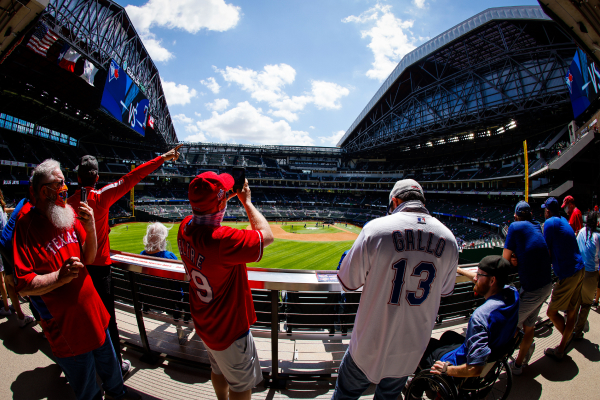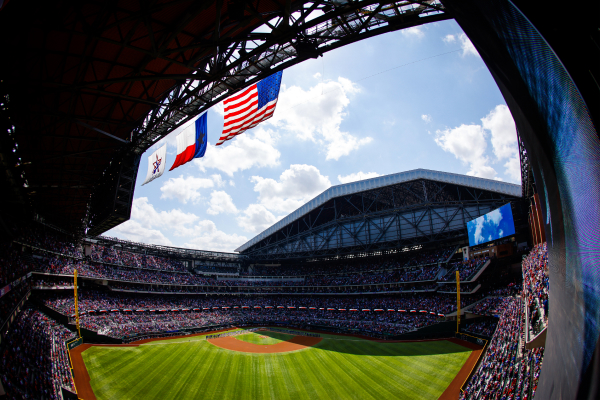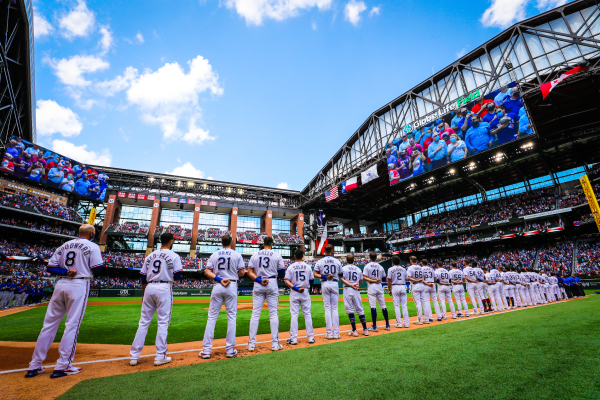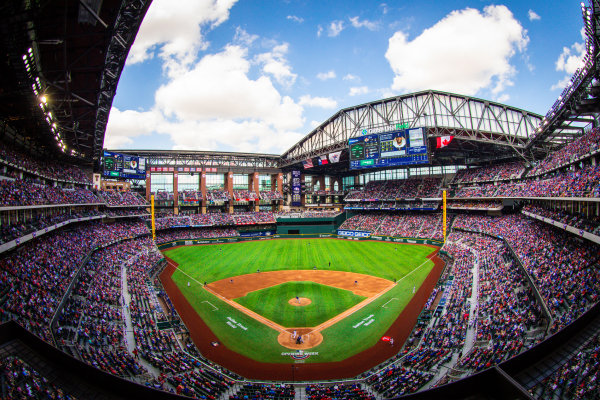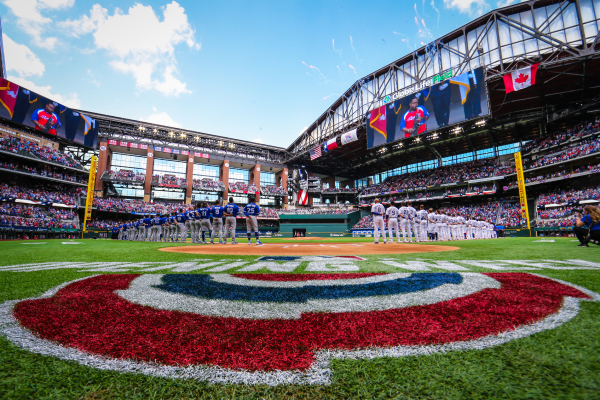 First game with fans at Globe Life Field
April 5, 2021
After a fan-less 2020 season due to COVID-19, Globe Life Field finally opened its doors to fans in front of a capacity crowd of 38,283.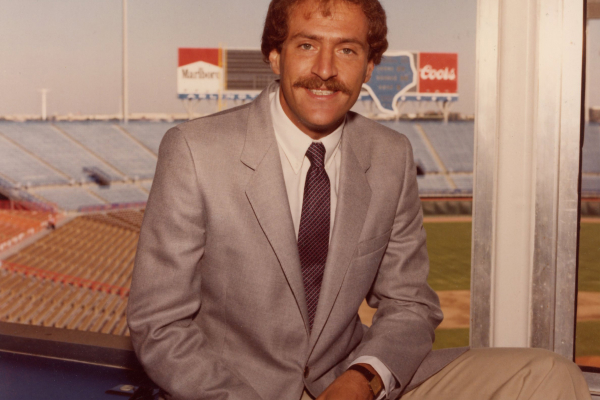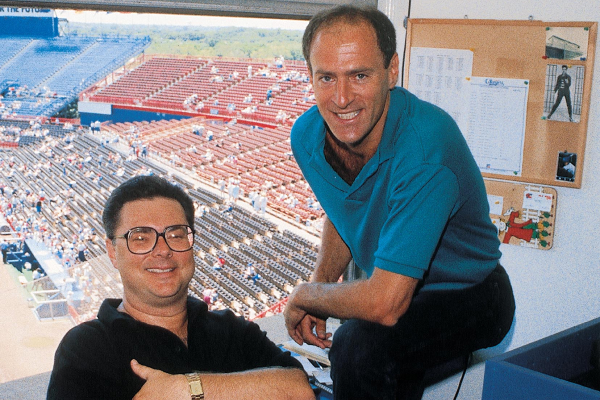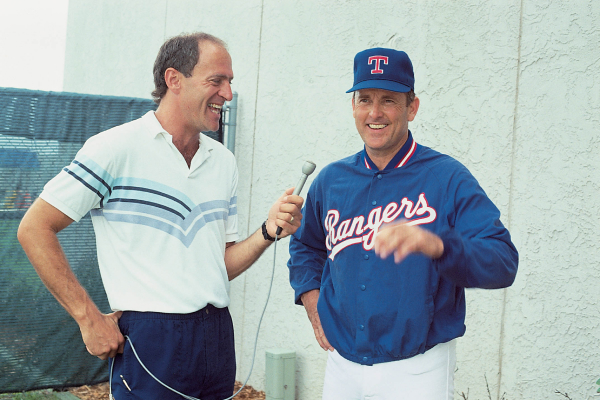 Eric Nadel makes Rangers broadcast debut
April 7, 1979
A 27-year-old Eric Nadel from Brooklyn calls his first regular season game as a Rangers broadcaster. Nadel would go on to win the 2014 Ford Frick Award and be inducted into the National Baseball Hall of Fame.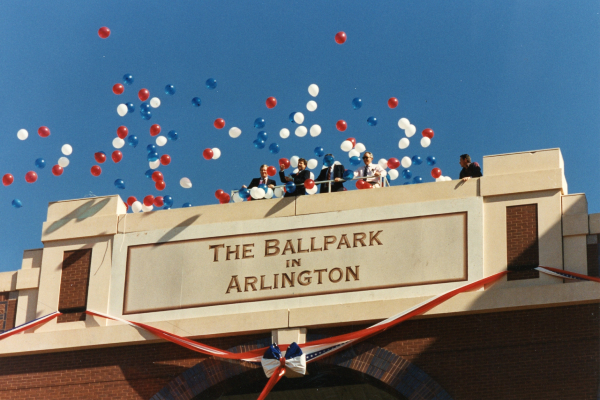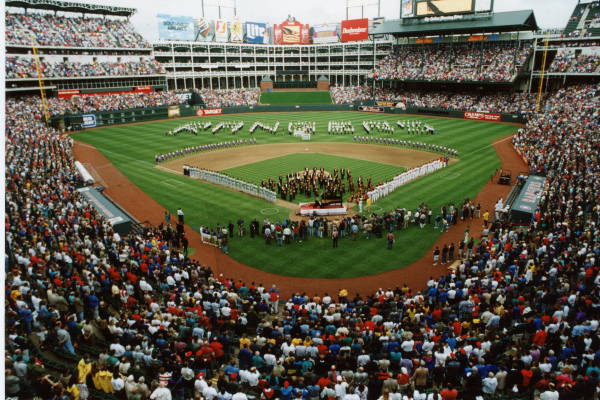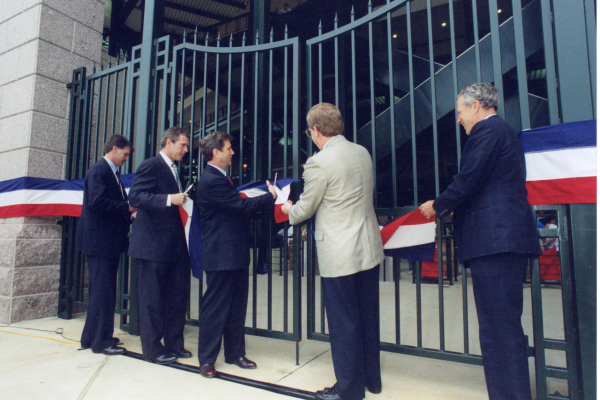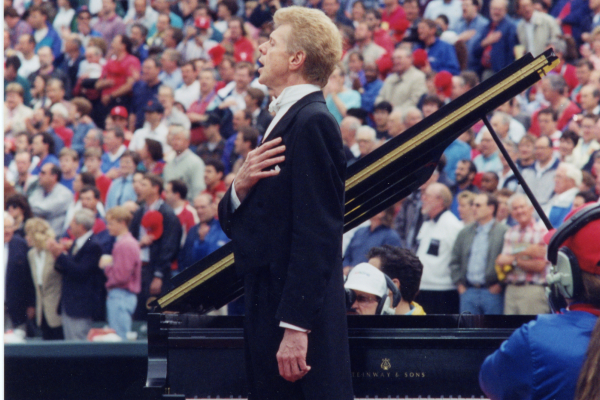 First game at the Ballpark in Arlington
April 11, 1994
Over 46,000 fans flock to the Ballpark in Arlington for the Rangers' first regular season game in their new ballpark with Van Cliburn singing the national anthem.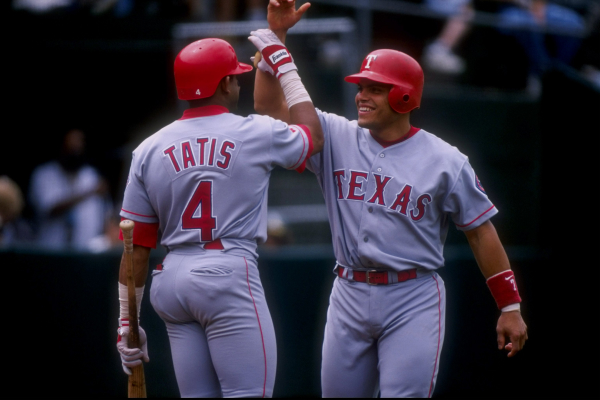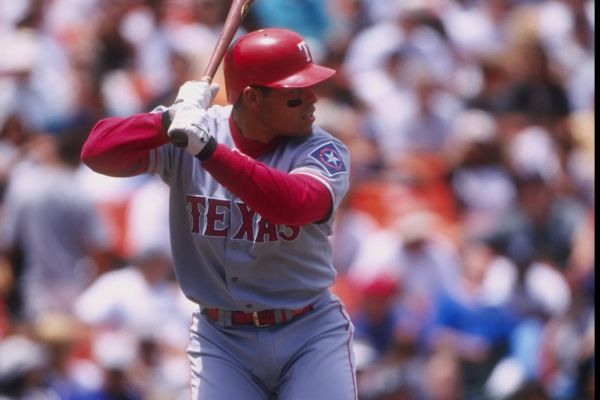 Pudge Rodriguez Franchise Record 9-RBI Game
April 13, 1999
Pudge Rodriguez sets a franchise record for RBI in a game (9). Pudge finished 4-5 with 2 doubles, a three-run home run, and a grand slam in a 15-6 victory at Seattle.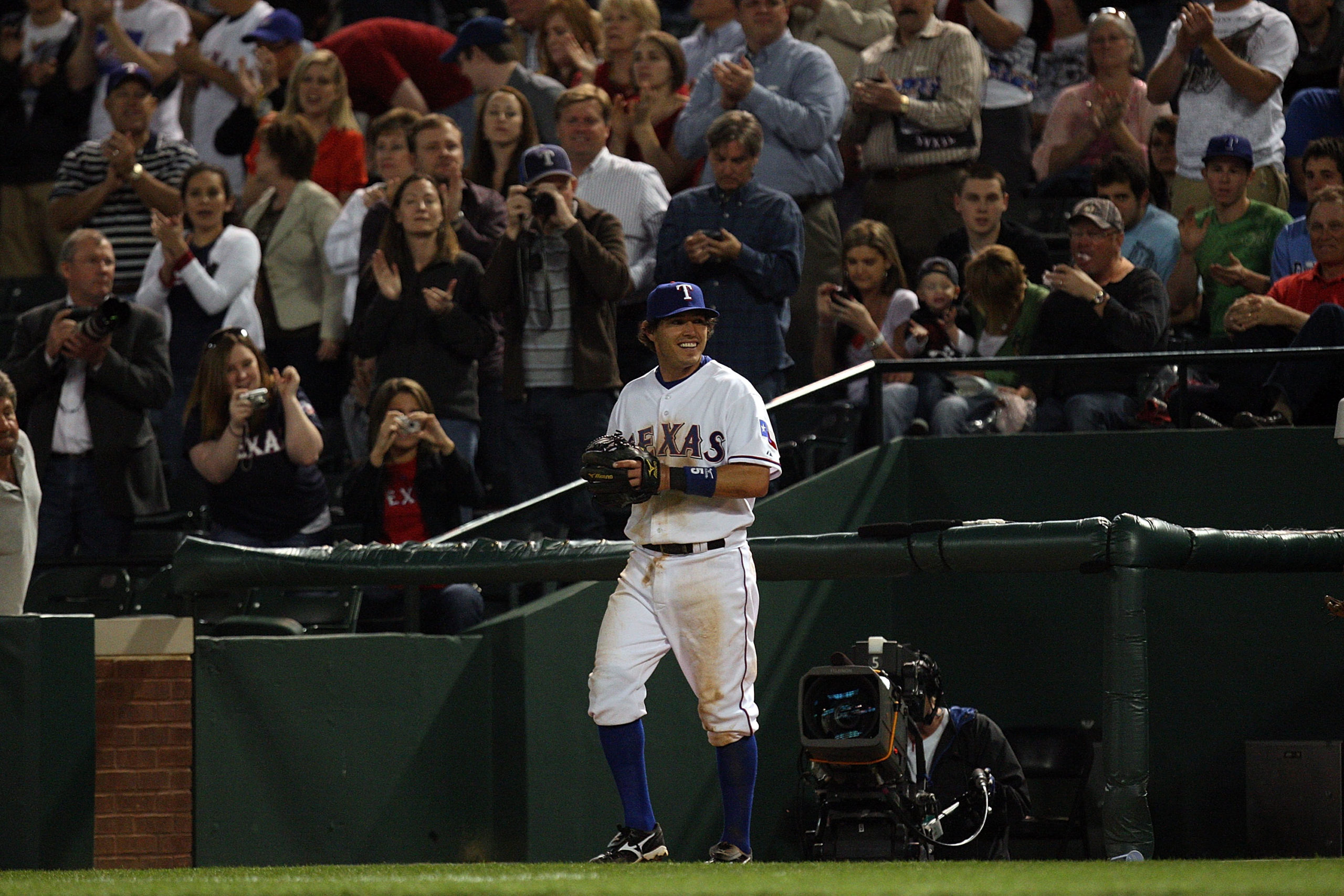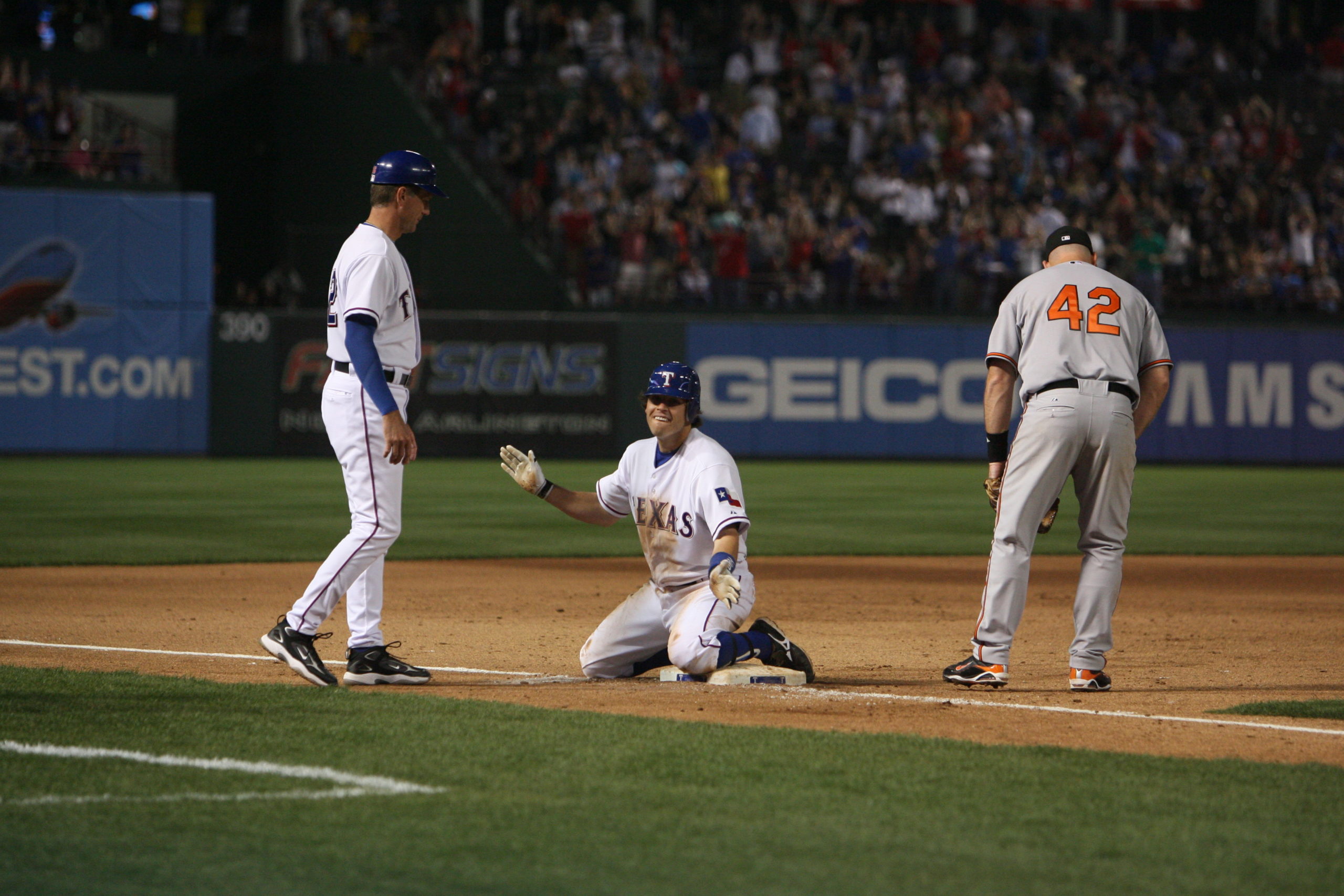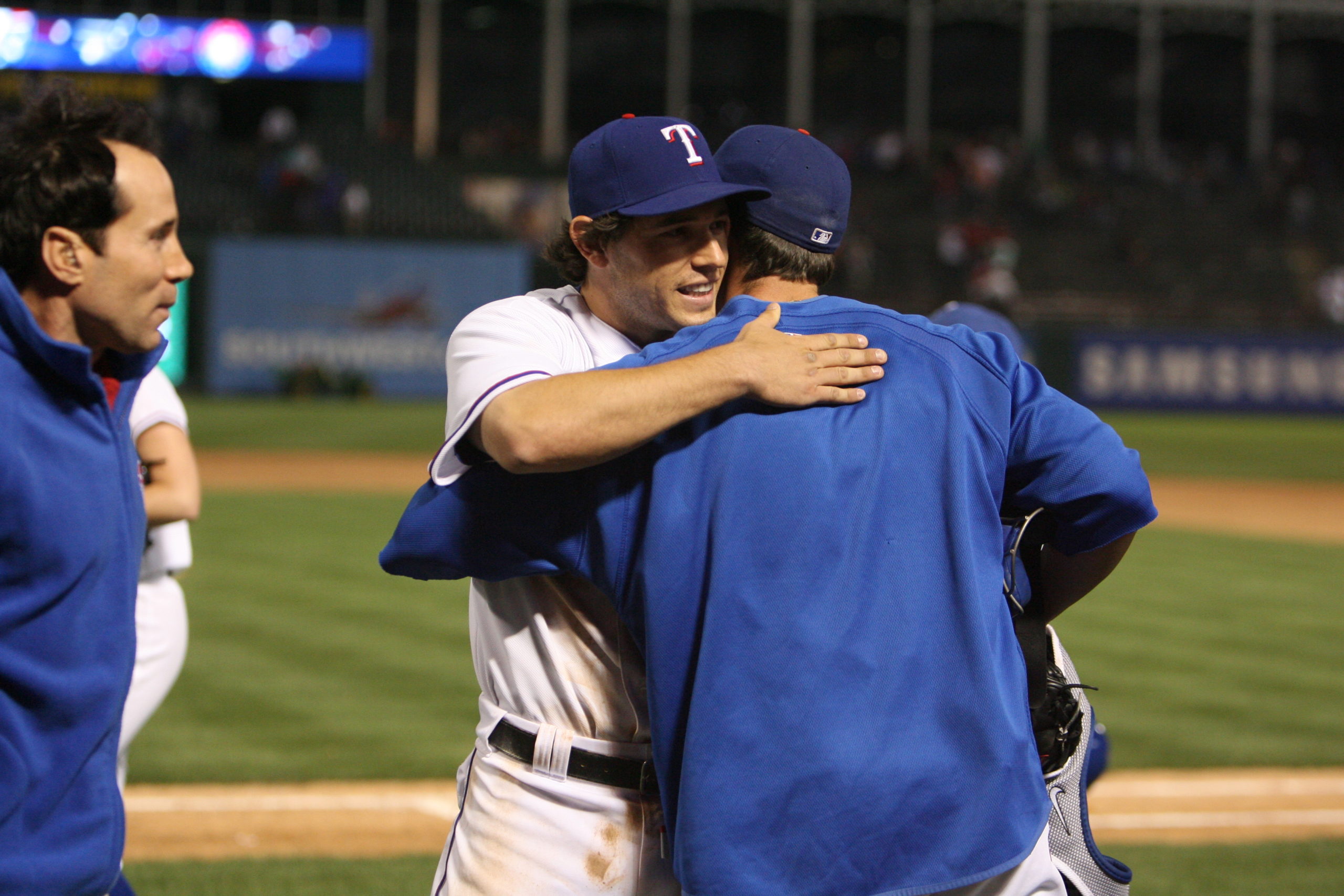 Ian Kinsler Hits for the Cycle
April 15, 2009
Ian Kinsler becomes the 4th Ranger in club history to hit for the cycle. Kinsler went on to record 6 hits in the game and the Rangers defeated the Orioles, 19-6.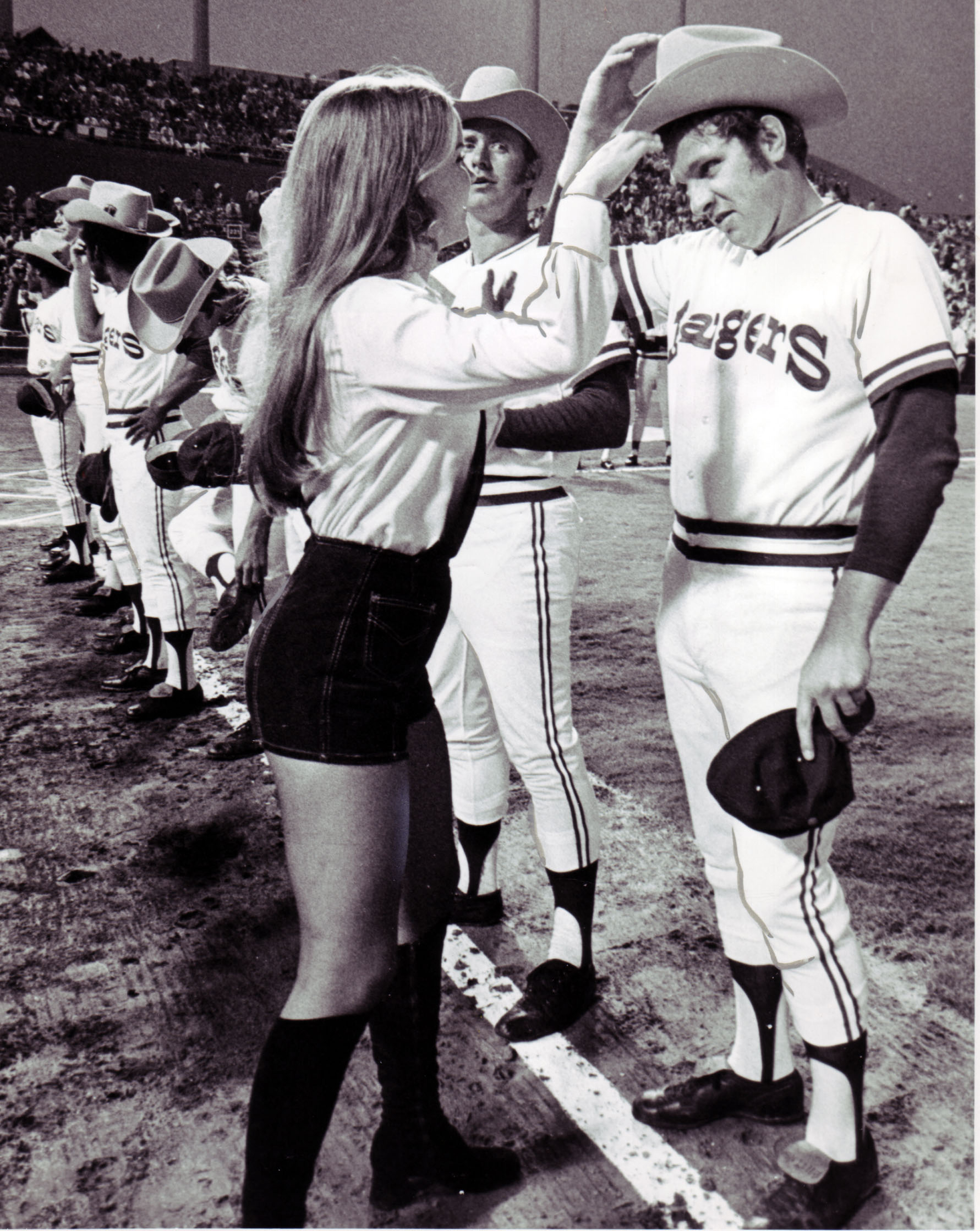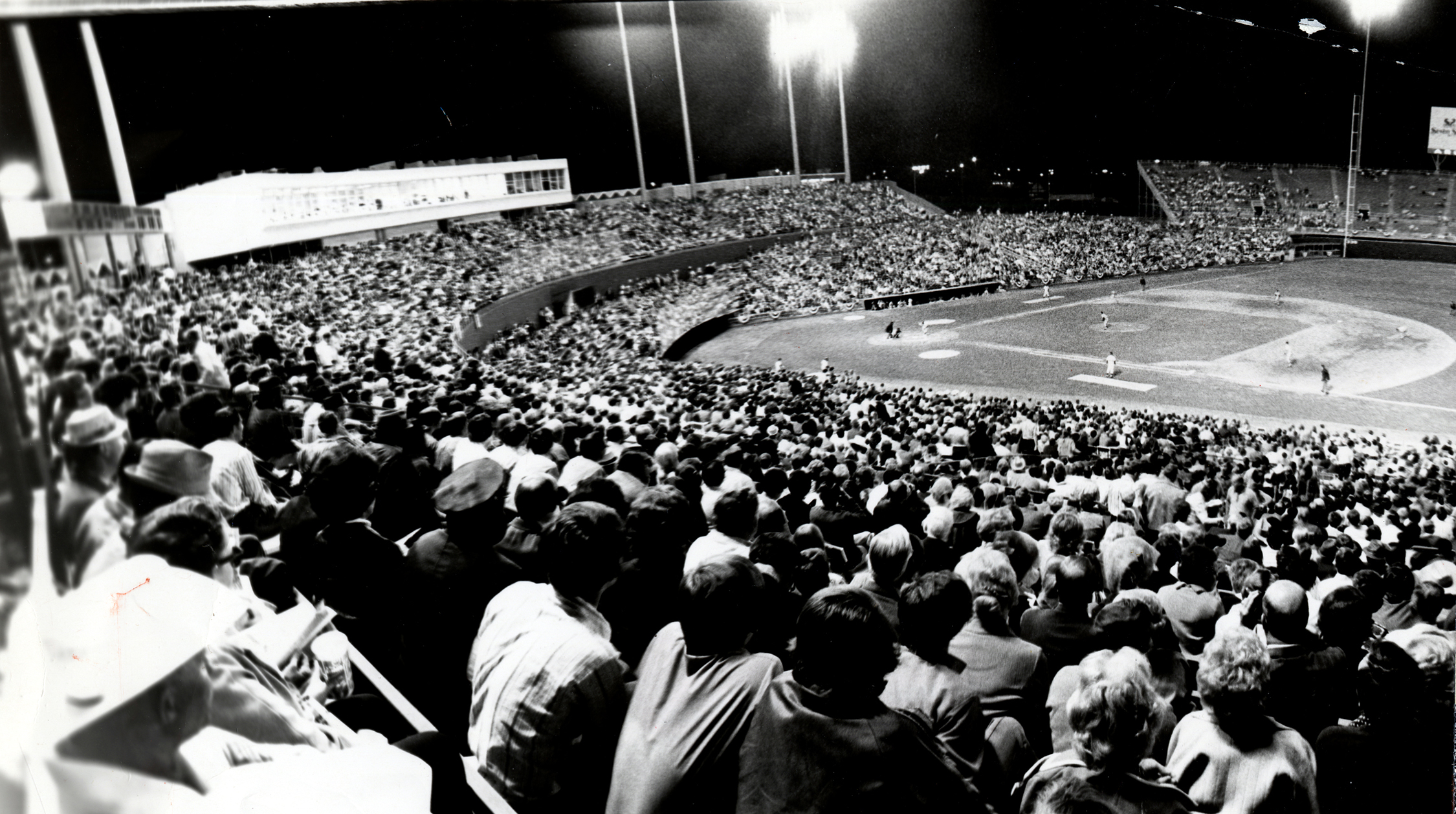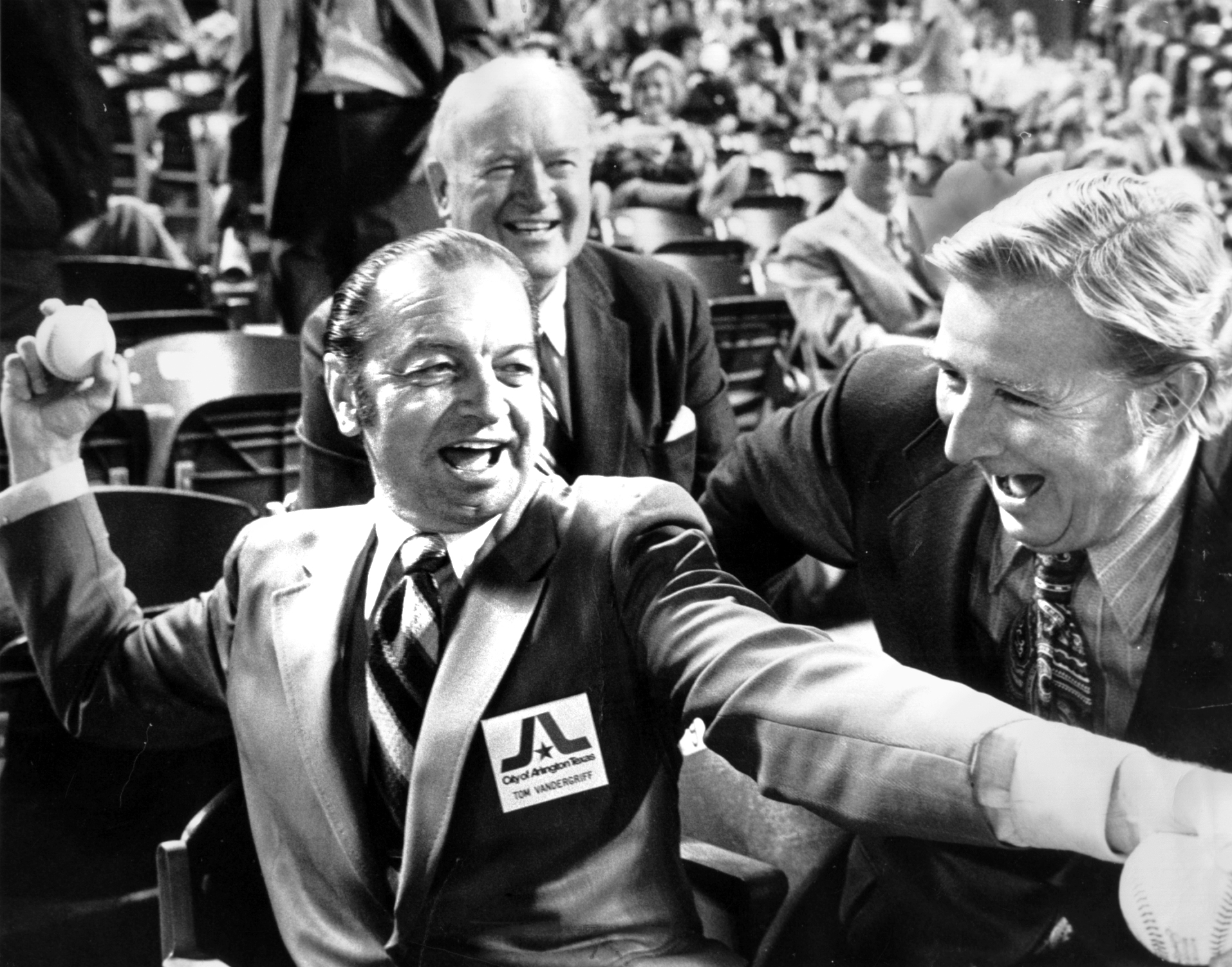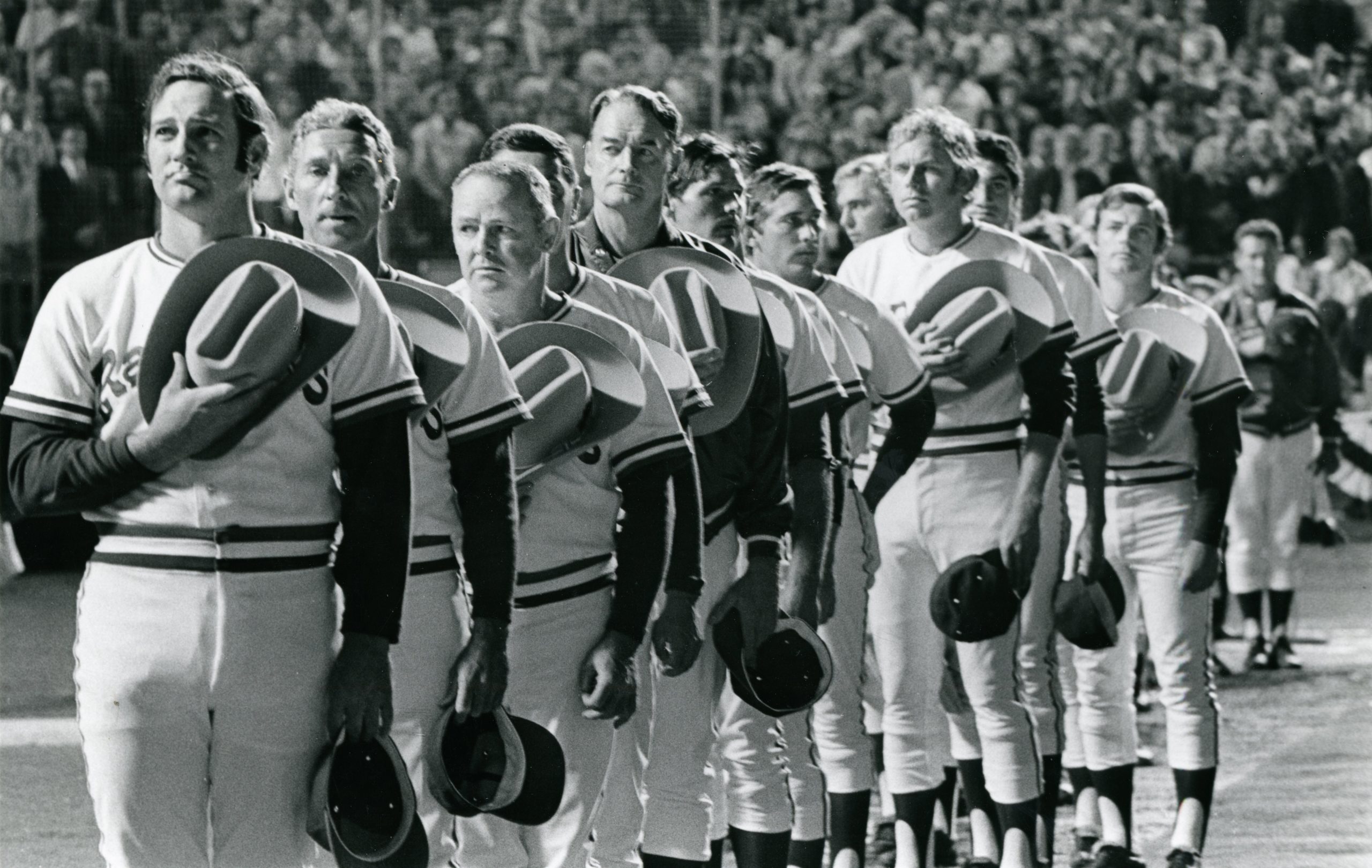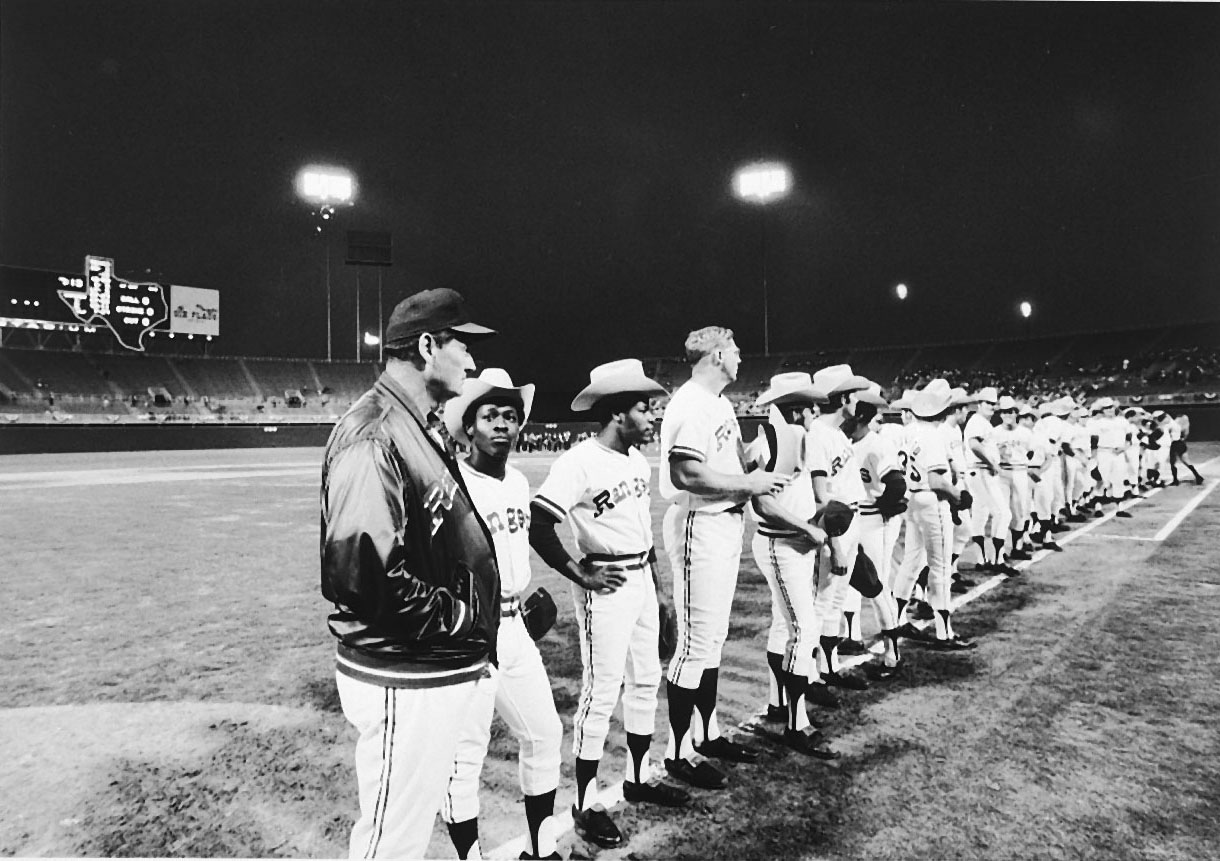 Rangers' Inaugural Home Game
April 21, 1972
The Texas Rangers defeat the California Angels, 7-6, in the franchise's first ever home game in Texas at Turnpike Stadium. Frank Howard hit the first home run in Arlington Stadium in front of a crowd of more than 20,000 fans.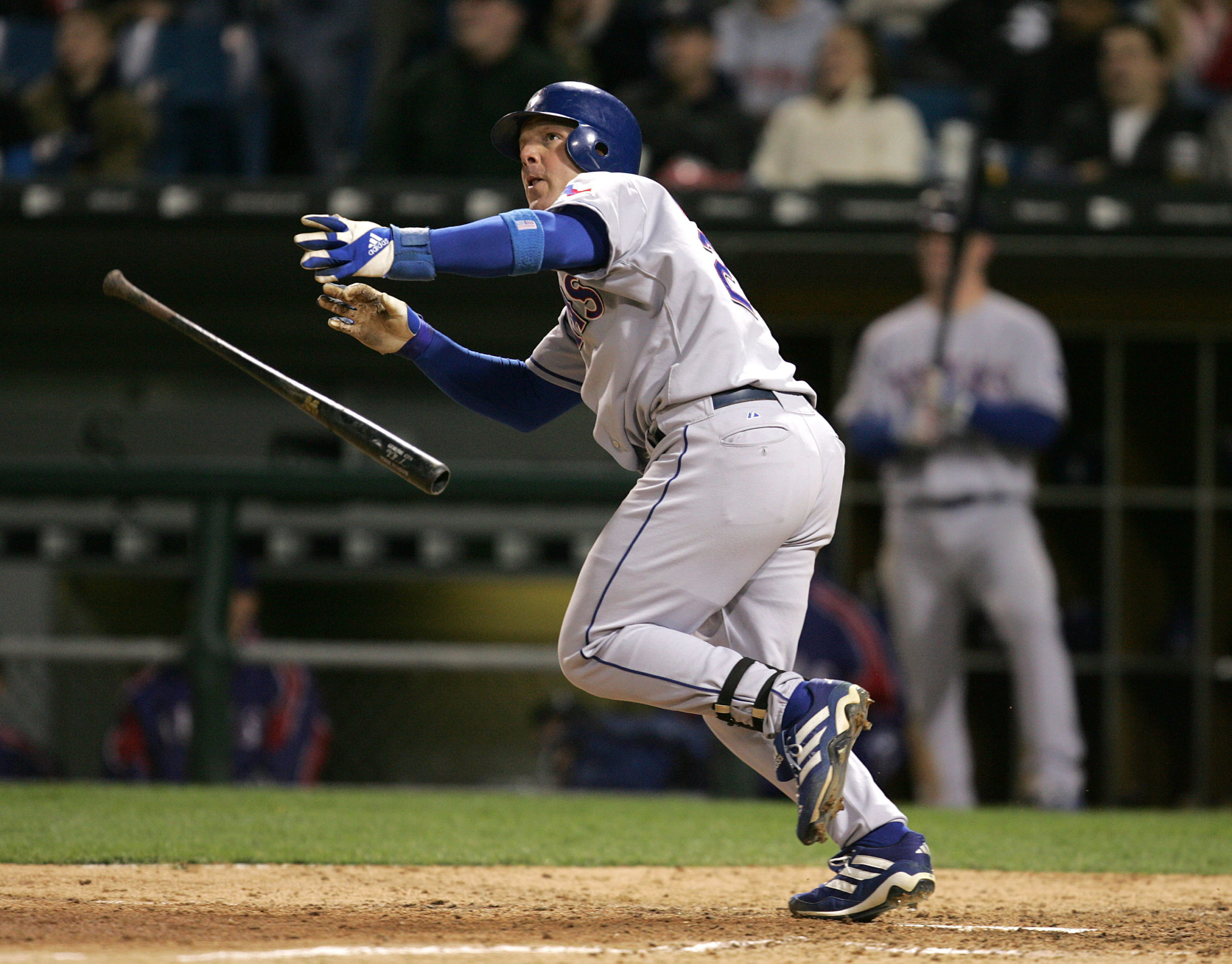 Kevin Mench Hits HR in 7th Consecutive Game
April 28, 2006
Outfielder Kevin Mench breaks a club record by homering in his 7th consecutive game with a solo shot off Guillermo Mota in the 8th inning at Cleveland.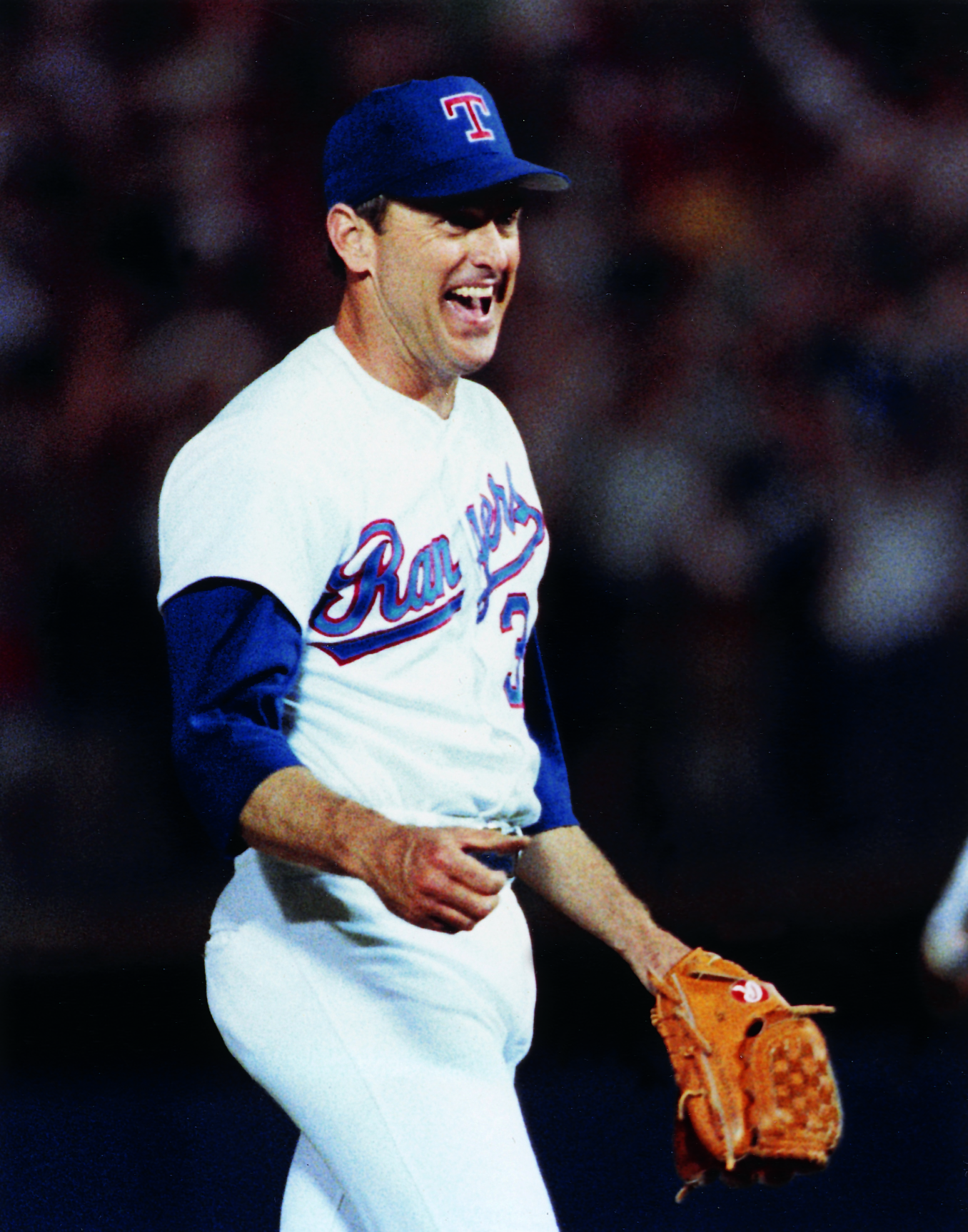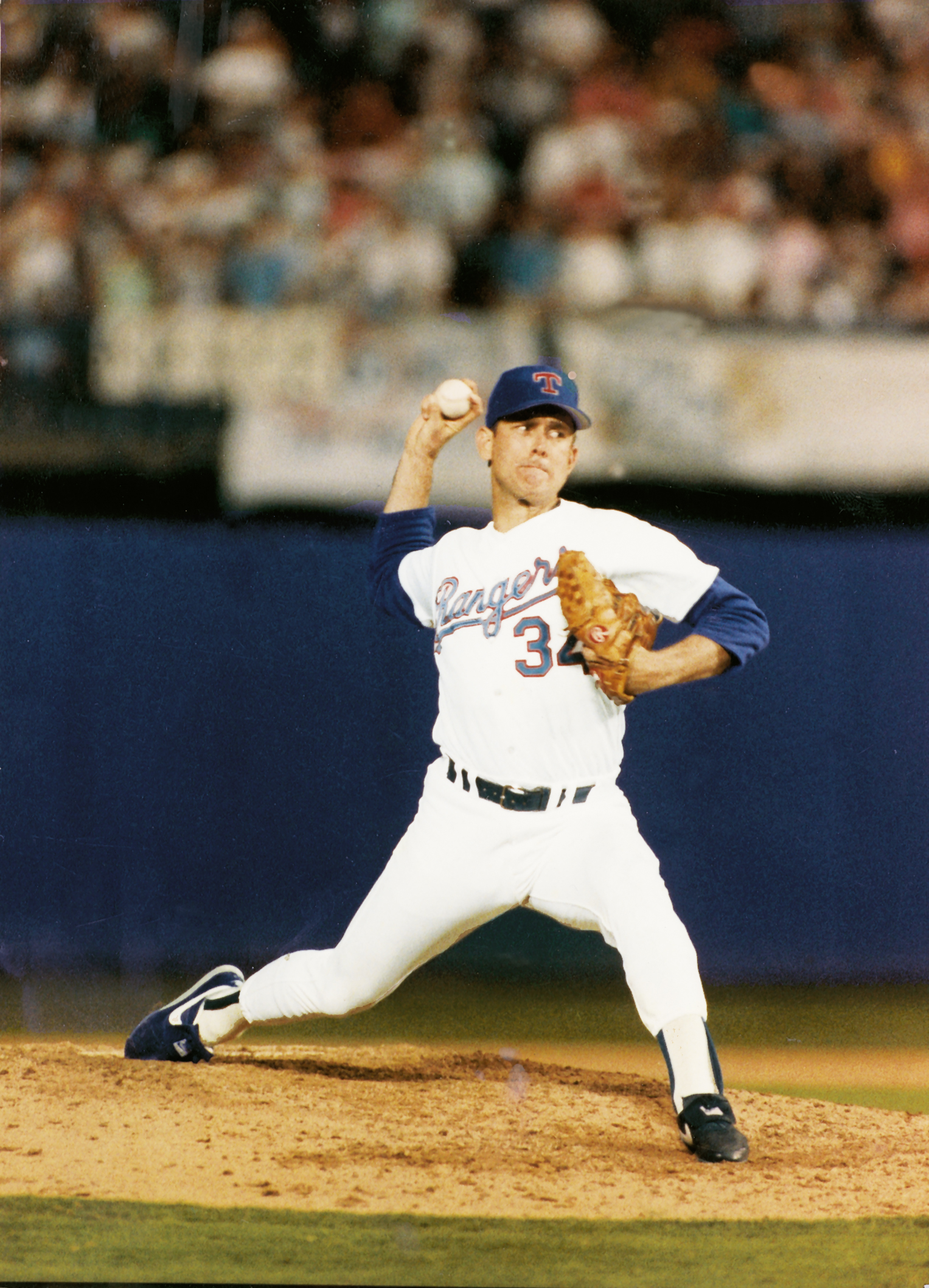 Nolan Ryan Throws 7th Career No-Hitter
May 1, 1991
Nolan Ryan fans 16 A's at Arlington Stadium en route to his 7th career no-hitter and 2nd as a member of the Rangers.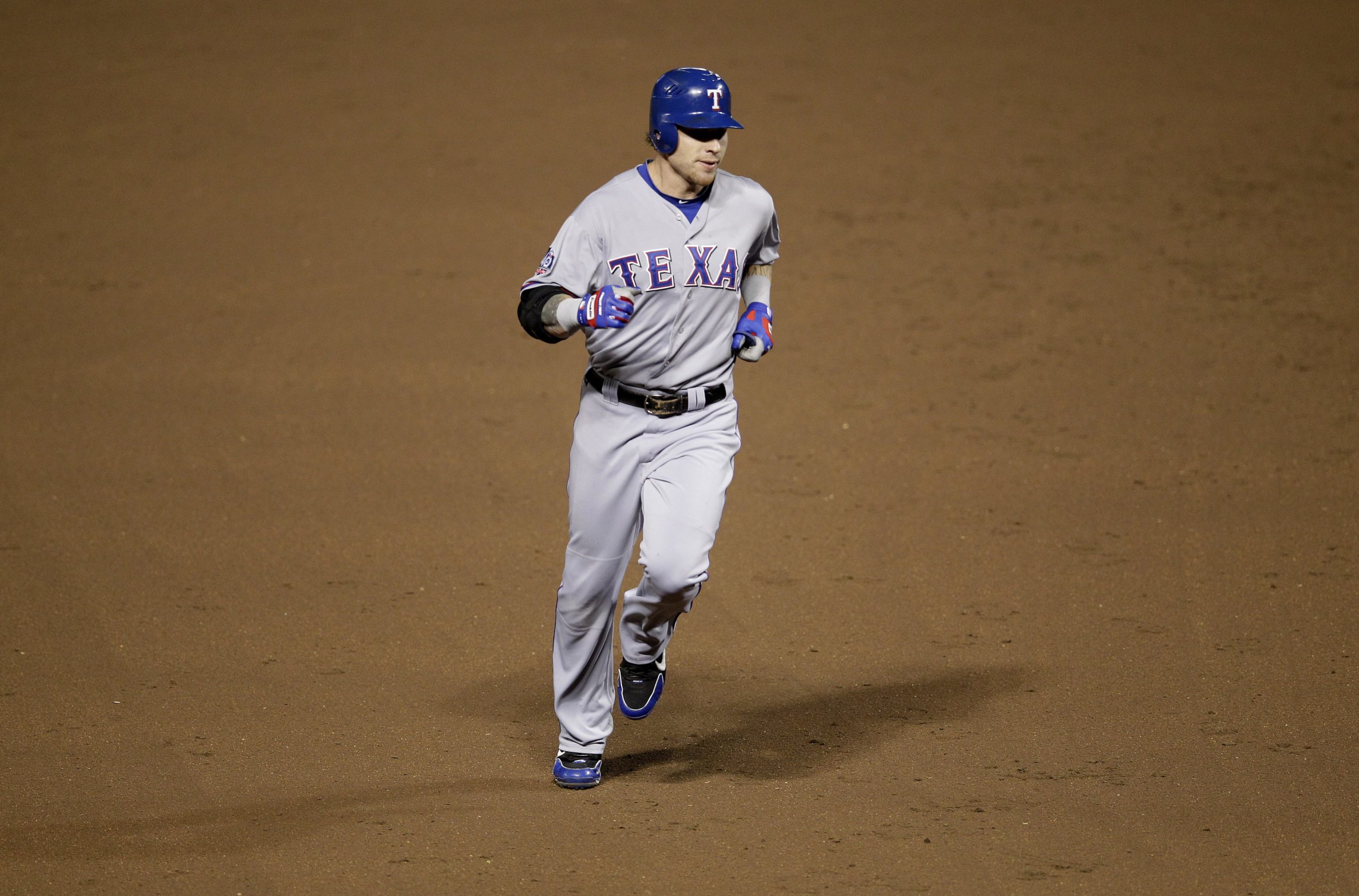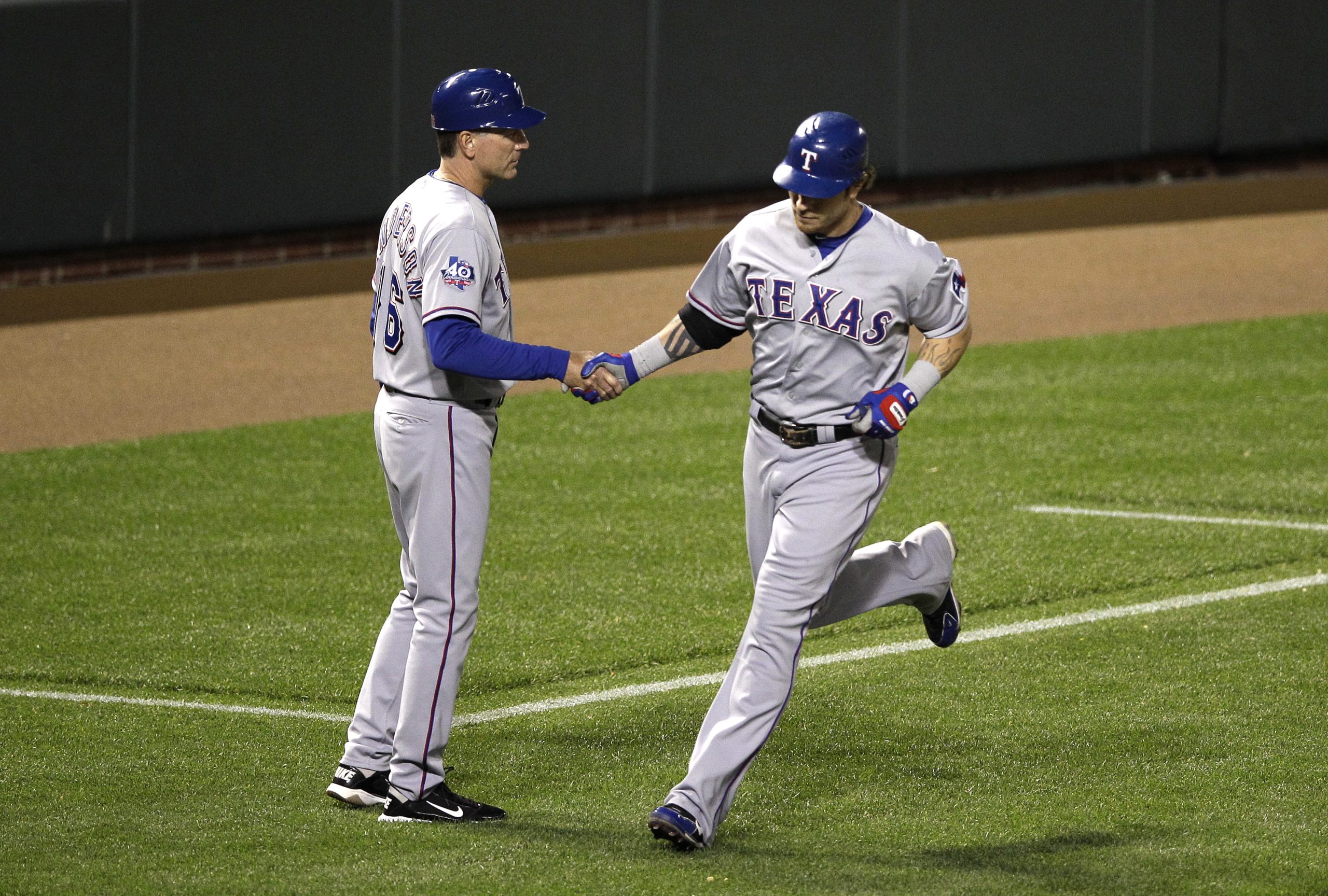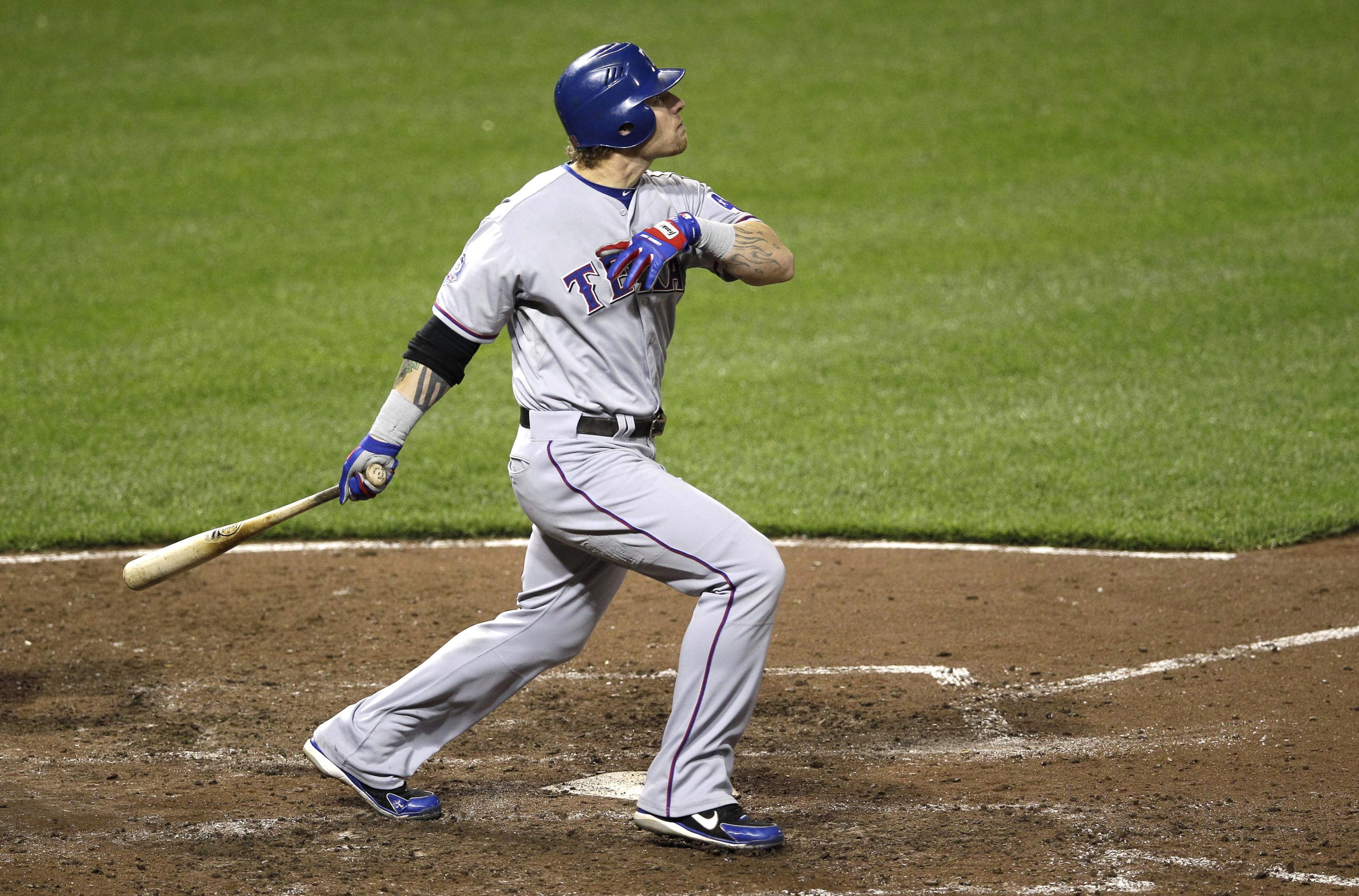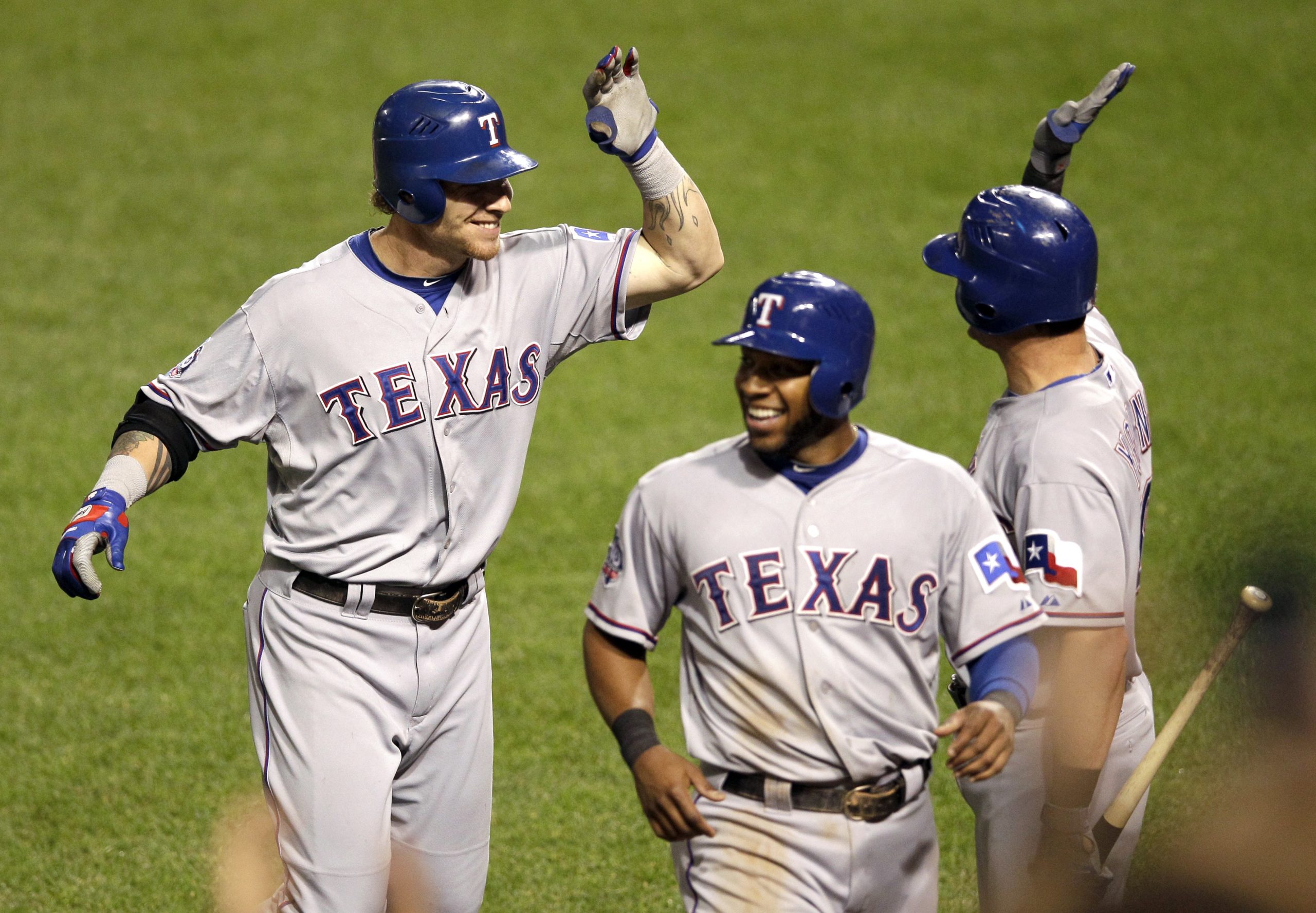 Josh Hamilton Hits 4 Home Runs
May 8, 2012
Josh Hamilton becomes the 16th player in MLB history to hit four home runs in a single game. Hamilton finished 5-for-5 with 8 RBI and 18 total bases.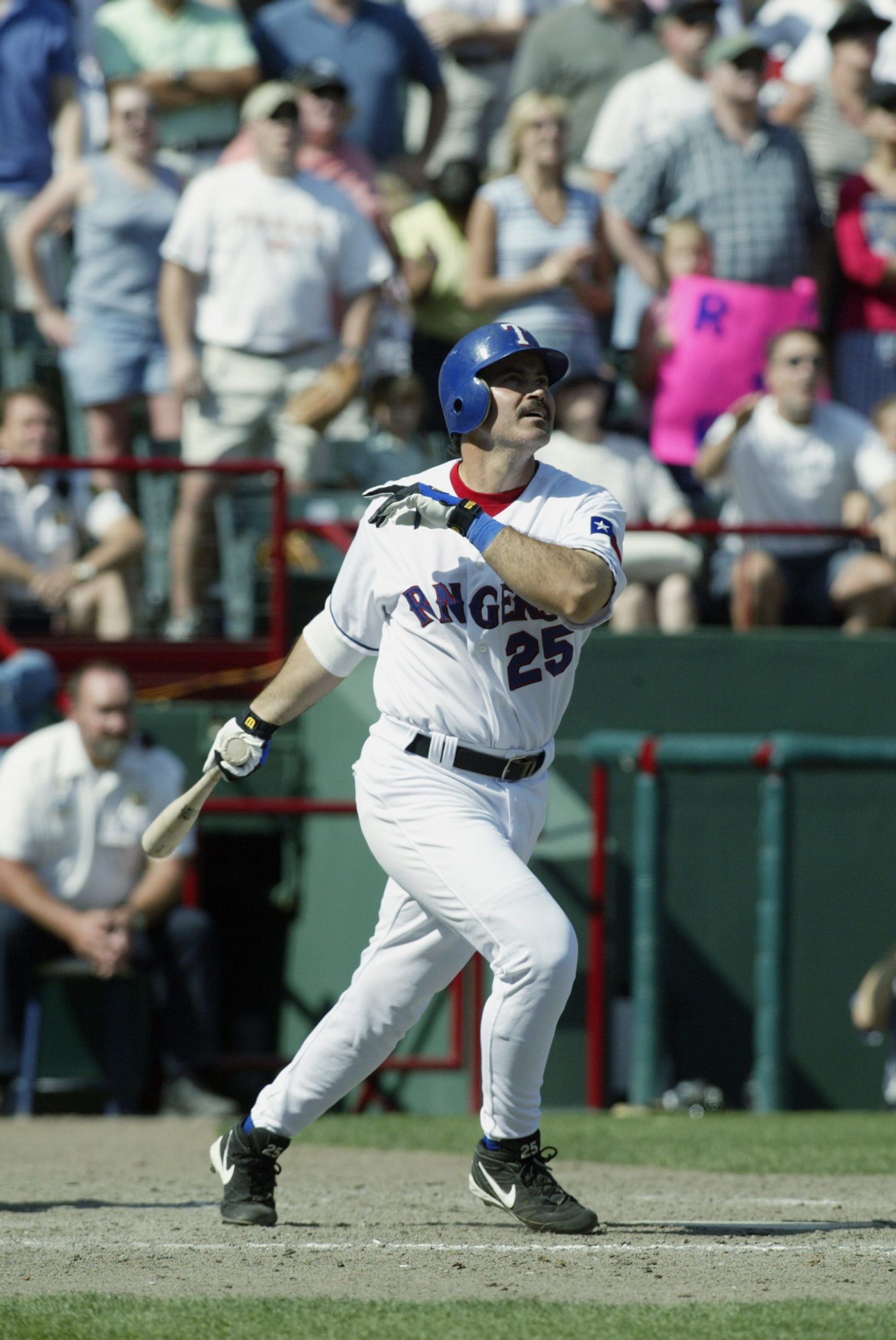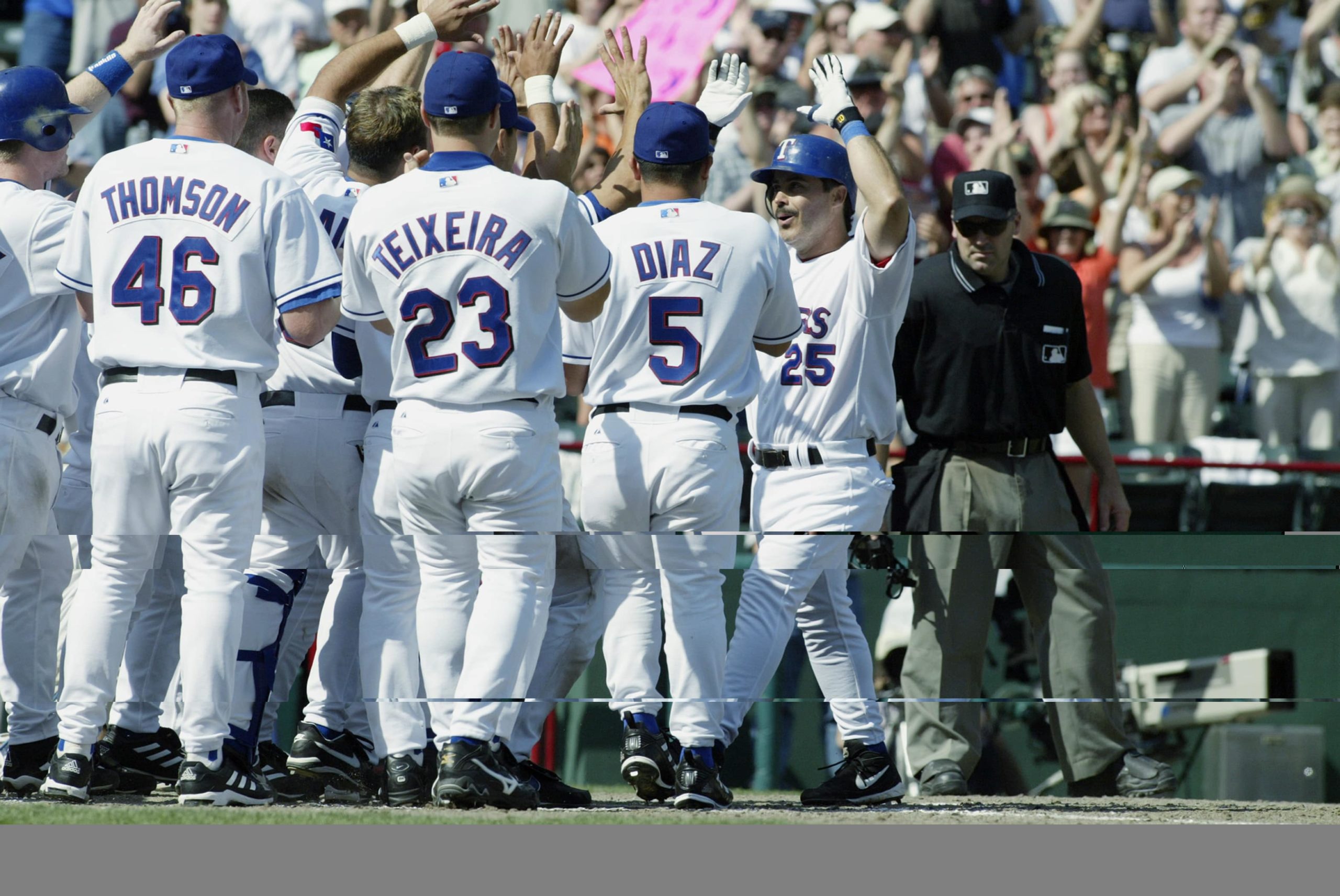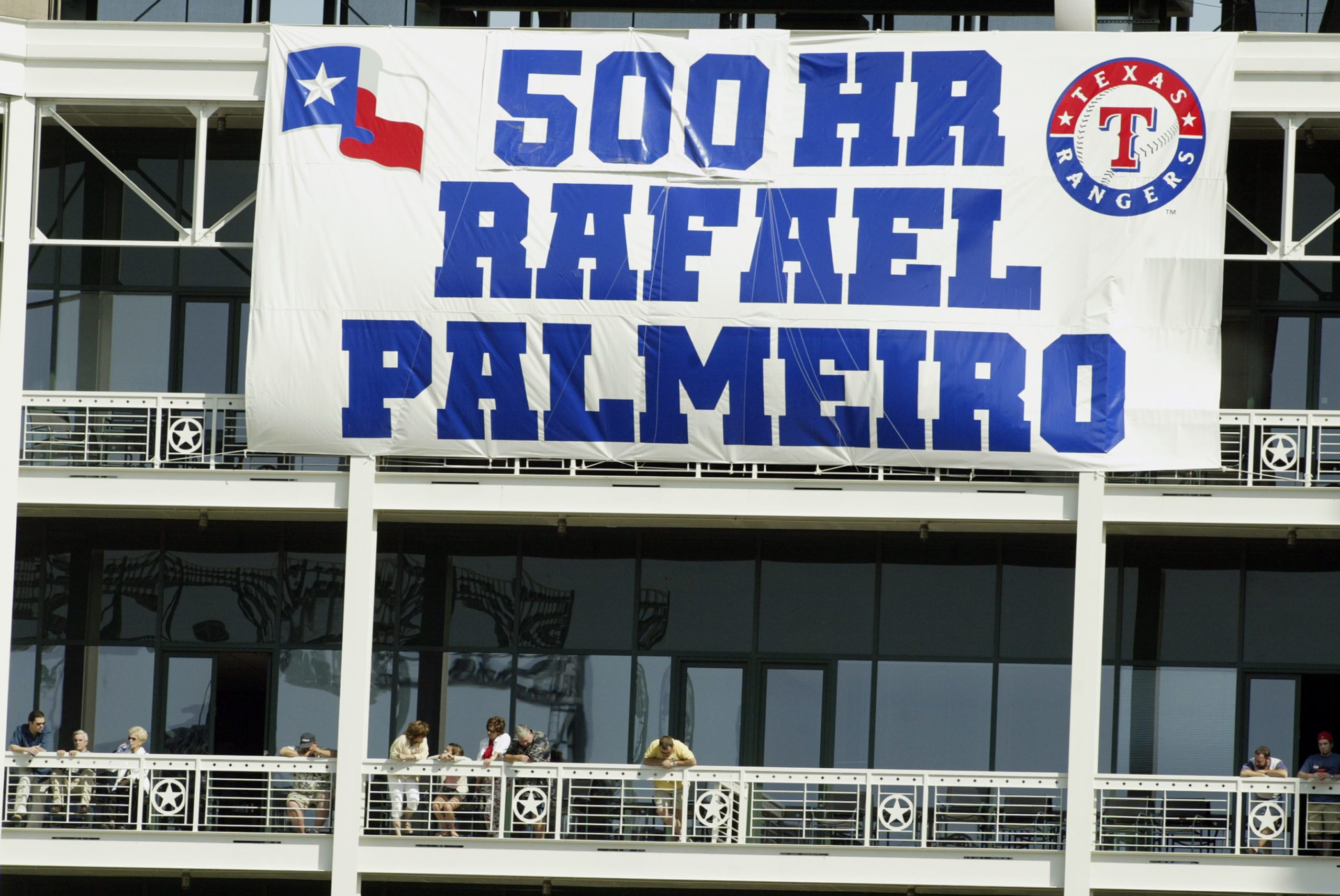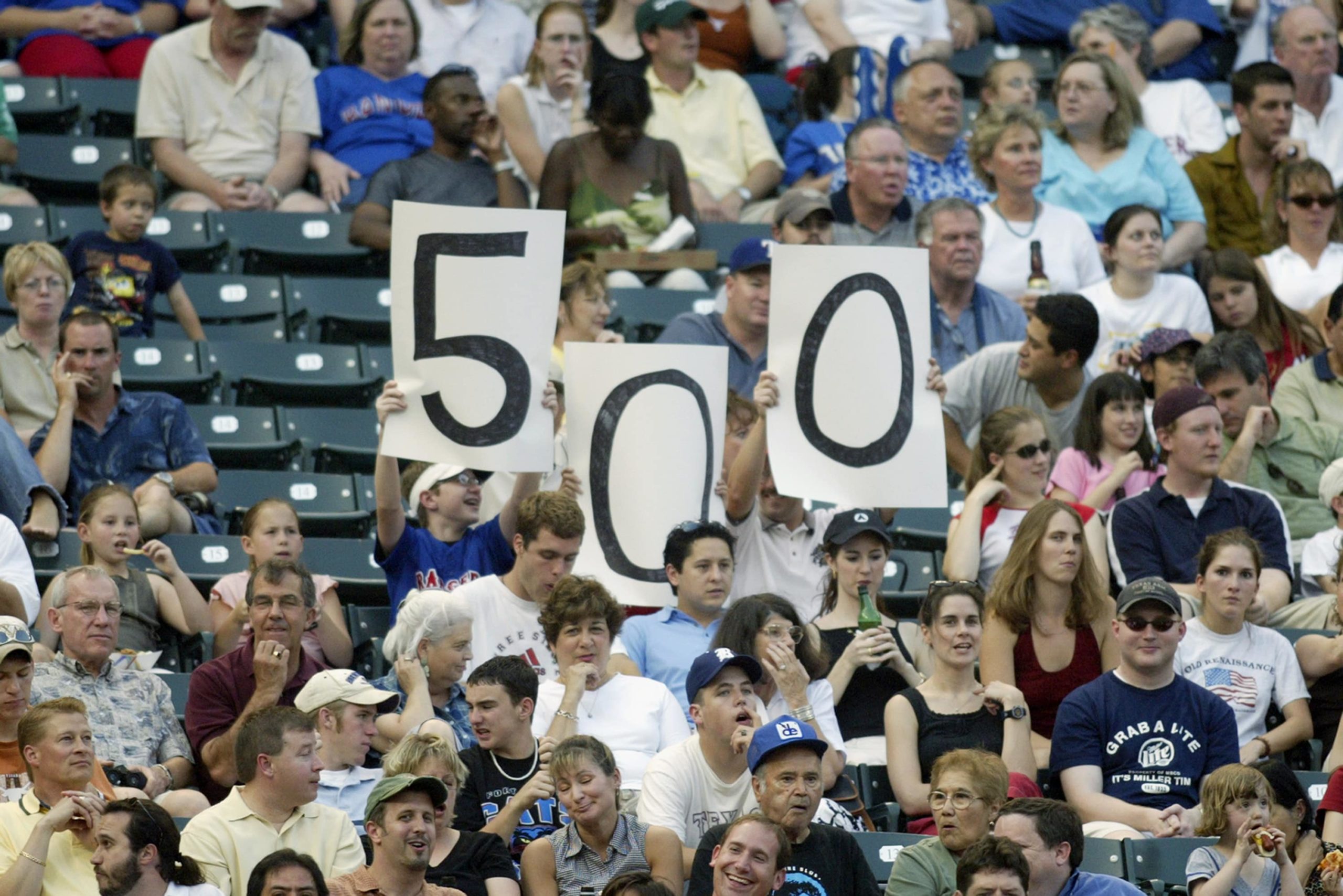 Rafael Palmeiro Hits 500th Career Home Run
May 11, 2003
Rafael Palmeiro hits his 500th career home run vs. Cleveland on Mothers Day. Palmeiro went on to finish with 569 career home runs with 321 of those coming in a Rangers uniform.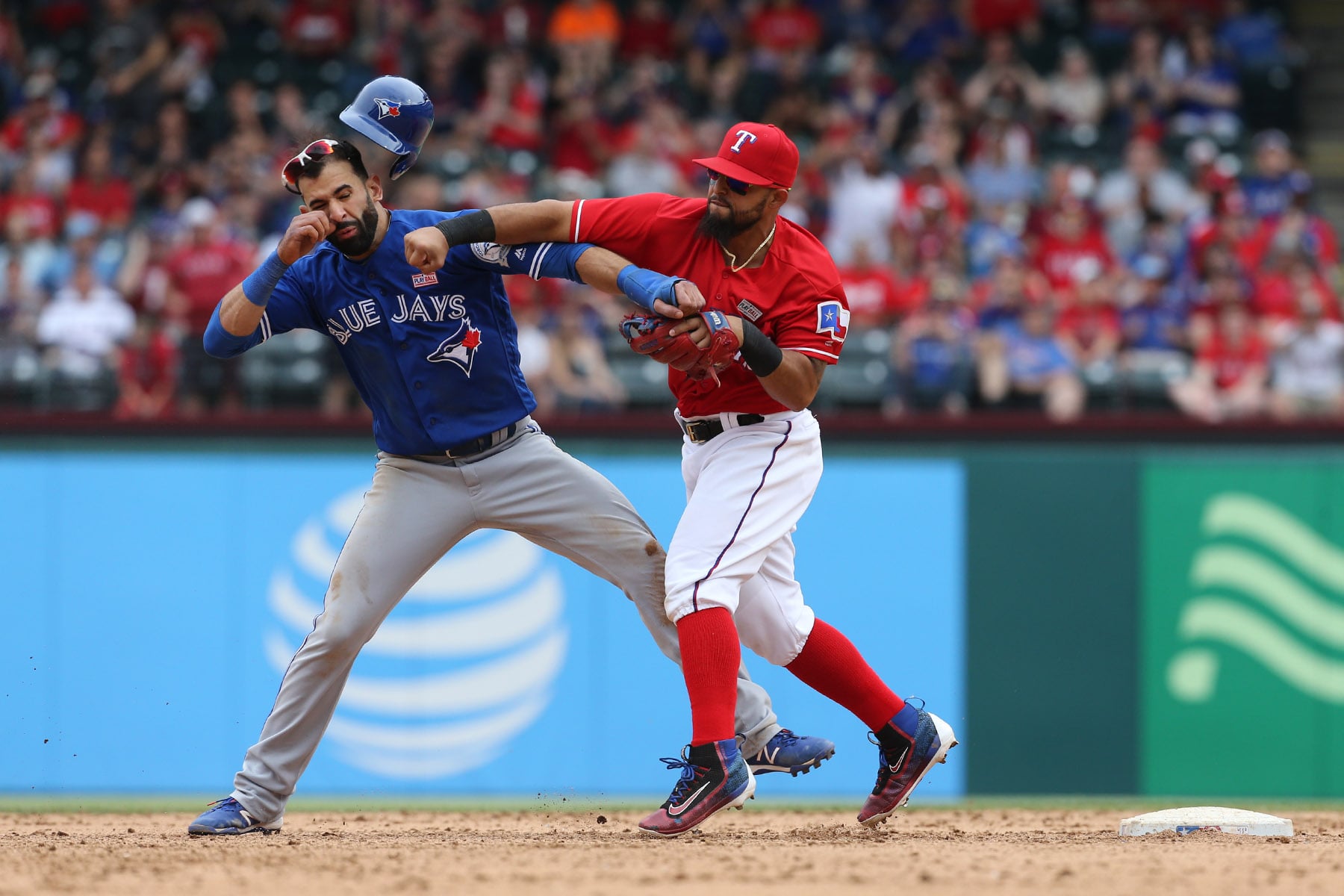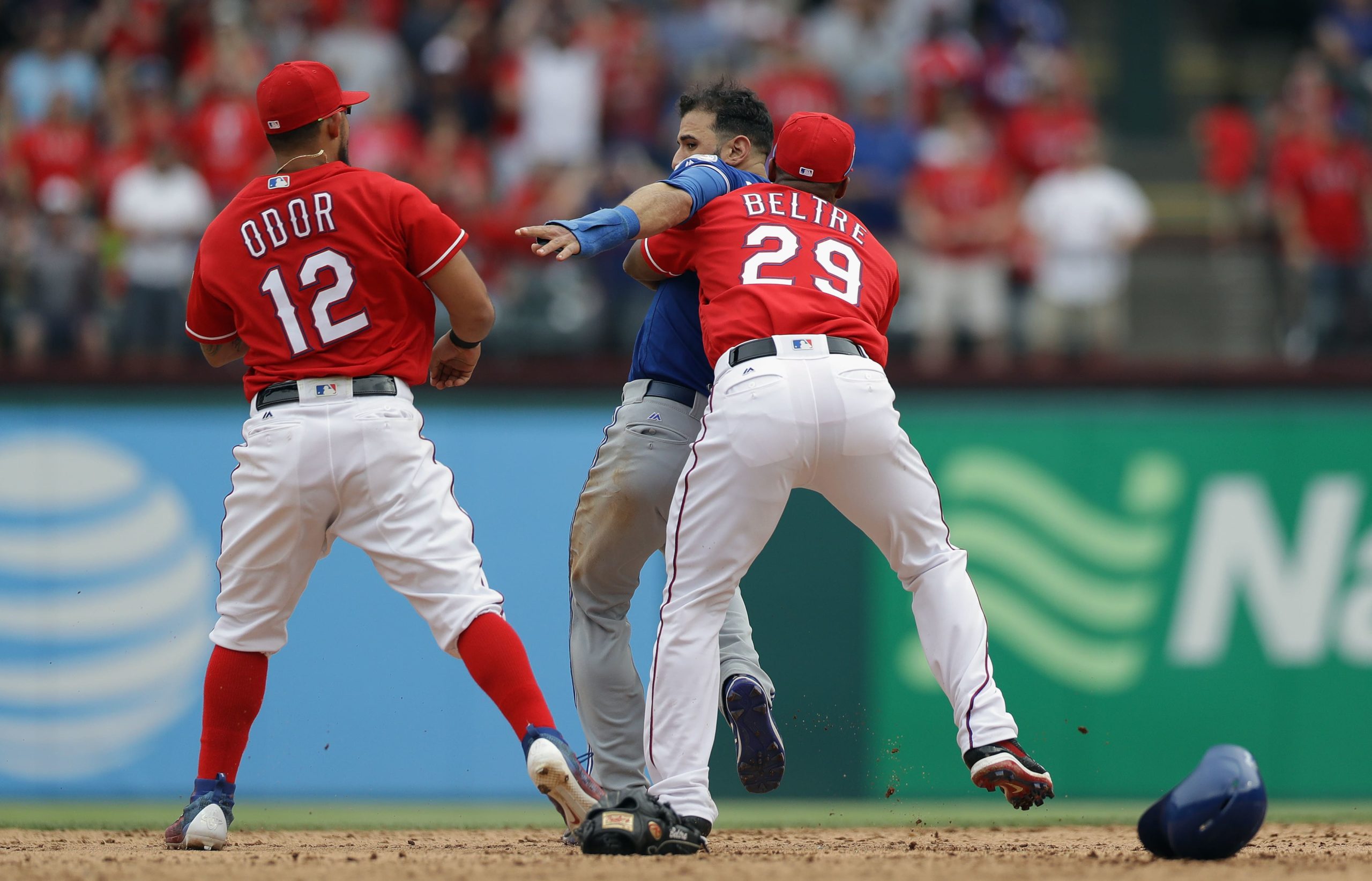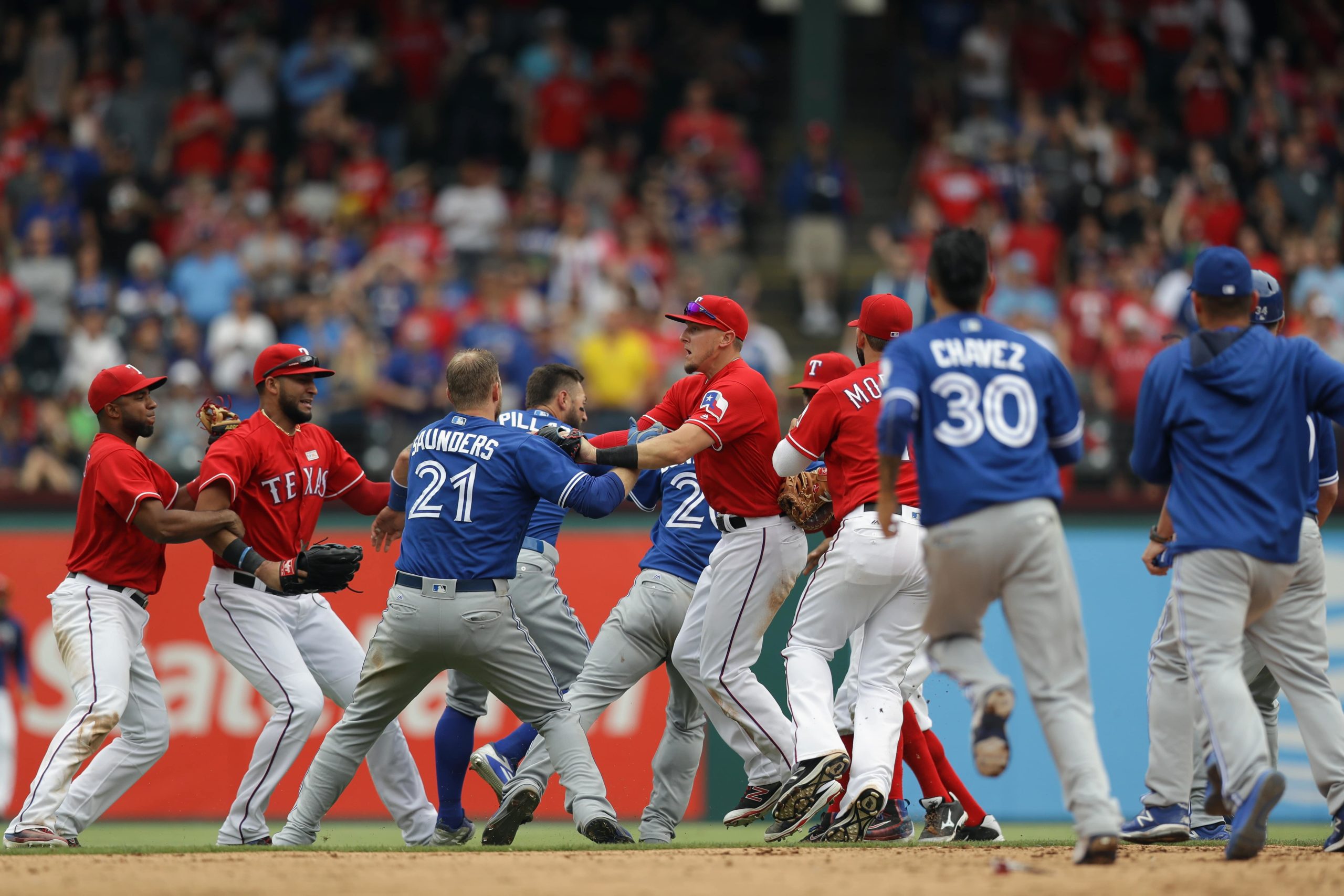 Rangers Rumble with the Blue Jays... Literally
May 15, 2016
Tempers flare in Arlington as Rougned Odor clocks Jose Bautista after a late slide into second base.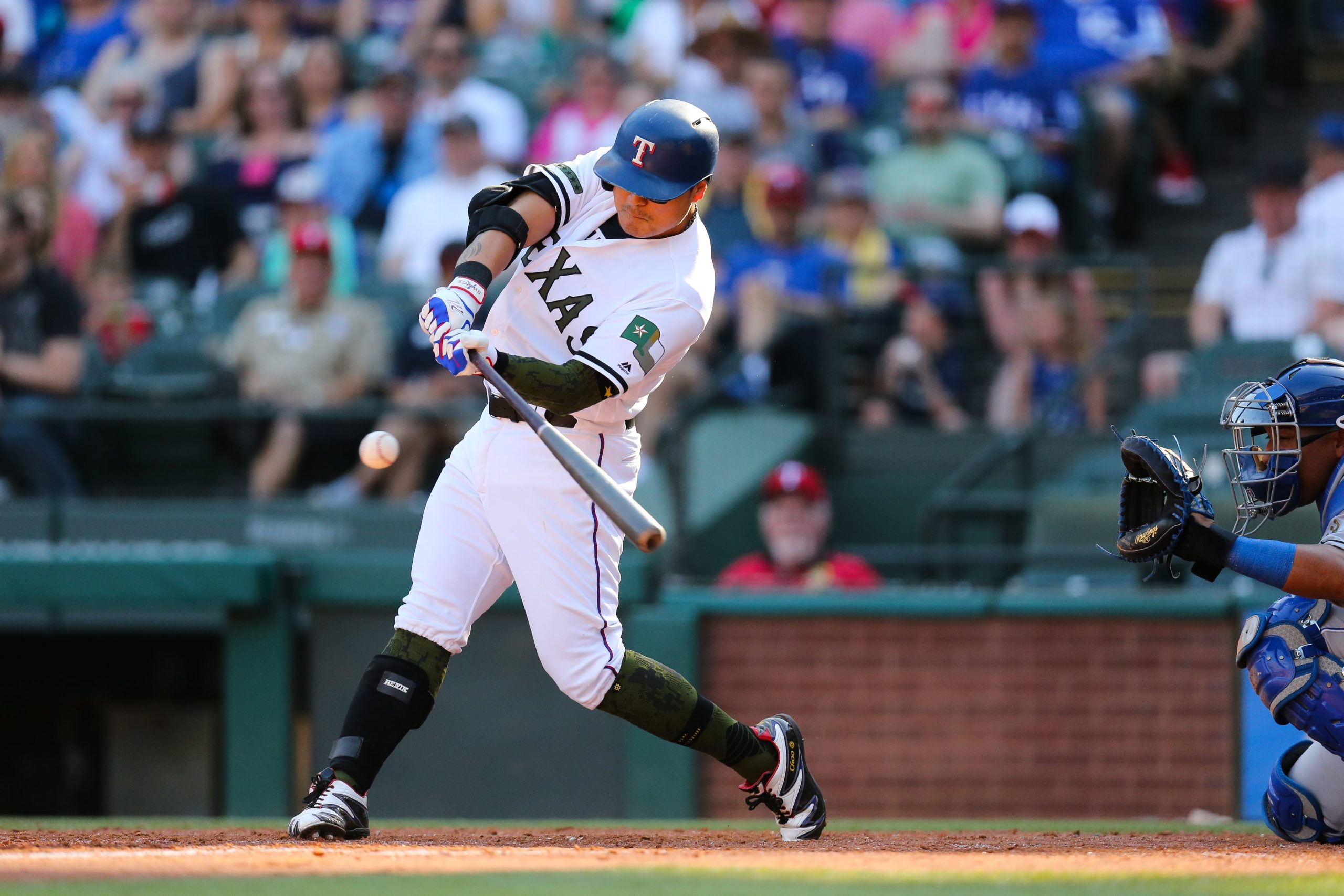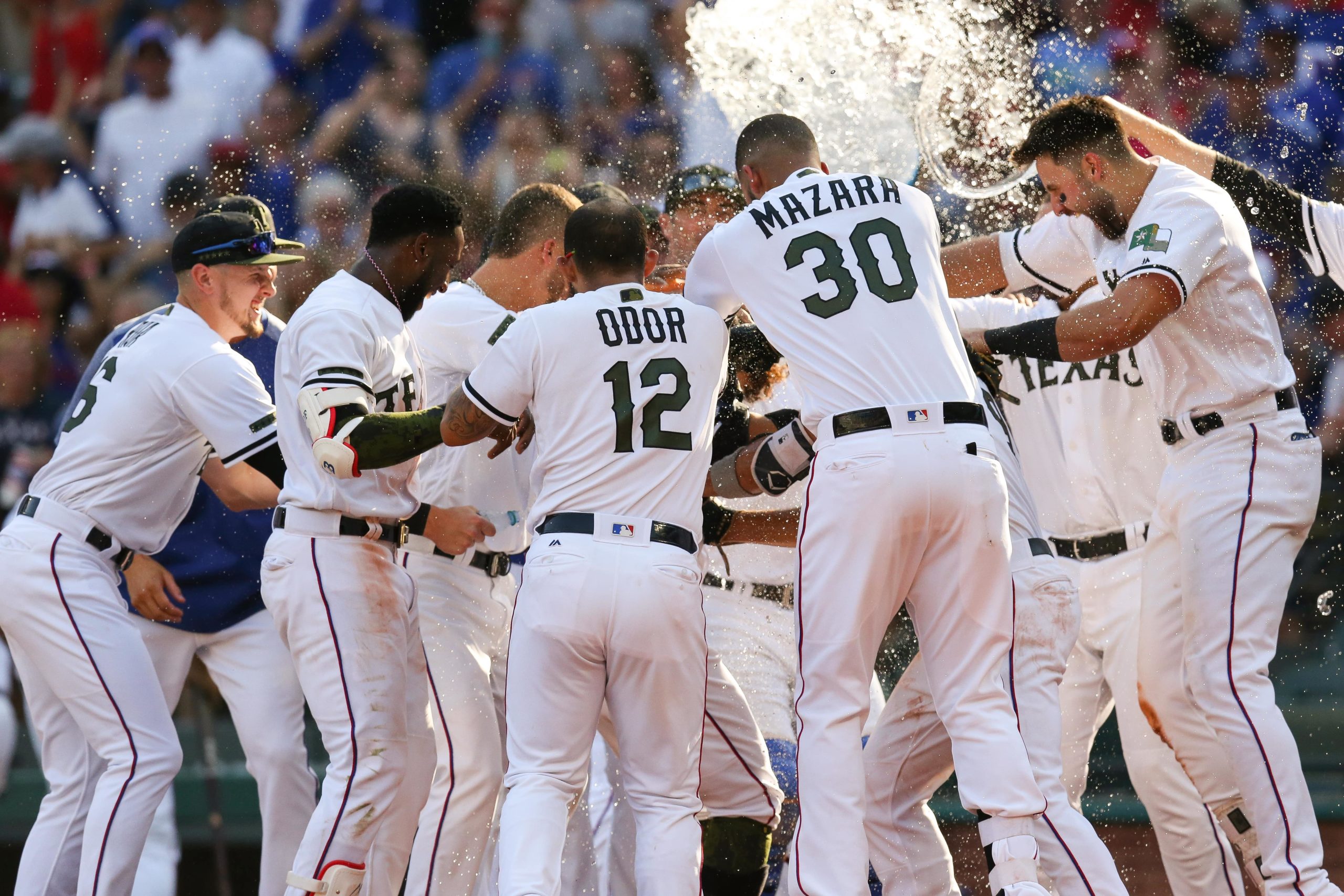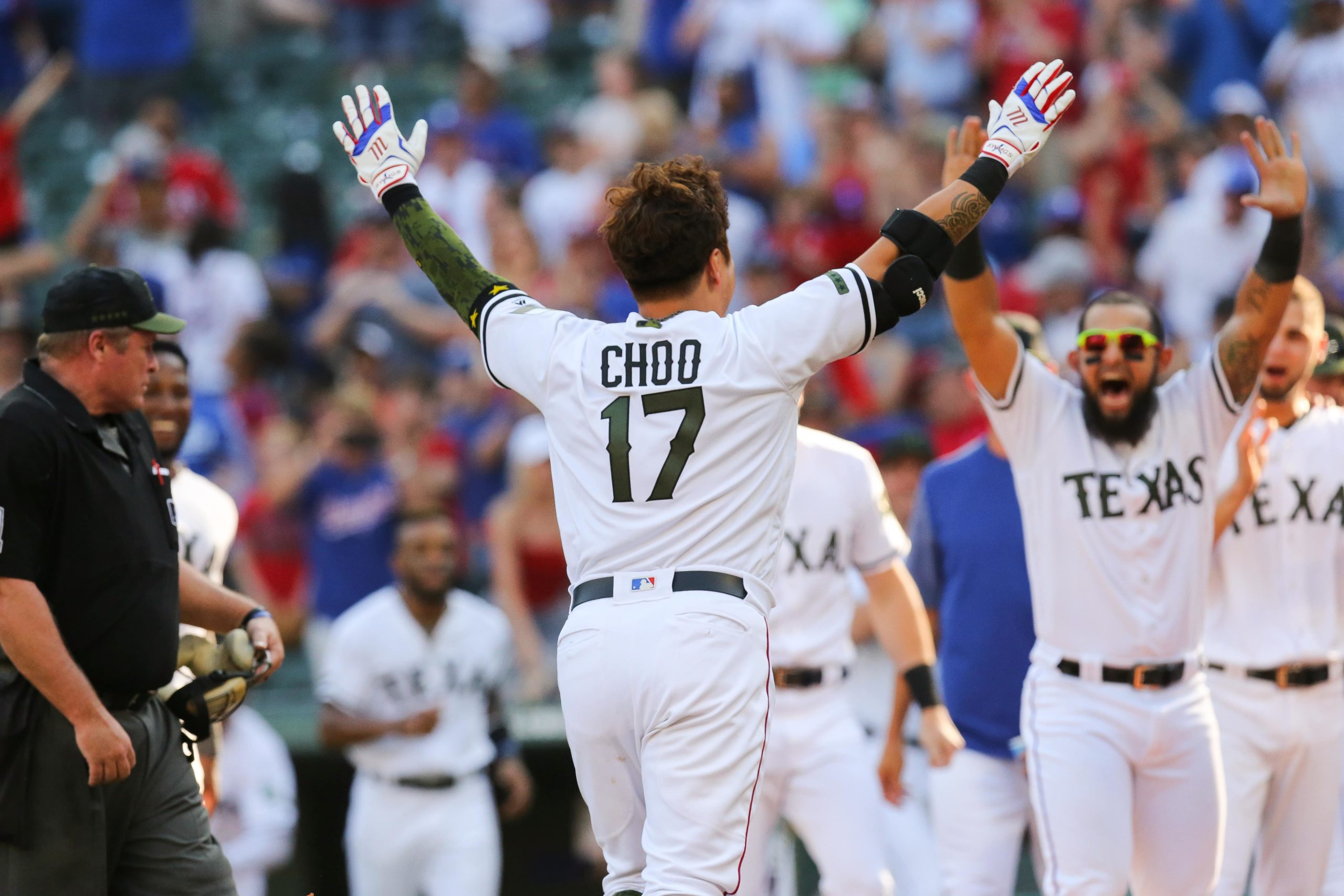 Shin-Soo Choo Break Asian-Born Player Home Run Record
May 26, 2018
Shin-Soo Choo hits a walkoff home run to set the record for home runs hit in league history by an Asian-born player.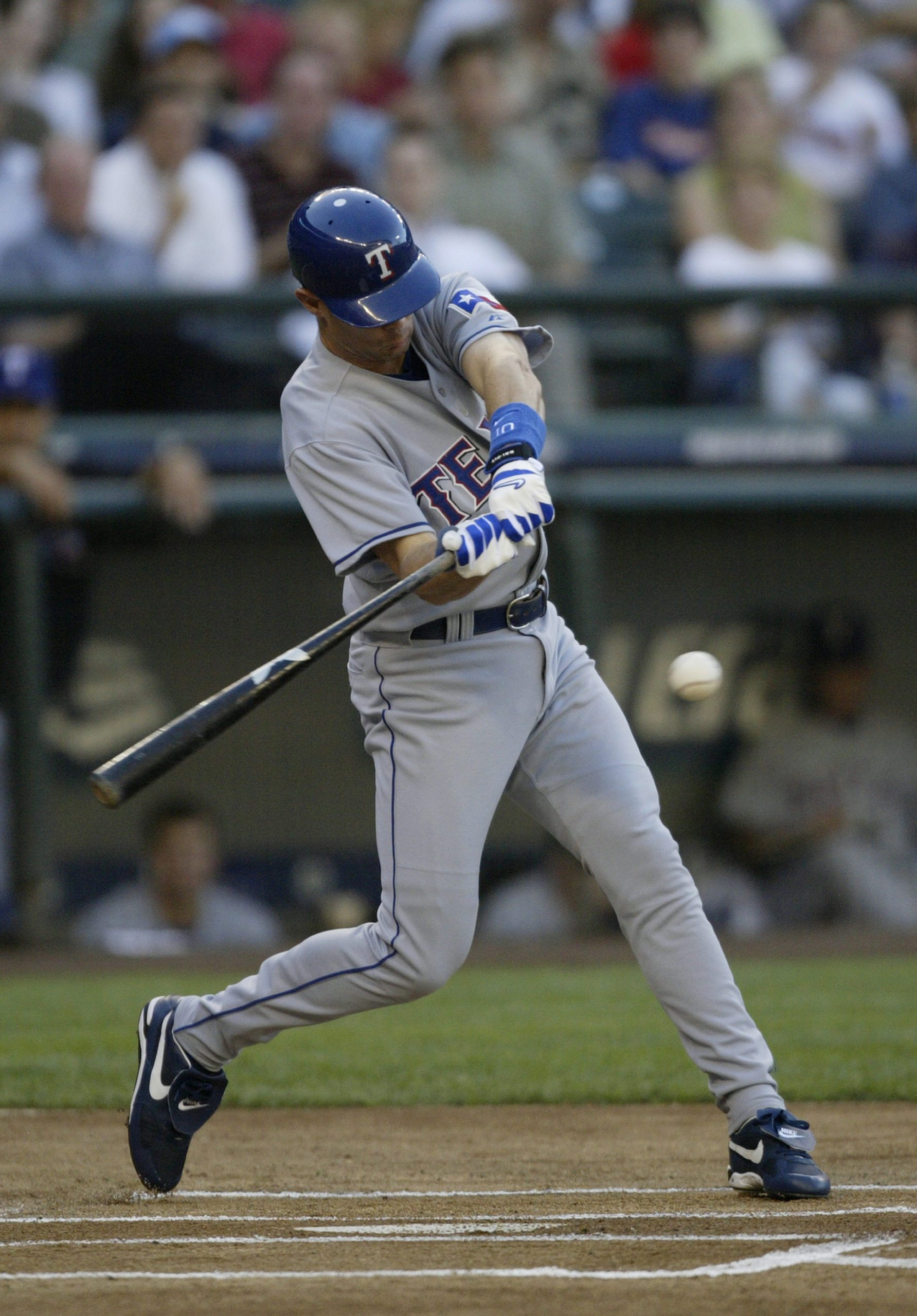 Michael Young Notches First Career Hit
May 27, 2001
A 24-year-old kid from West Covina, CA singles off Sidney Ponson for his career major league hit. The future Rangers Hall of Famer would go on to record 2,229 more hits in a Rangers uniform.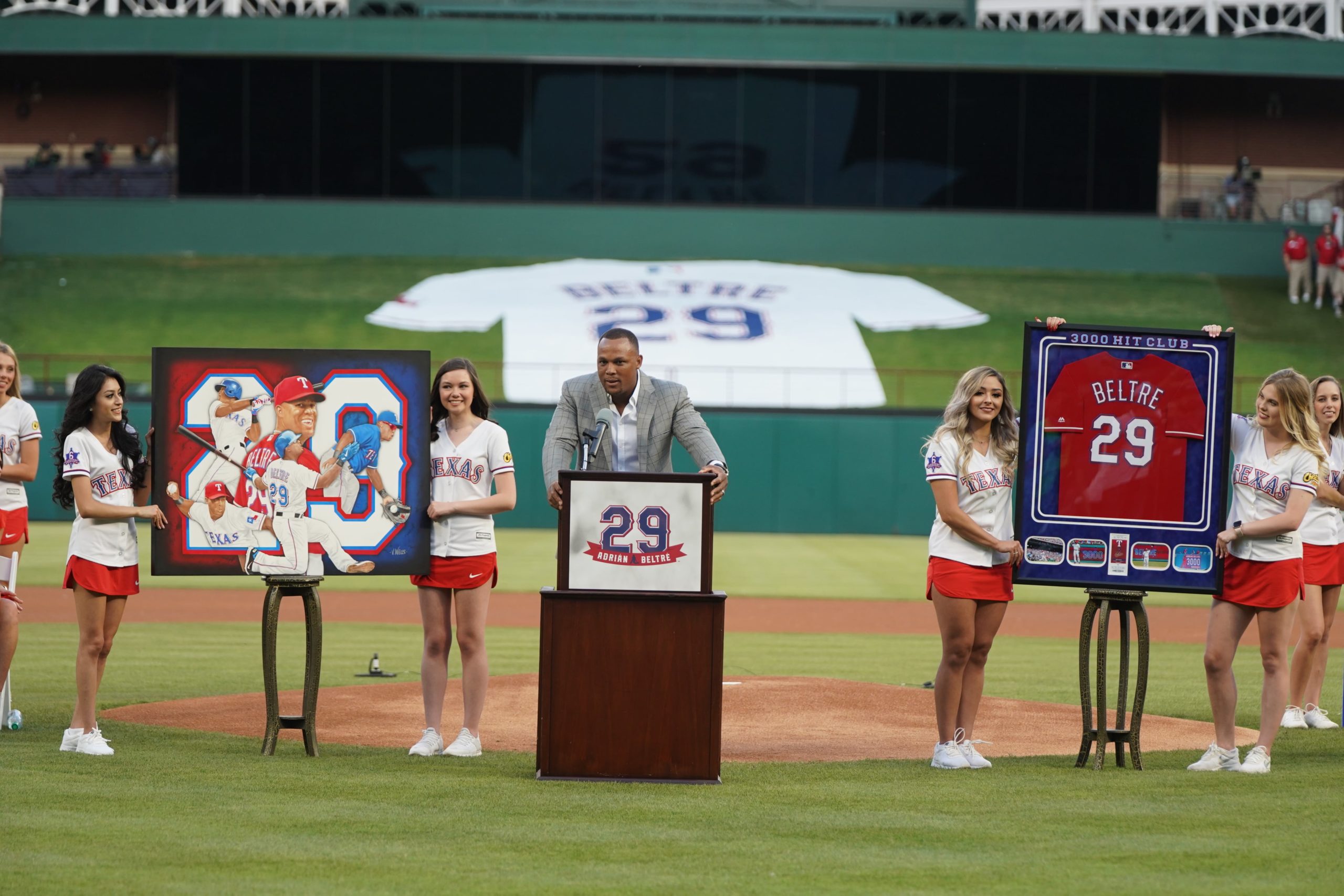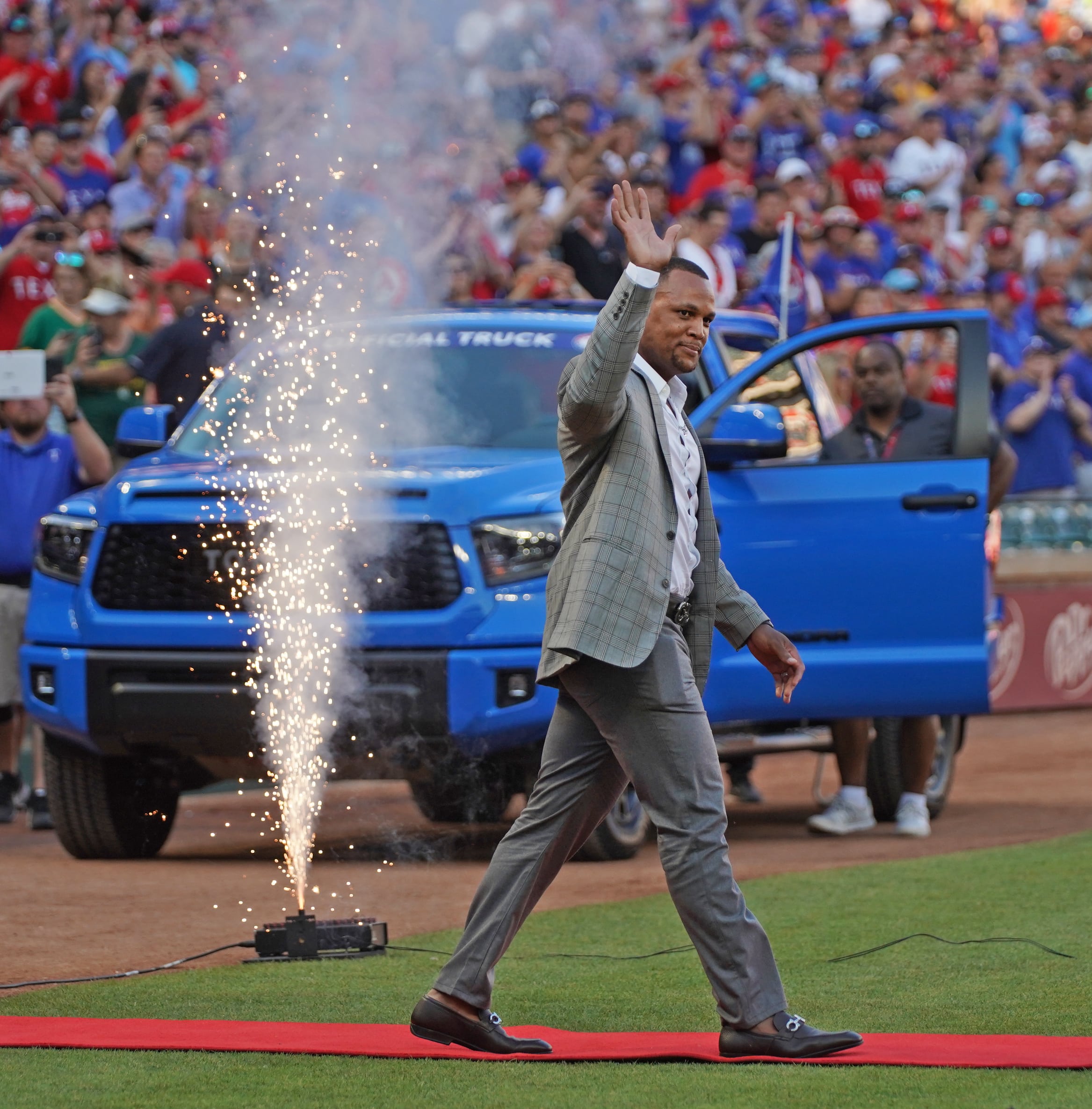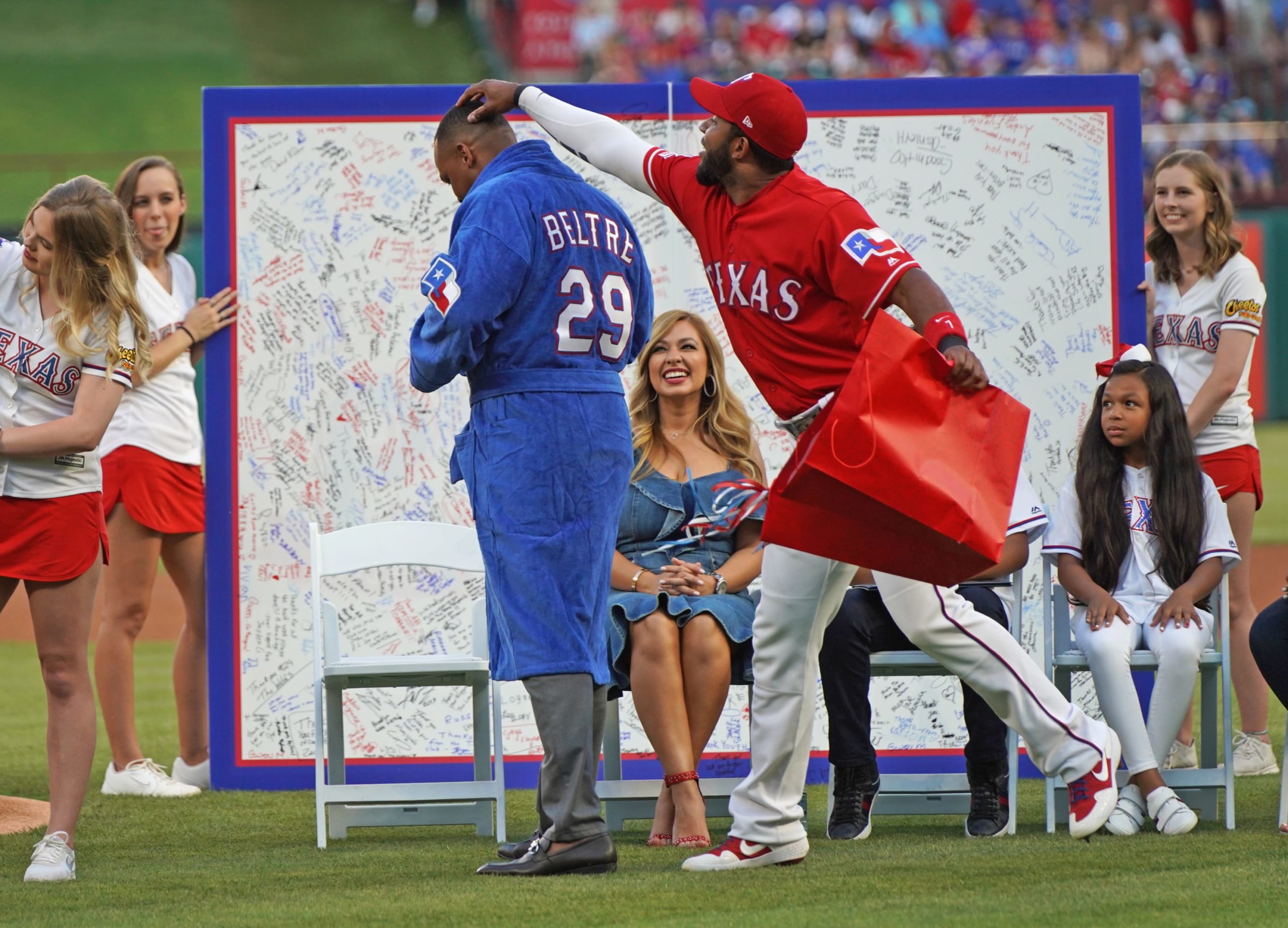 Rangers retire Beltre's 29
June 8, 2019
Rangers honor the legendary career of Adrián Beltré by permanently retiring his number.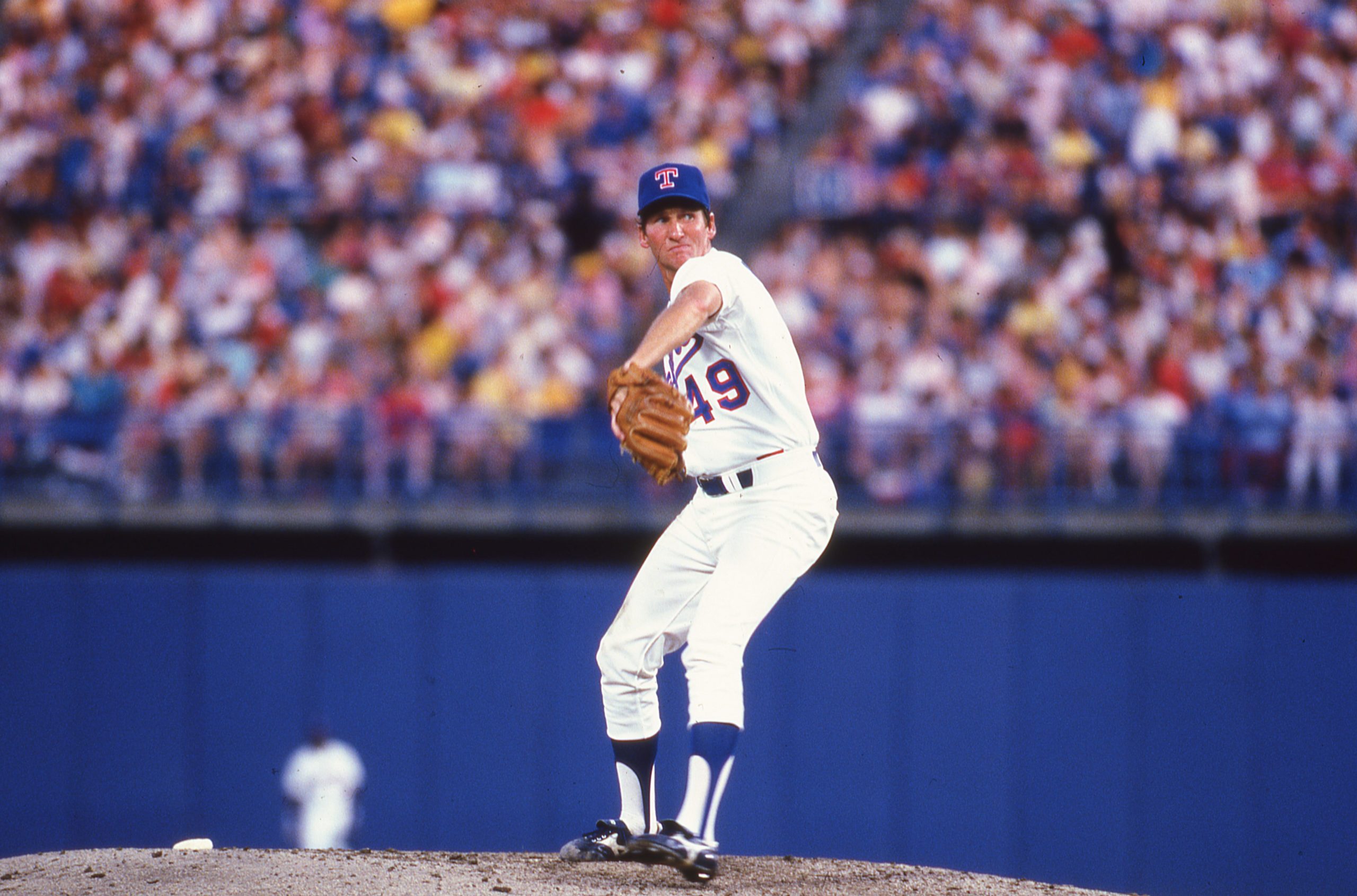 Charlie Hough throws 13 innings in 16-inning 6-2 win @MIN
June 11, 1986
Charlie Hough throws 13 innings, only allowing 2 runs, in 16-inning marathon win over the Twins.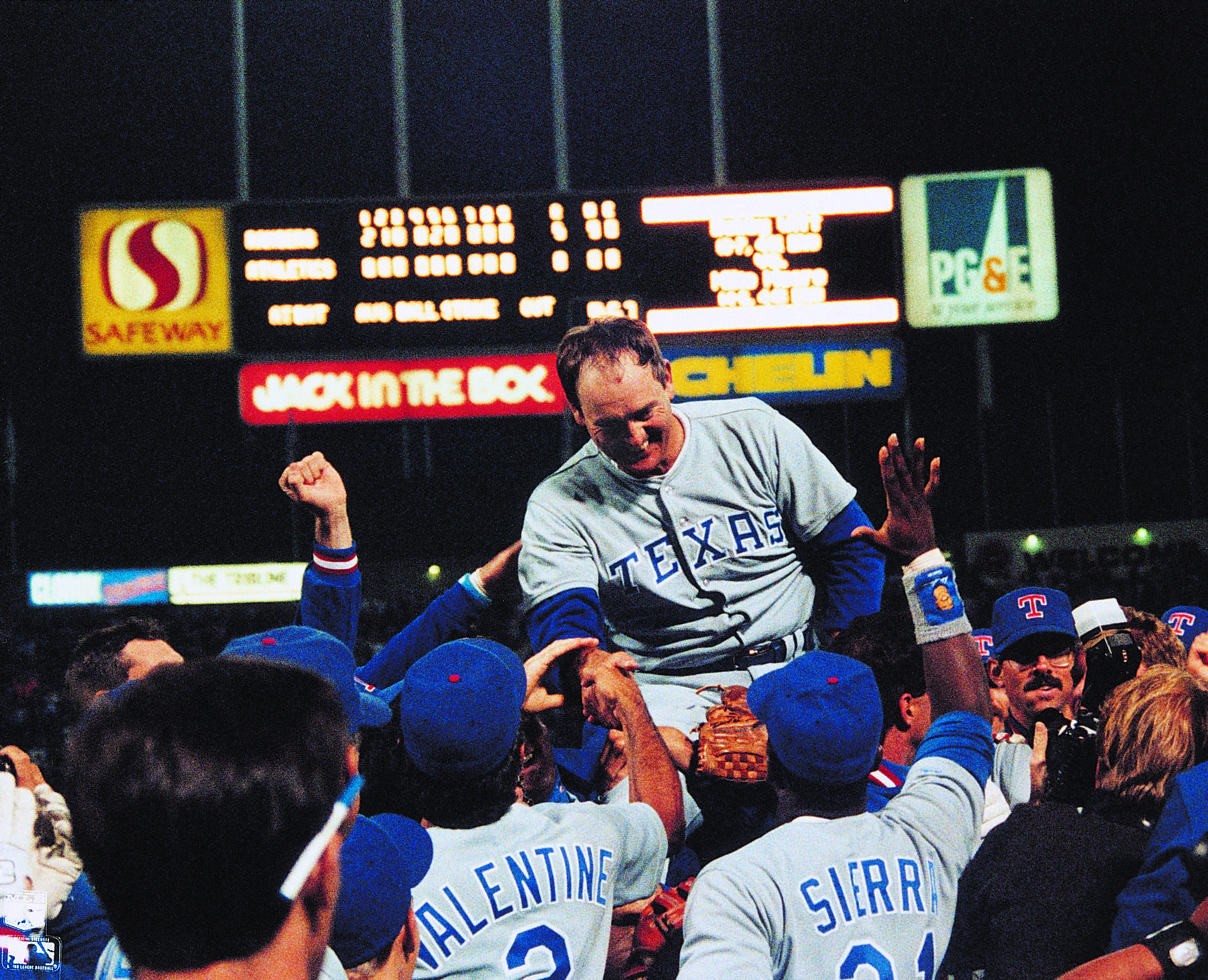 Nolan Ryan records first no-hitter as a Ranger and 6th of his career with 14 Ks
June 11, 1990
Nolan Ryan throws his 6th career no-hitter and 1st with the Rangers. The Ryan Express fans 14, allowing 2 walks, in 5-0 win over the A's.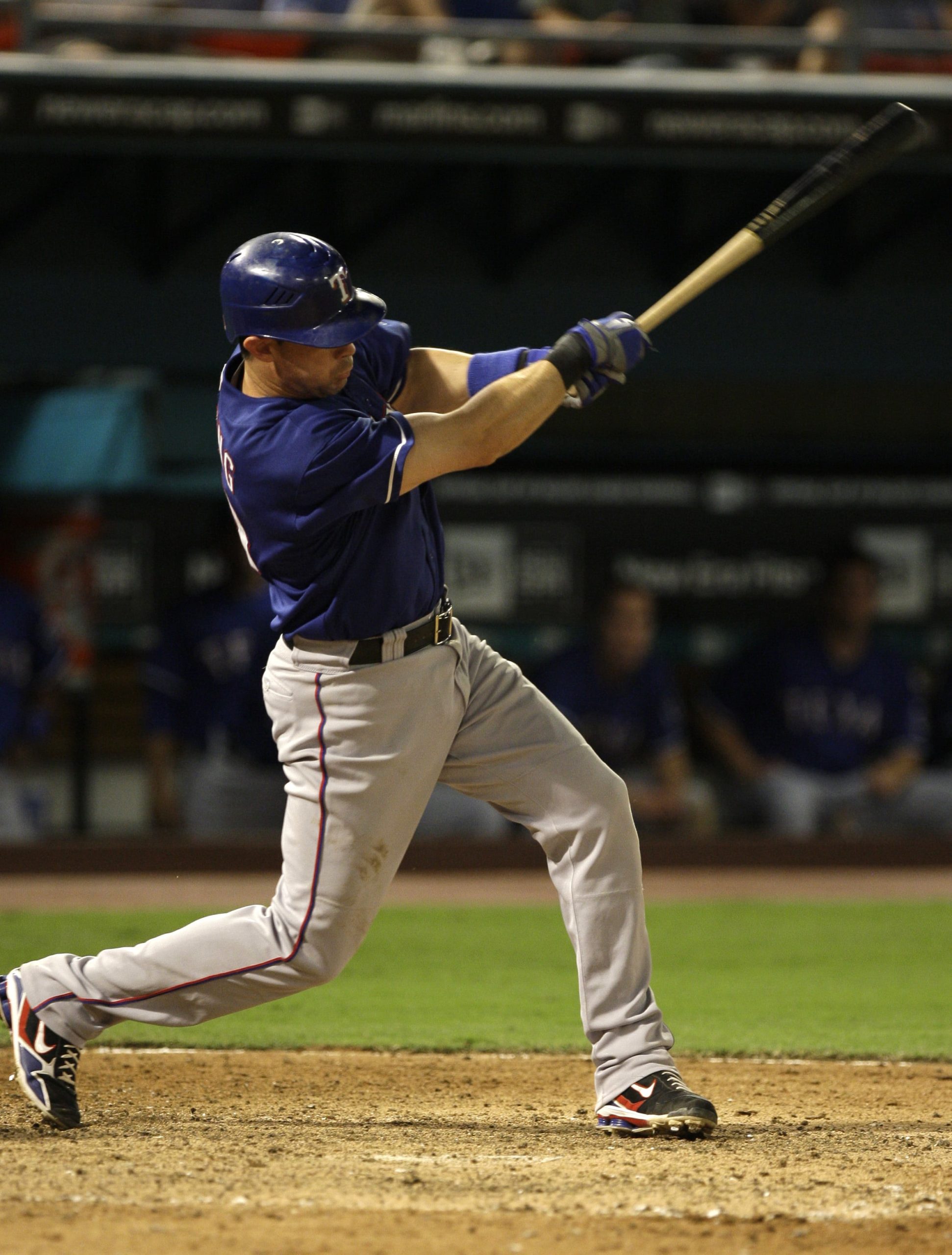 Michael Young breaks franchise hits record in Miami
June 16, 2010
Michael Young records his 1,748th hit in a Rangers uniform to break the franchise record. Young completes the feat in 91 fewer games than previously leader, Iván Rodríguez.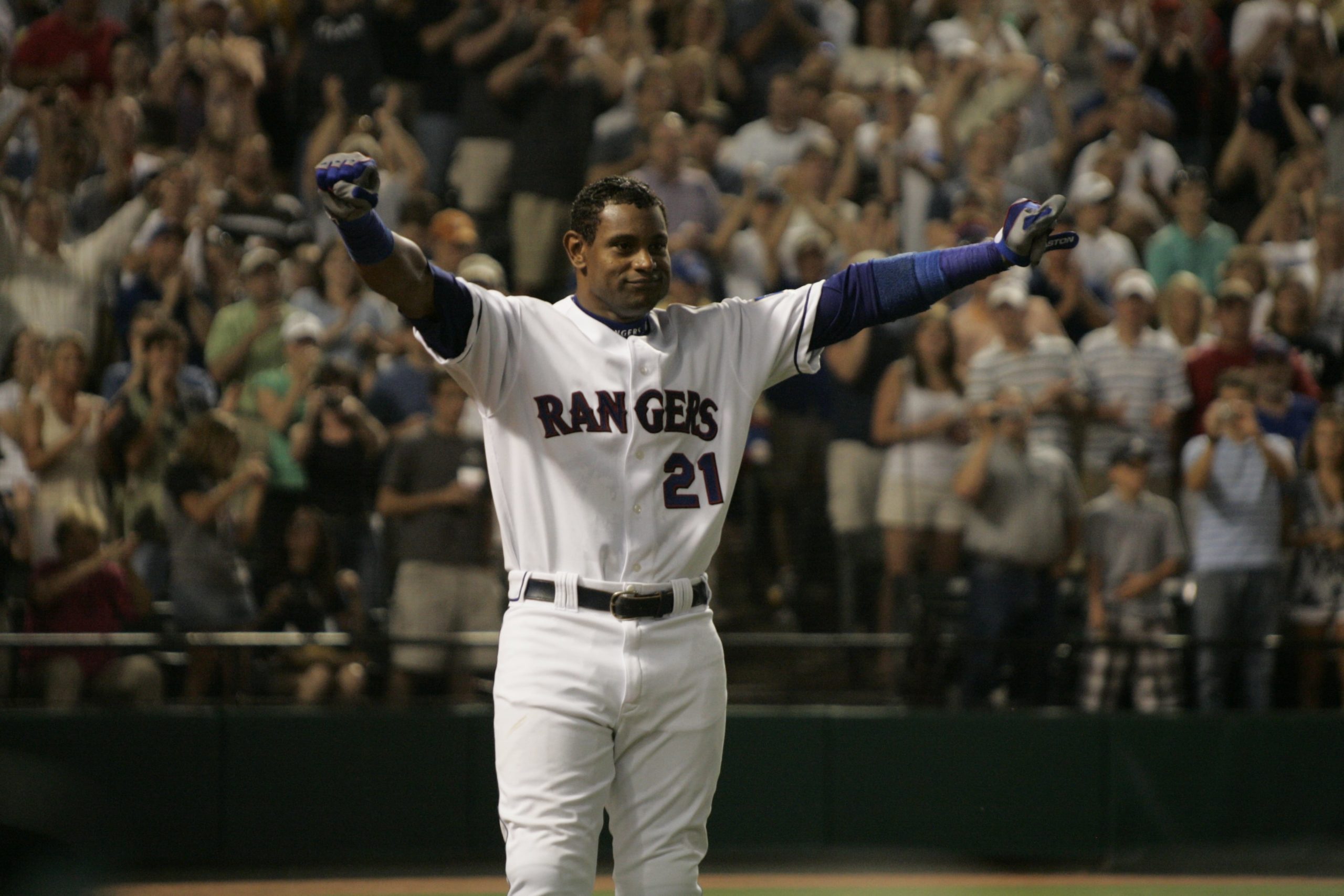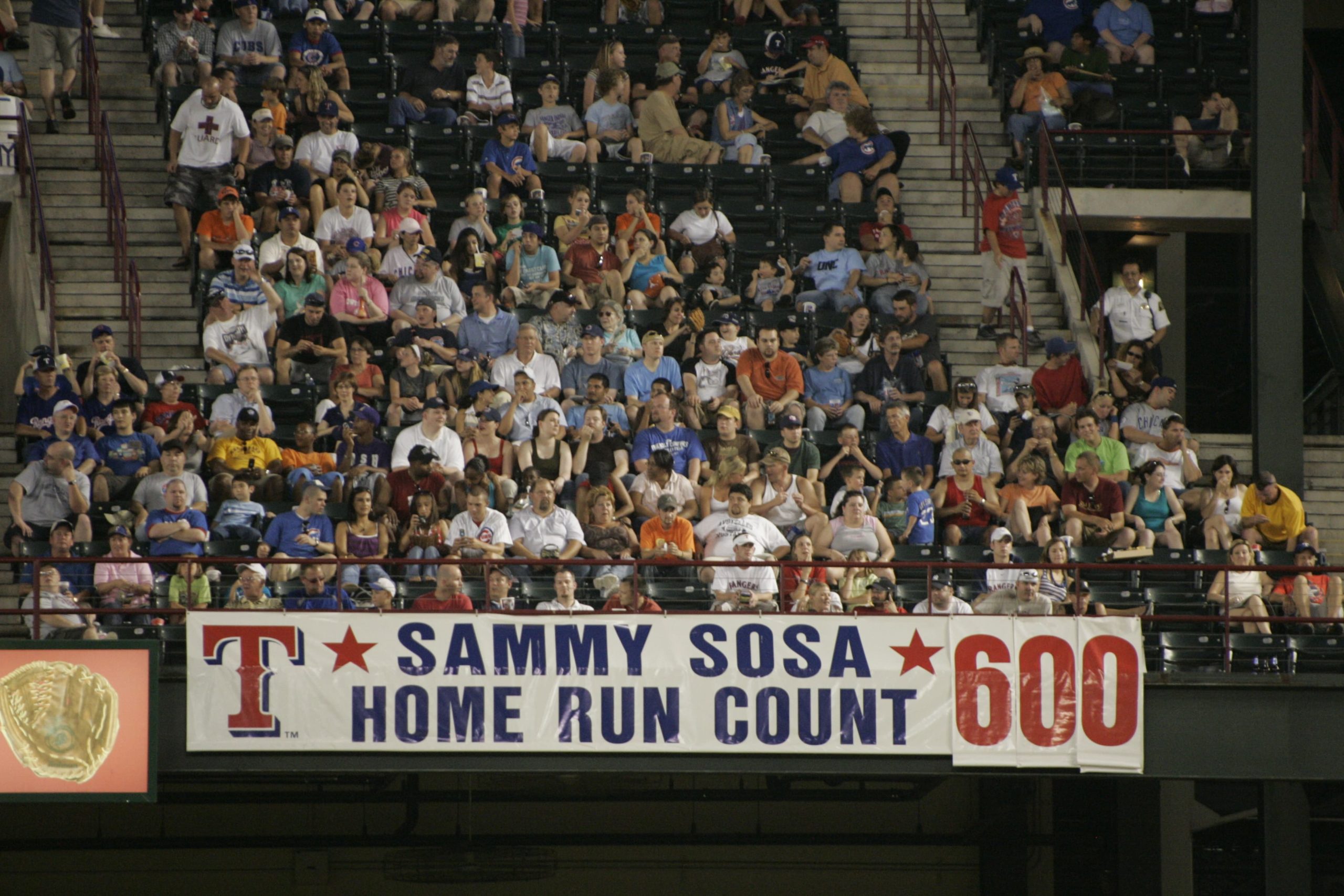 Sammy Sosa hits 600th Career HR
June 20, 2007
Sammy Sosa becomes just the 5th MLB player to hit 600 career home runs. Sosa launched number 600 against his former team, the Chicago Cubs, in his first game facing his former team.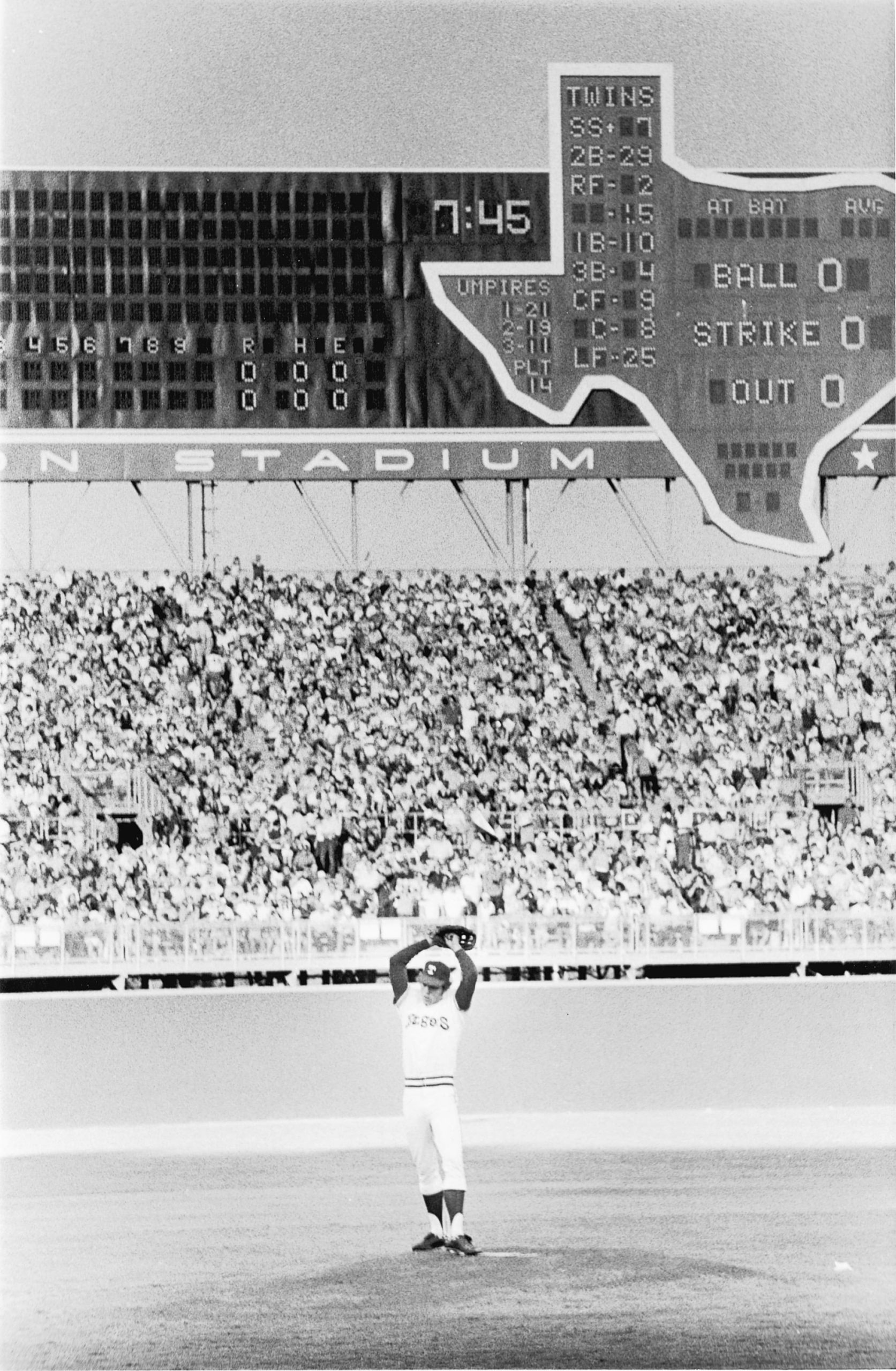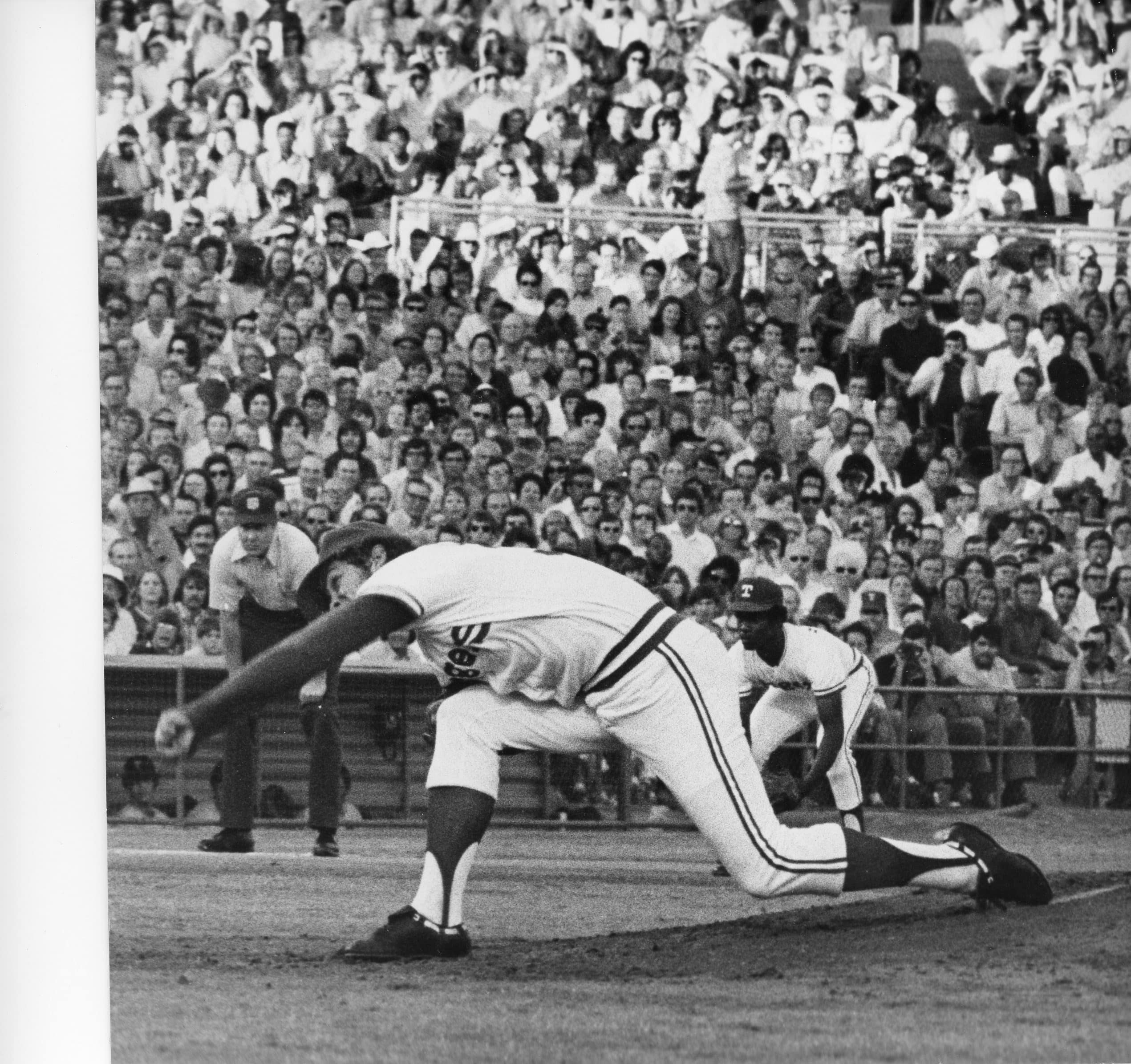 No. 1 overall pick, David Clyde, makes debut 20 days after pitching in HS. 35K fans with 10K turned away
June 27, 1973
20 days after graduating from high school, No. 1 overall pick, David Clyde, makes his major league debut in front of 35,000 fans at Arlington Stadium. Clyde struck out 8 batters in 5 innings of work in what was the franchise's first ever sellout.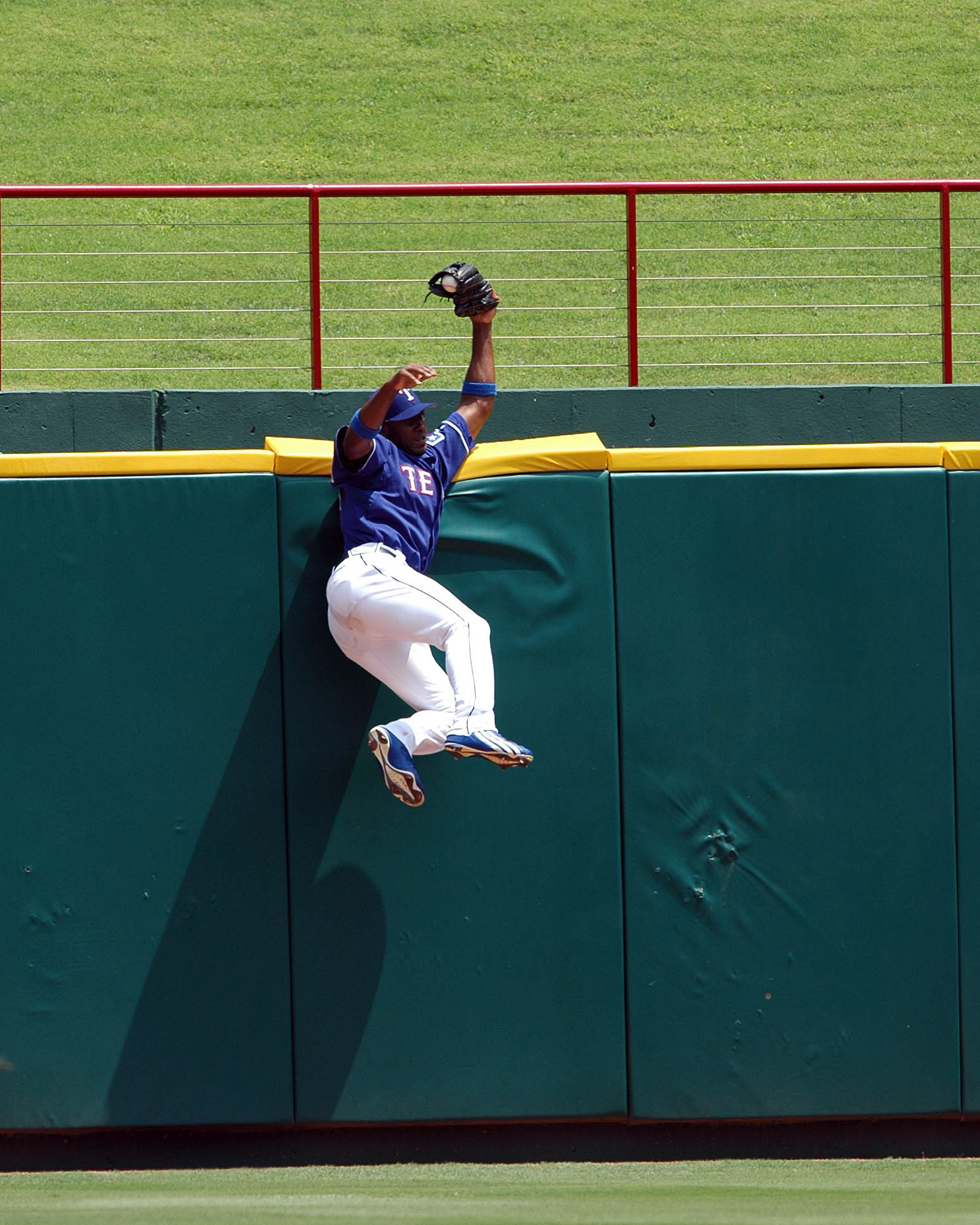 Gary Matthews Jr. catch vs HOU
July 1, 2006
Gary Matthews Jr. defies gravity to make one of the greatest home-run robbing catches in MLB history. Matthews soared over the center field wall that took away a 3-run homer from Astros Mike Lamb.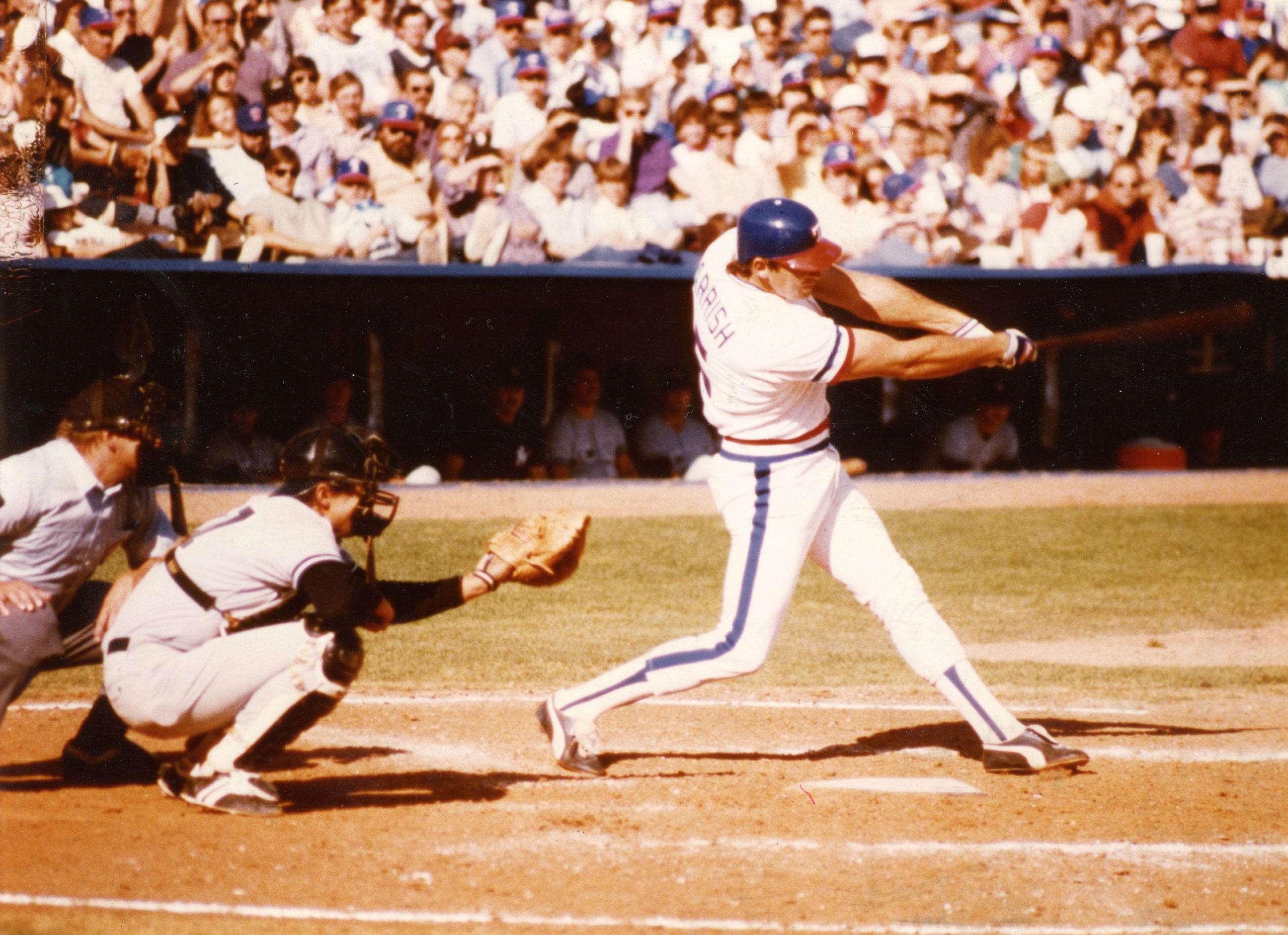 Larry Parrish hits 3rd grand slam of the week
July 10, 1982
Larry Parrish ties a Major League record hitting his 3rd grand slam in a single week. Each grand slam came against a different team: Oakland, Boston and Detroit.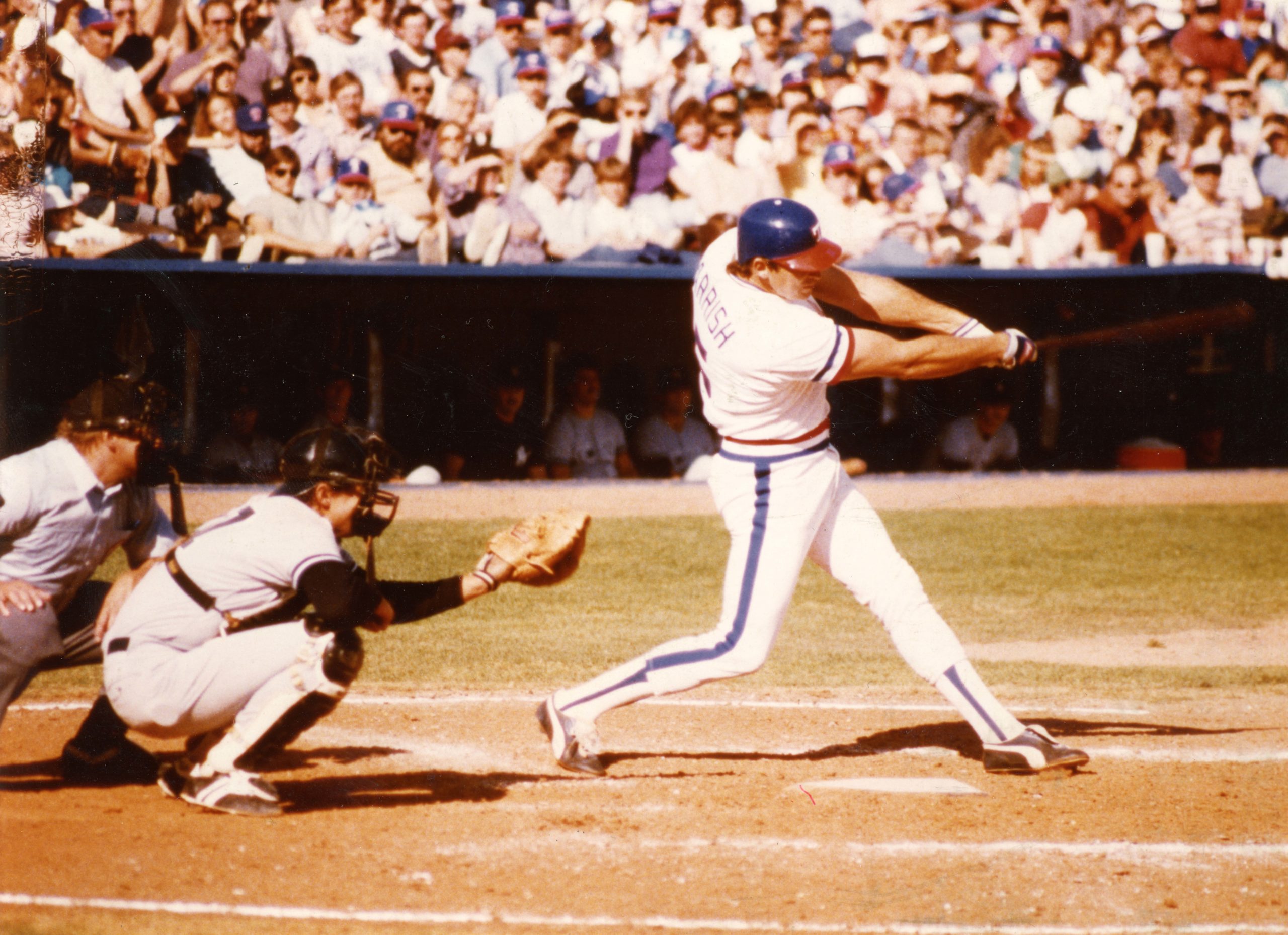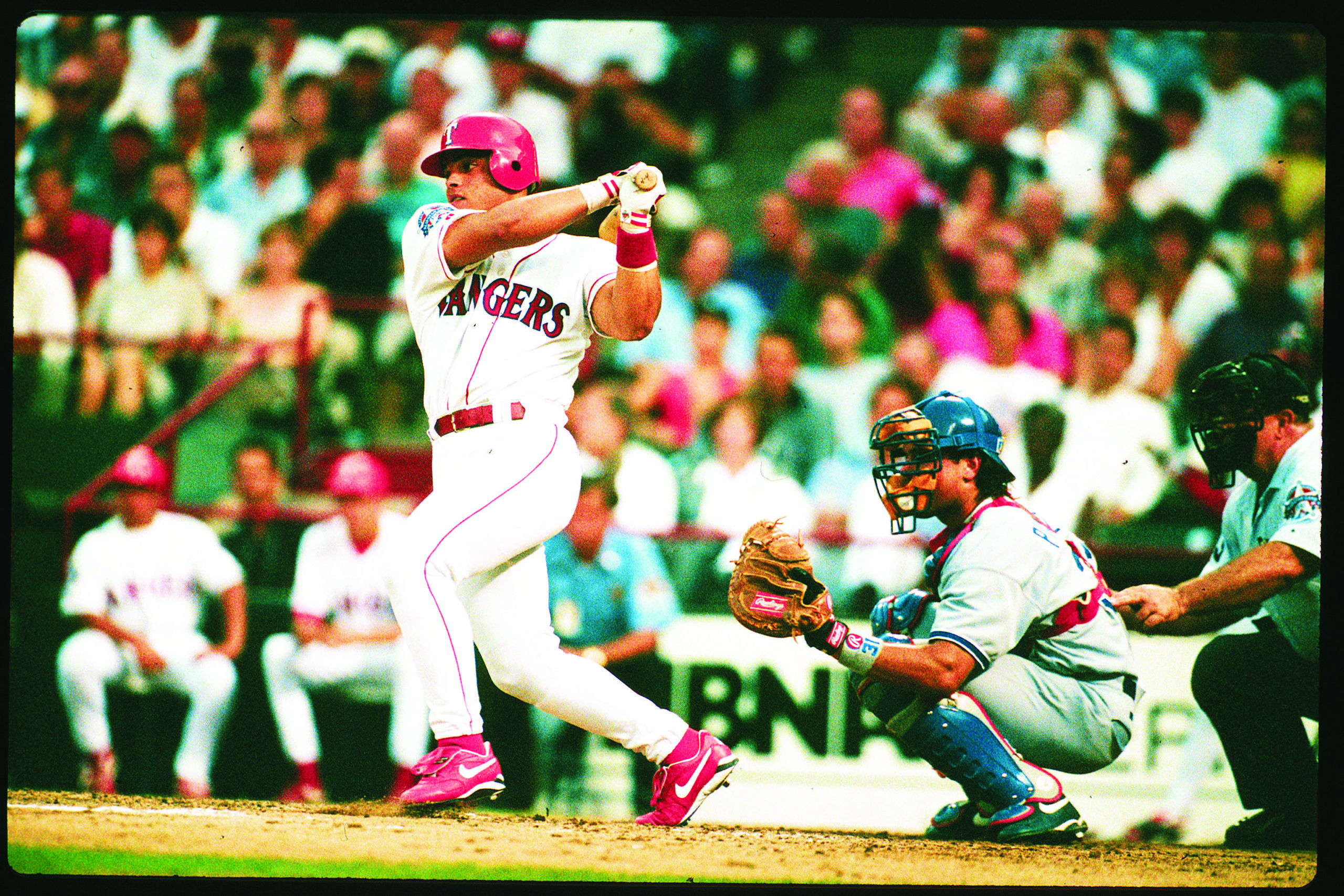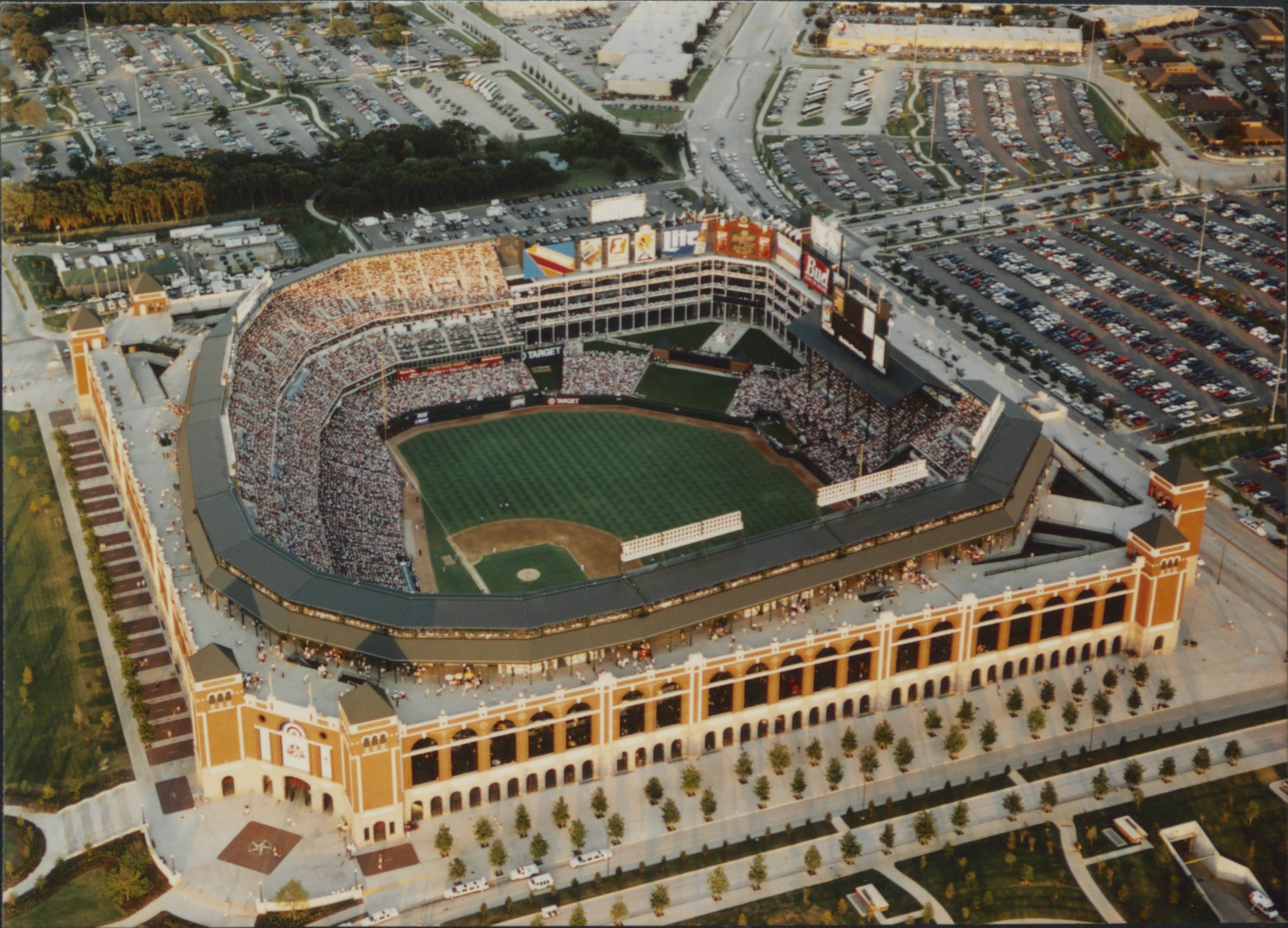 Rangers hosts 1995 ASG
July 11, 1995
The Rangers host its first MLB All-Star Game during its second season at the Ballpark in Arlington. Over 50,000 fans were in attendance as the National League edged out the American League, 3-2.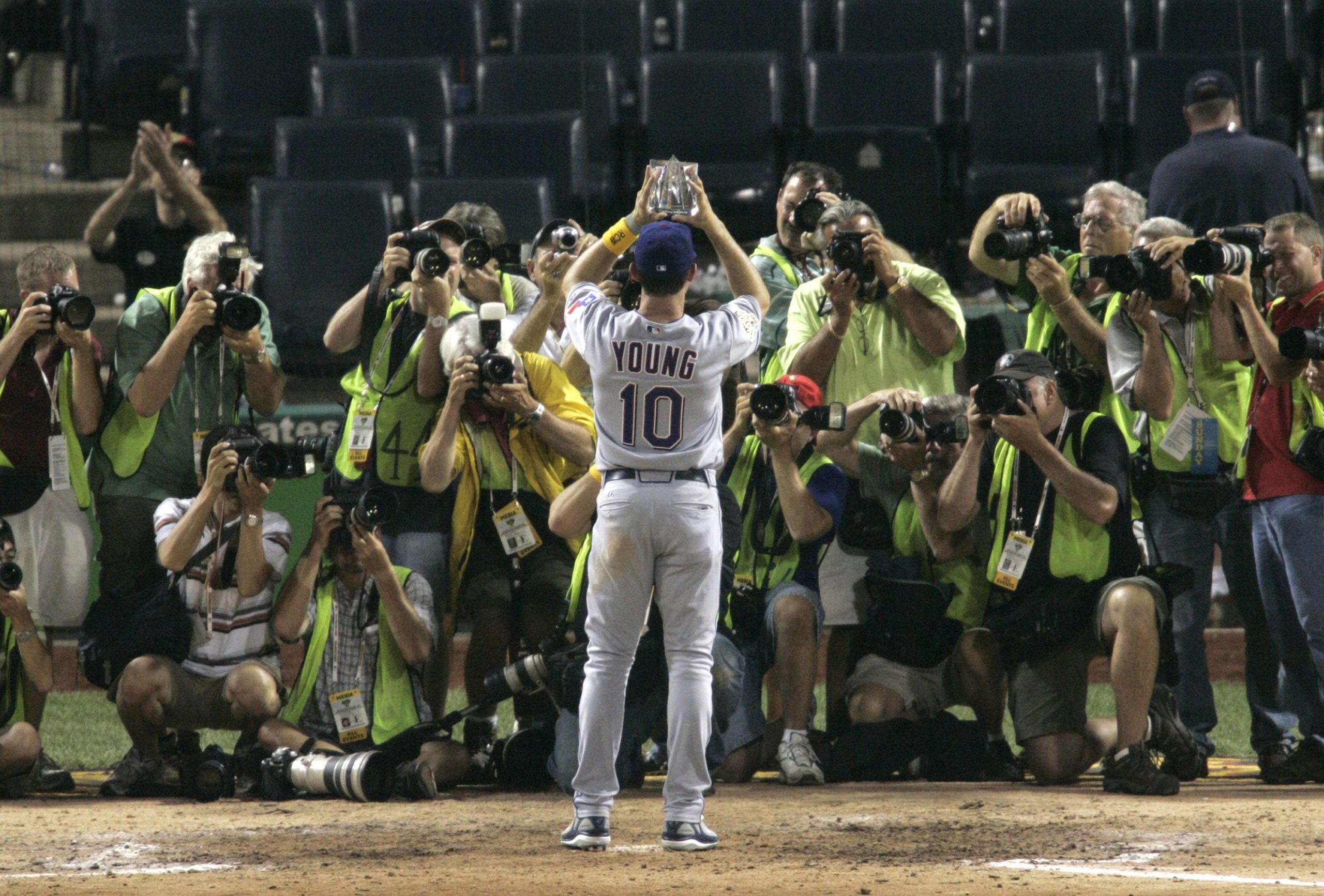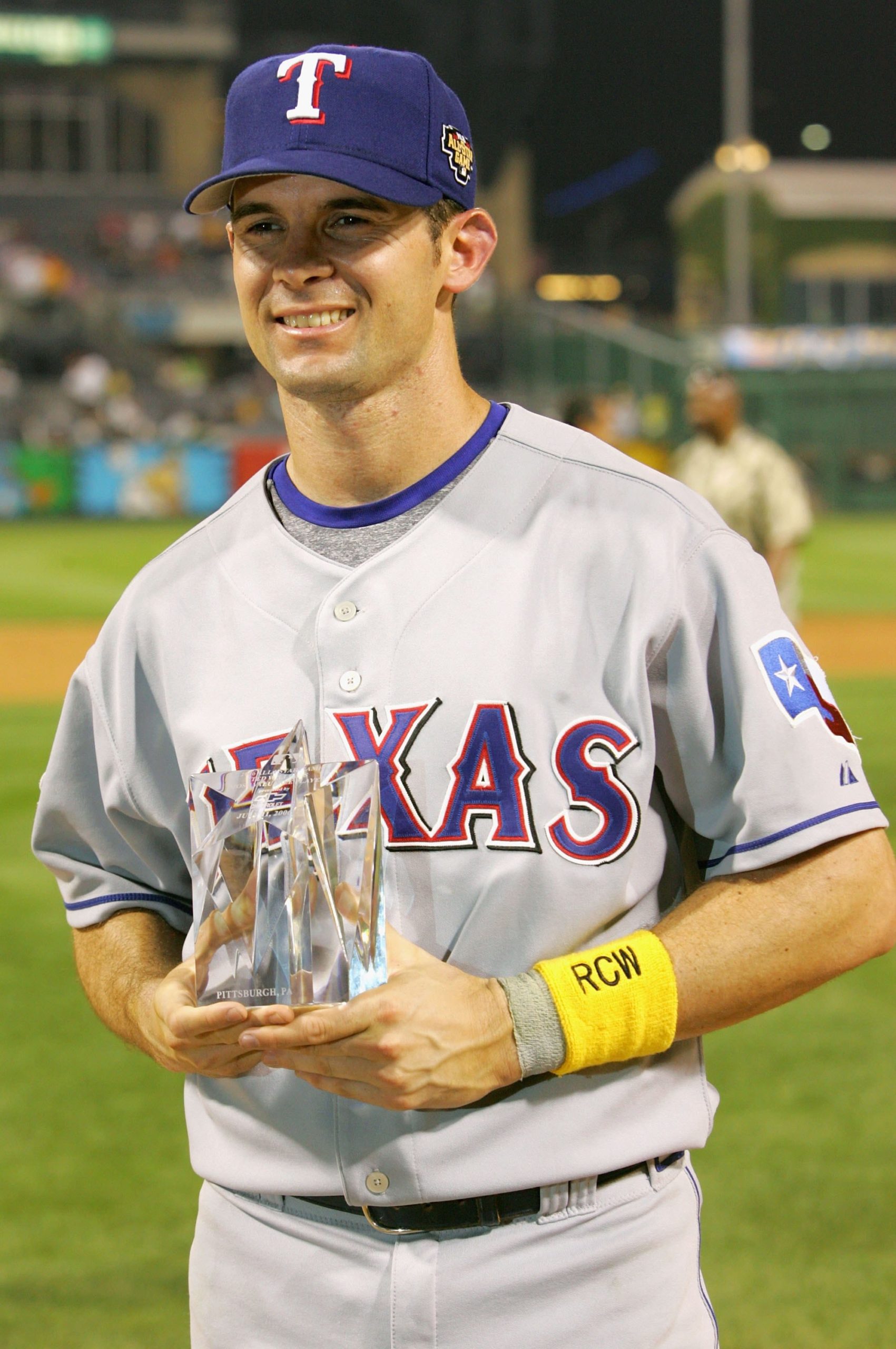 Michael Young named ASG MVP
July 11, 2006
Michael Young wins All-Star Game MVP honors after hitting a game-winning, two-run triple in the 9th. The American League trailed, 2-1, with two-runners on before Young cleared the bases with a triple.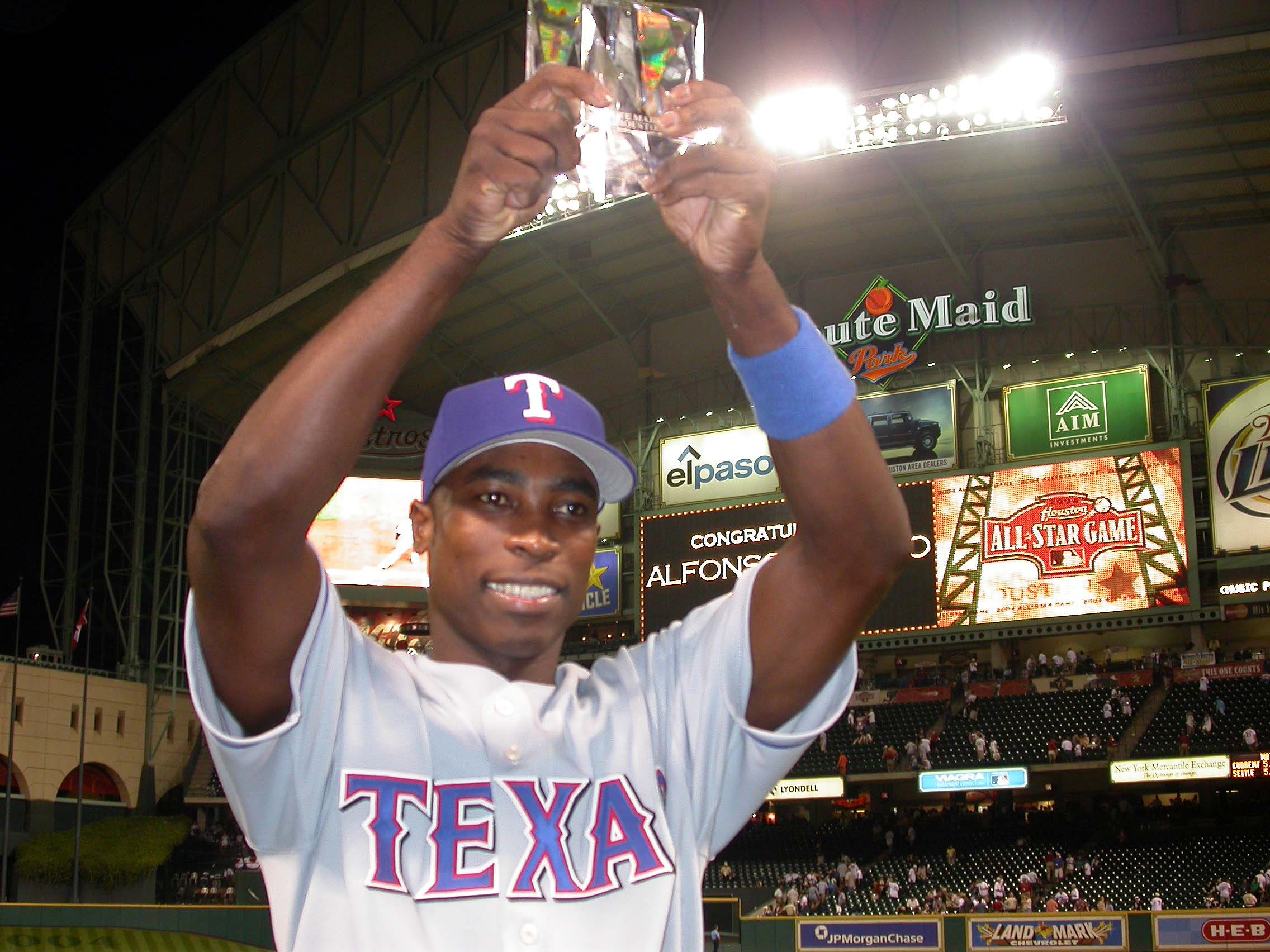 Alfonso Soriano named ASG MVP
July 13, 2004
Alfonso Soriano goes 2-for-3 with a 3-run home run to secure All-Star Game MVP honors. The American League went on to defeat the National League, 9-4, at Minute Maid Park in Houston.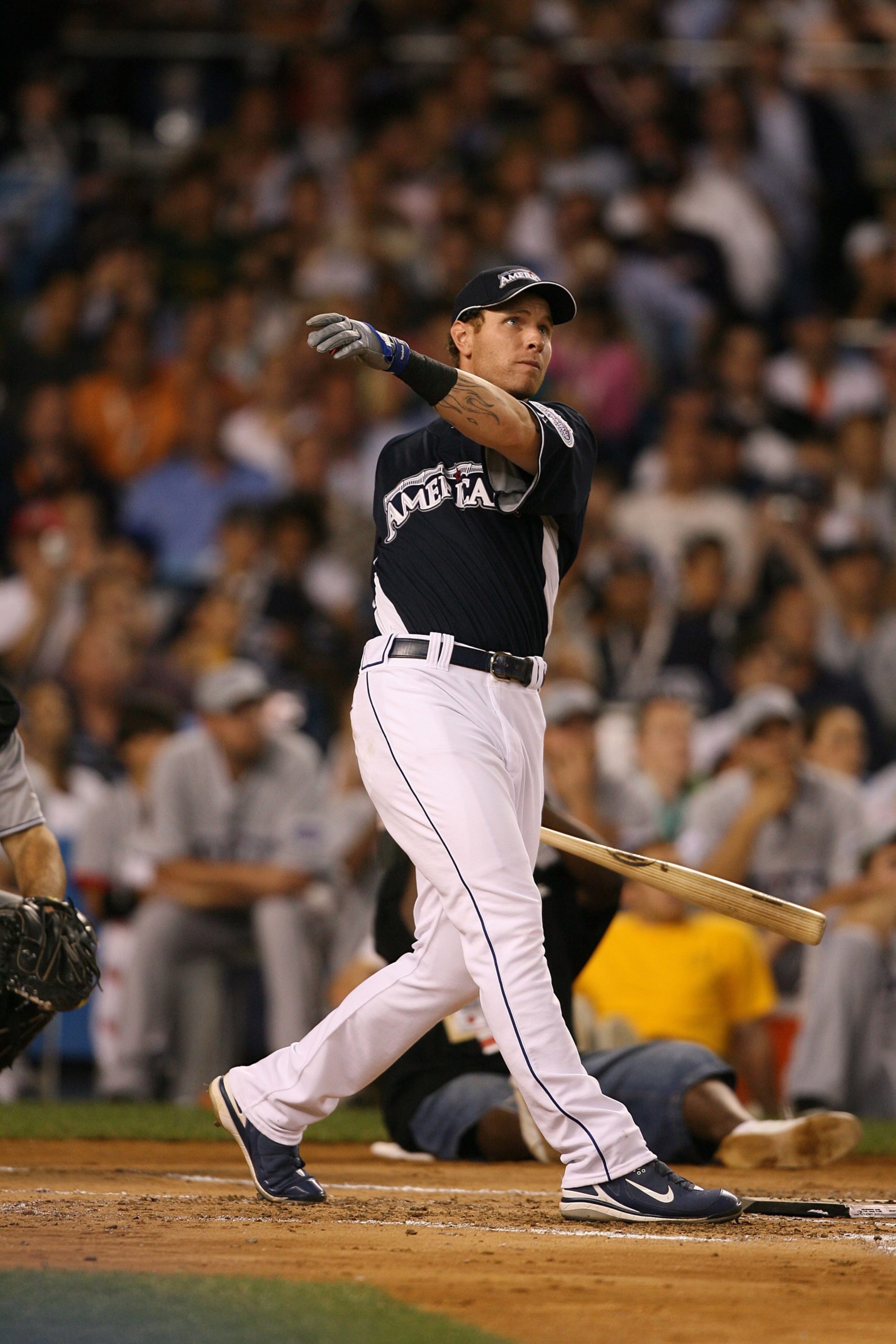 Josh Hamilton puts on a show in HR Derby at Yankee Stadium
July 14, 2008
Josh Hamilton launches 28 home runs during the first round of the HR Derby at Yankee Stadium. Josh hit 13 straight without recording an out, more than any other participant hit total in the first round. Justin Morneau ousted Hamilton in the final round, but Hamilton's legendary performance stole the show.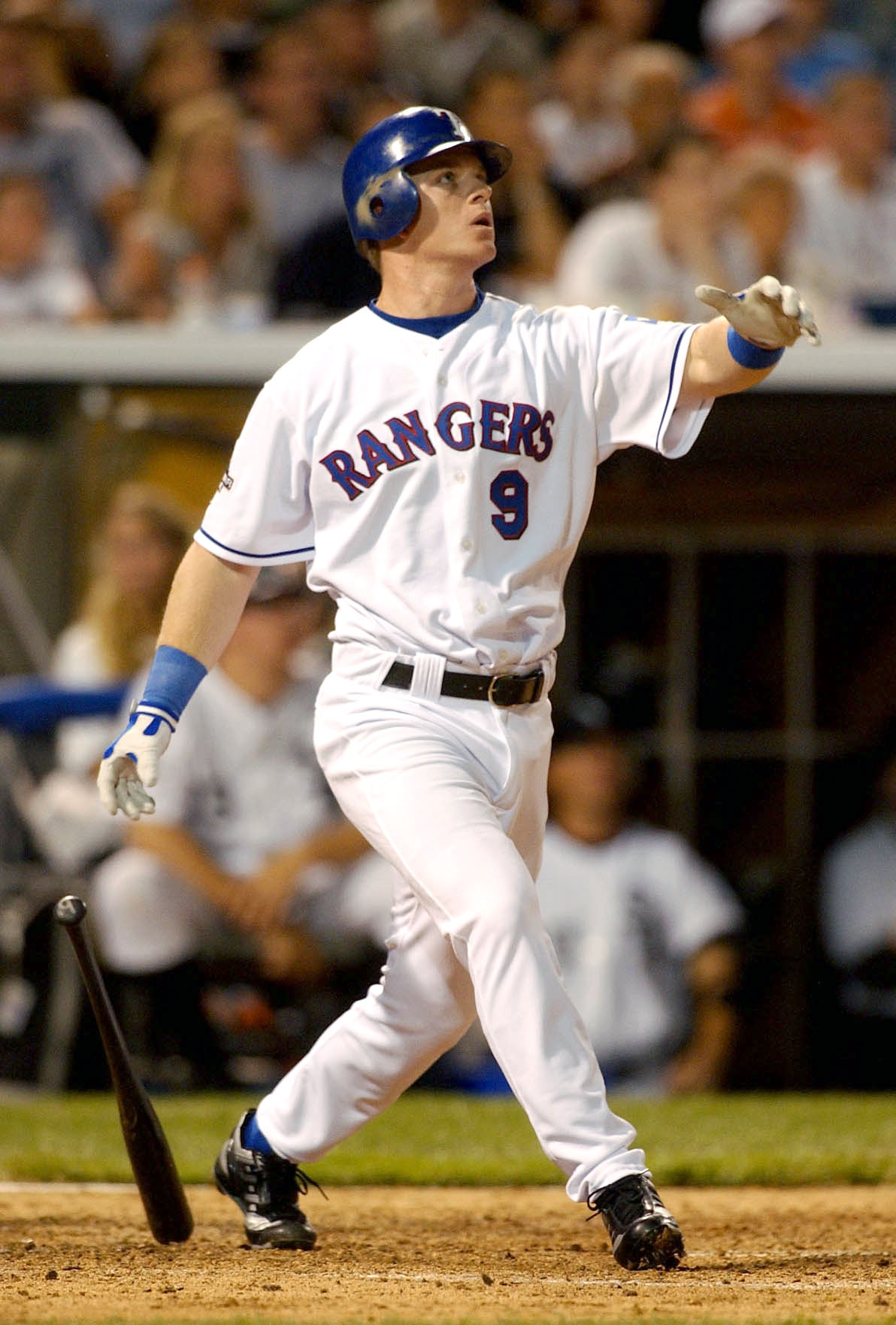 Hank Blalock hits PH go-ahead HR in ASG
July 15, 2003
Hank Blalock hits pinch-hit, 2-run home run in the 9th inning to put the American League on top, 7-6. The AL would close out the game in the 9th, making Blalock's long ball the game winner.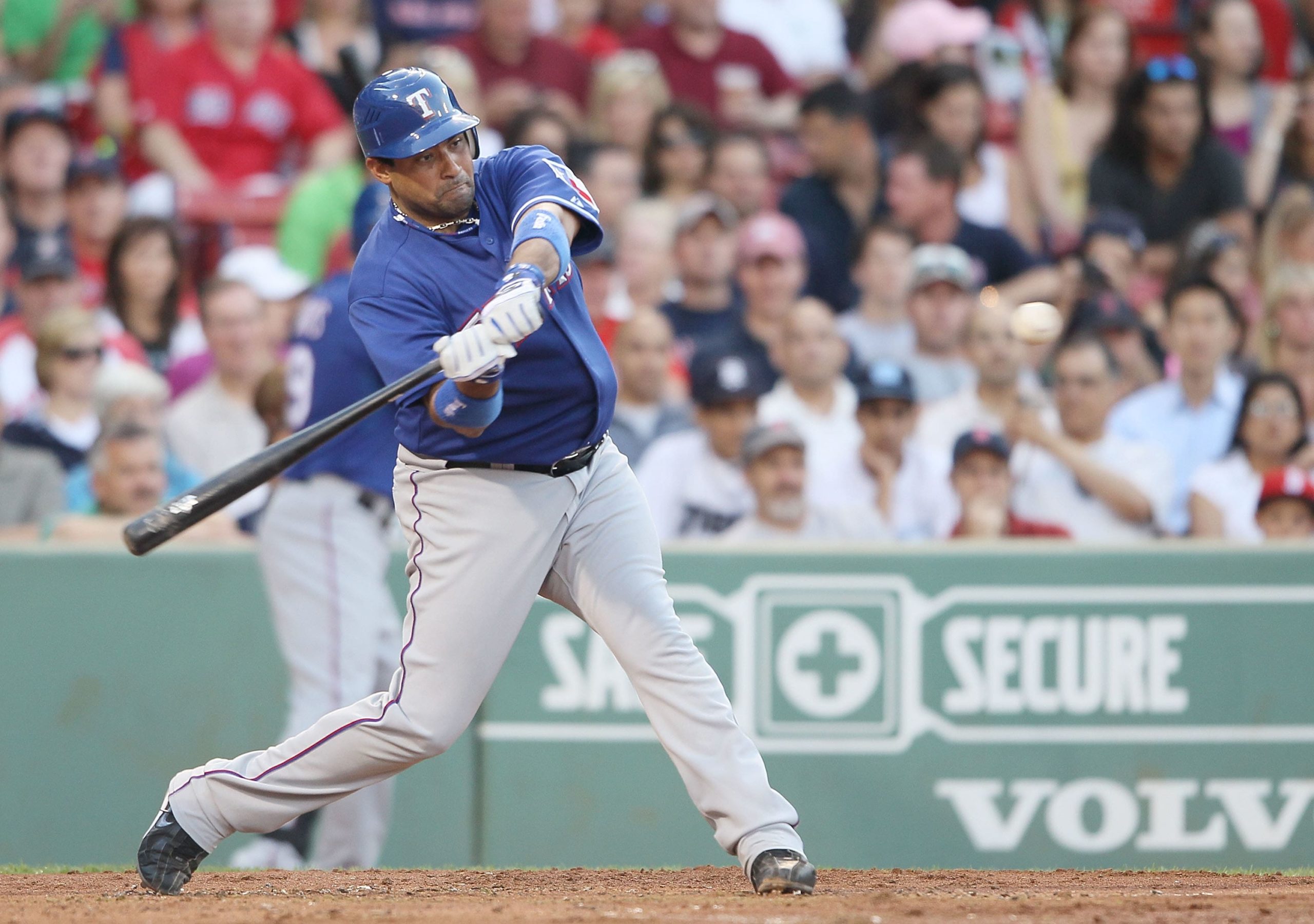 Bengie Molina hits for cycle at Fenway Park
July 16, 2010
Catcher Bengie Molina records an improbable cycle at Fenway Park. After recording a single, a double and a grand slam, Molina hit a ball that ricocheted away allowing him to complete the cycle with a triple.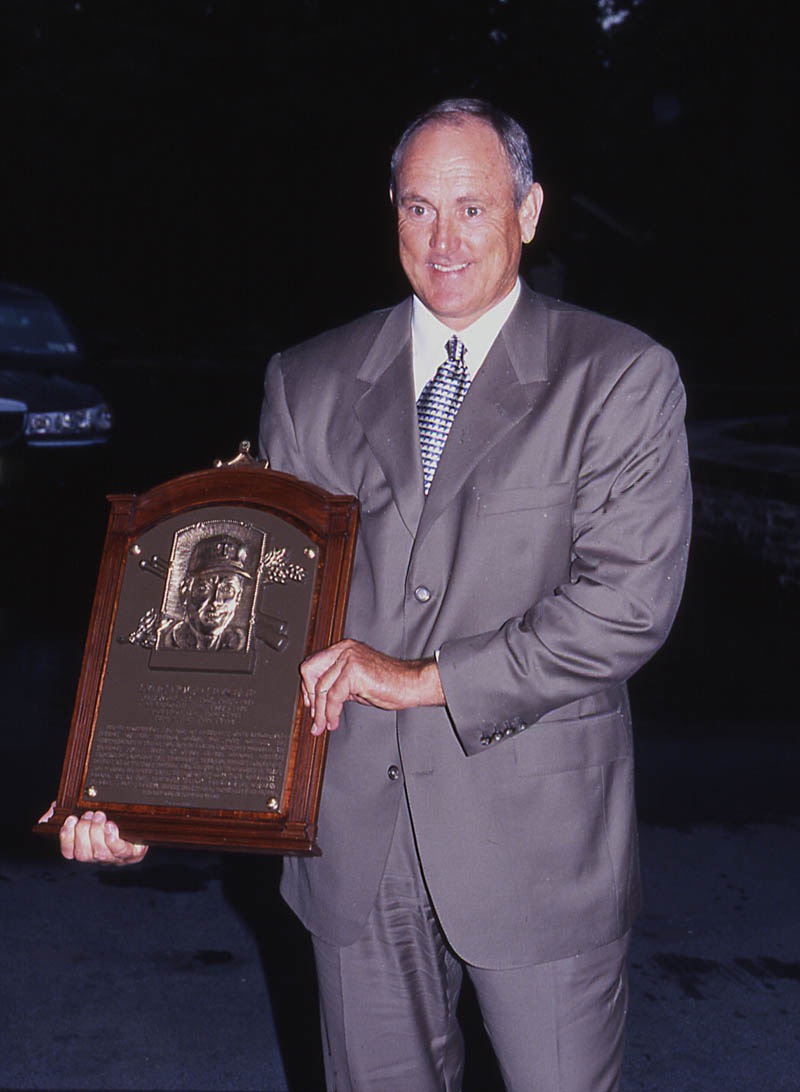 Nolan Ryan inducted into HOF
July 25, 1999
Nolan Ryan is inducted into the the National Baseball Hall of Fame in Cooperstown. 491 of the BBWAA's 497 voters selected Ryan, giving him the second highest vote percentage at the time to be elected into the HOF. Ryan had success throughout his career with the Mets, Angels and Astros, but elected to wear a Rangers hat on his plaque, becoming the first player in franchise history to do so.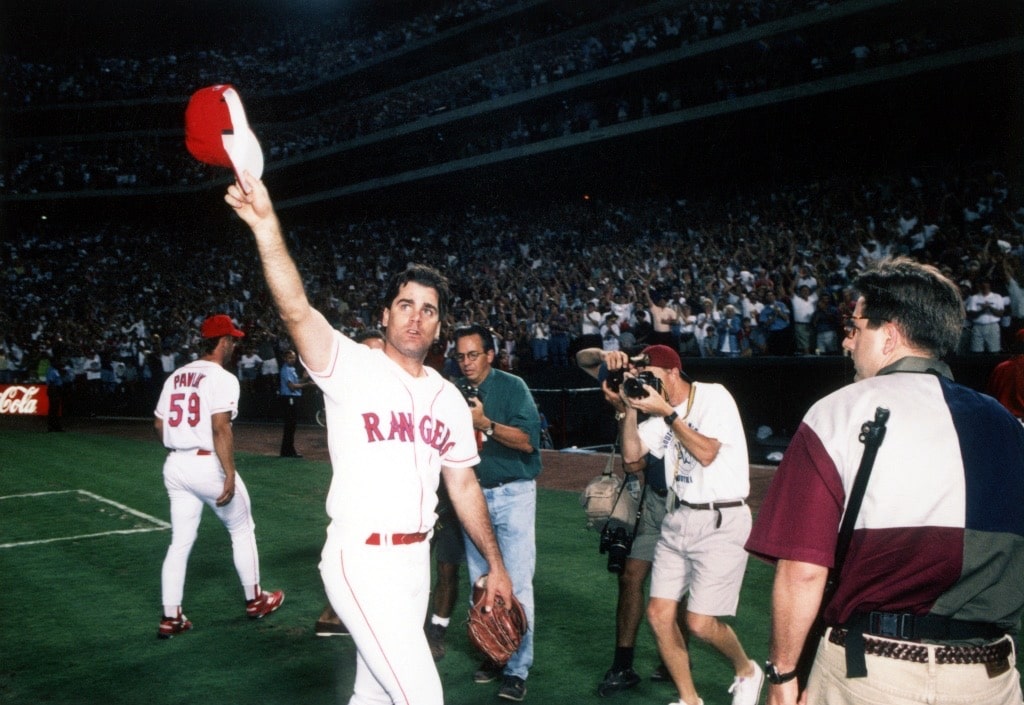 Kenny Rogers throws perfect game
July 28, 1994
Kenny Rogers becomes the 14th player in MLB history and 1st in franchise history to throw a perfect game. Rogers retired 27 straight in a 4-0 win over the Angels. With the perfect game intact into the 9th, Rusty Greer made a now famous diving catch to keep the perfect game alive.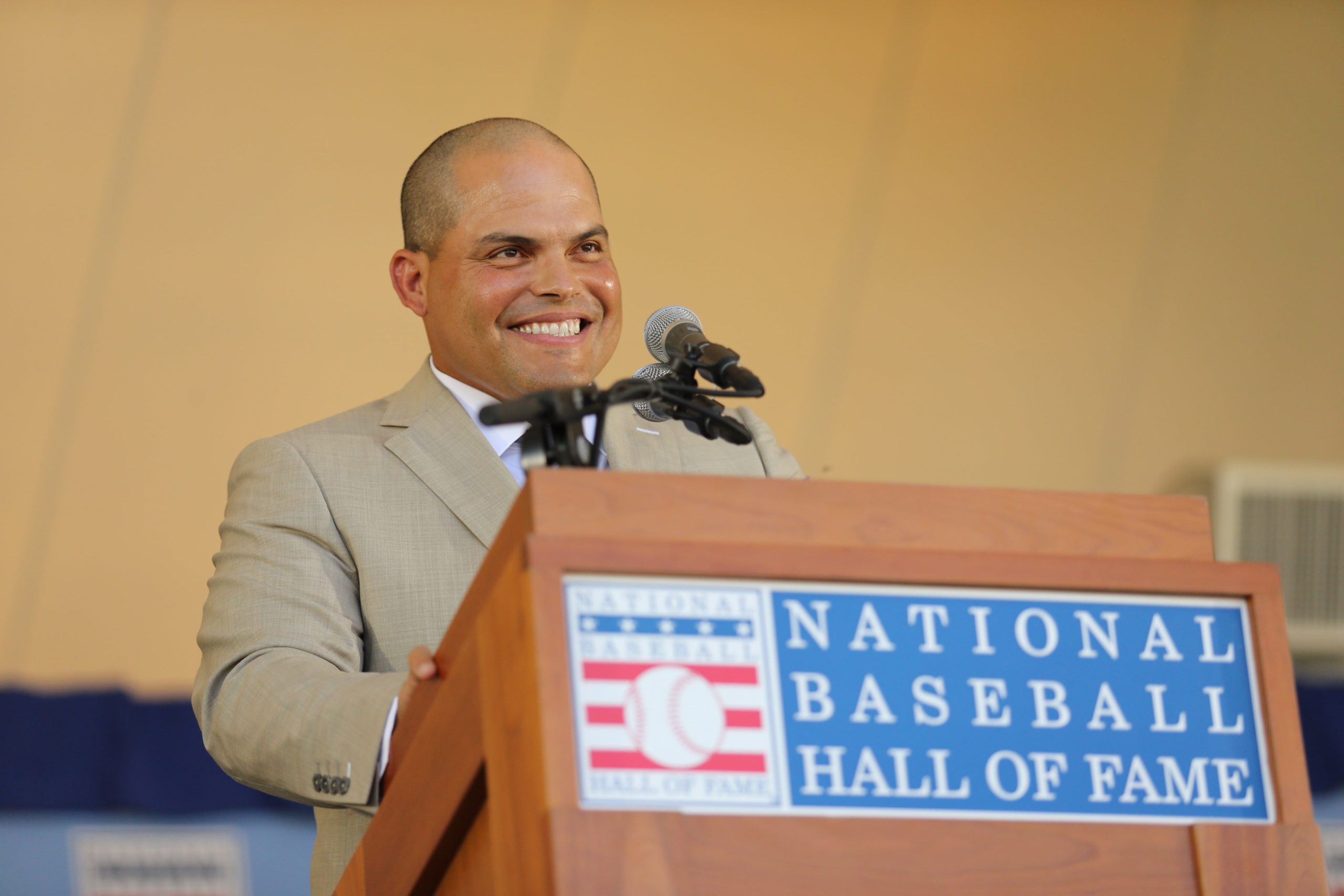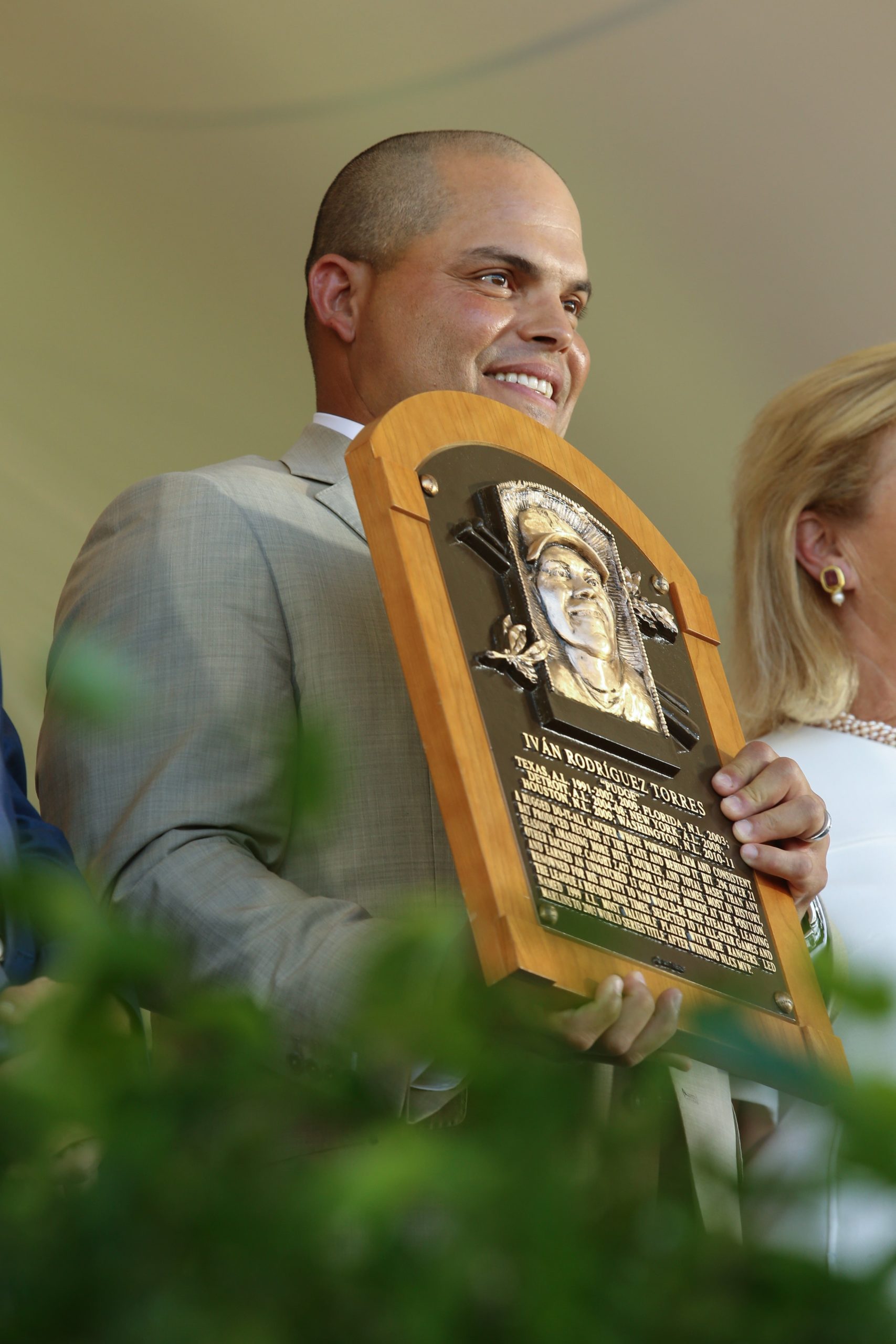 Pudge inducted into HOF
July 30, 2017
Iván Rodríguez is inducted into the National Baseball Hall of Fame in Cooperstown. Pudge finished his career with 14 All-Star Game selections, 13 Gold Glove Awards and 2,427 games behind the plate, all tops for any catcher in Major League history.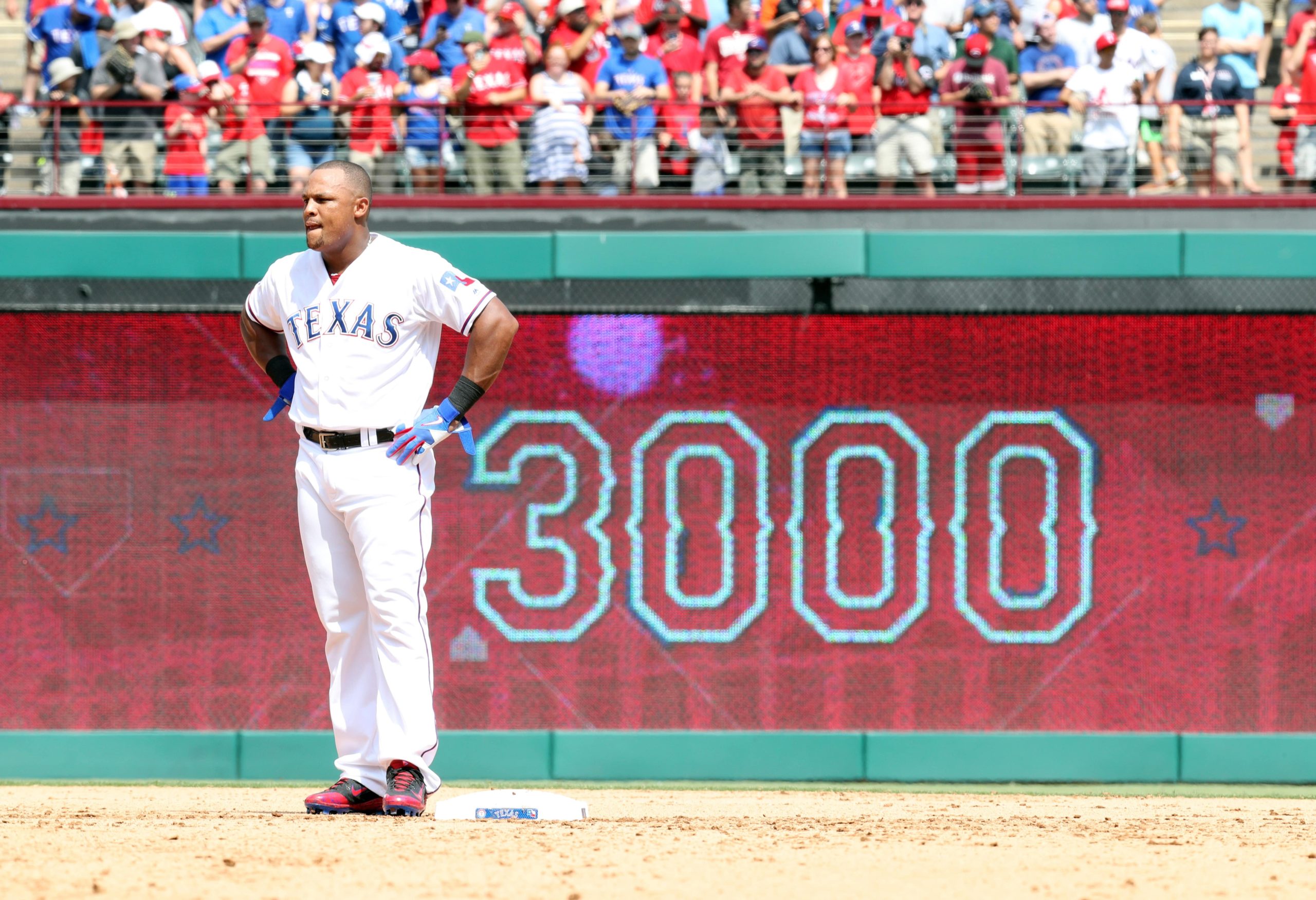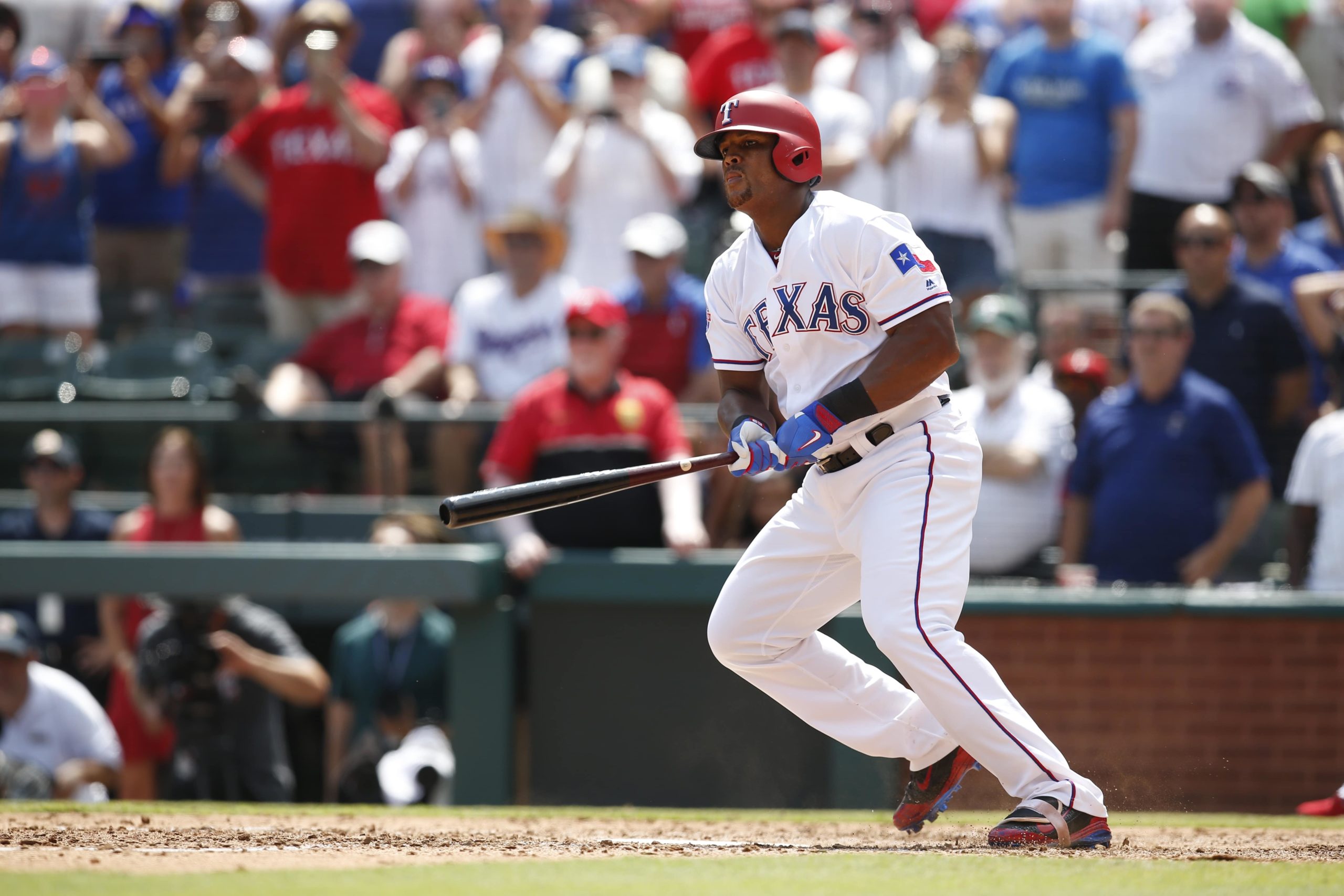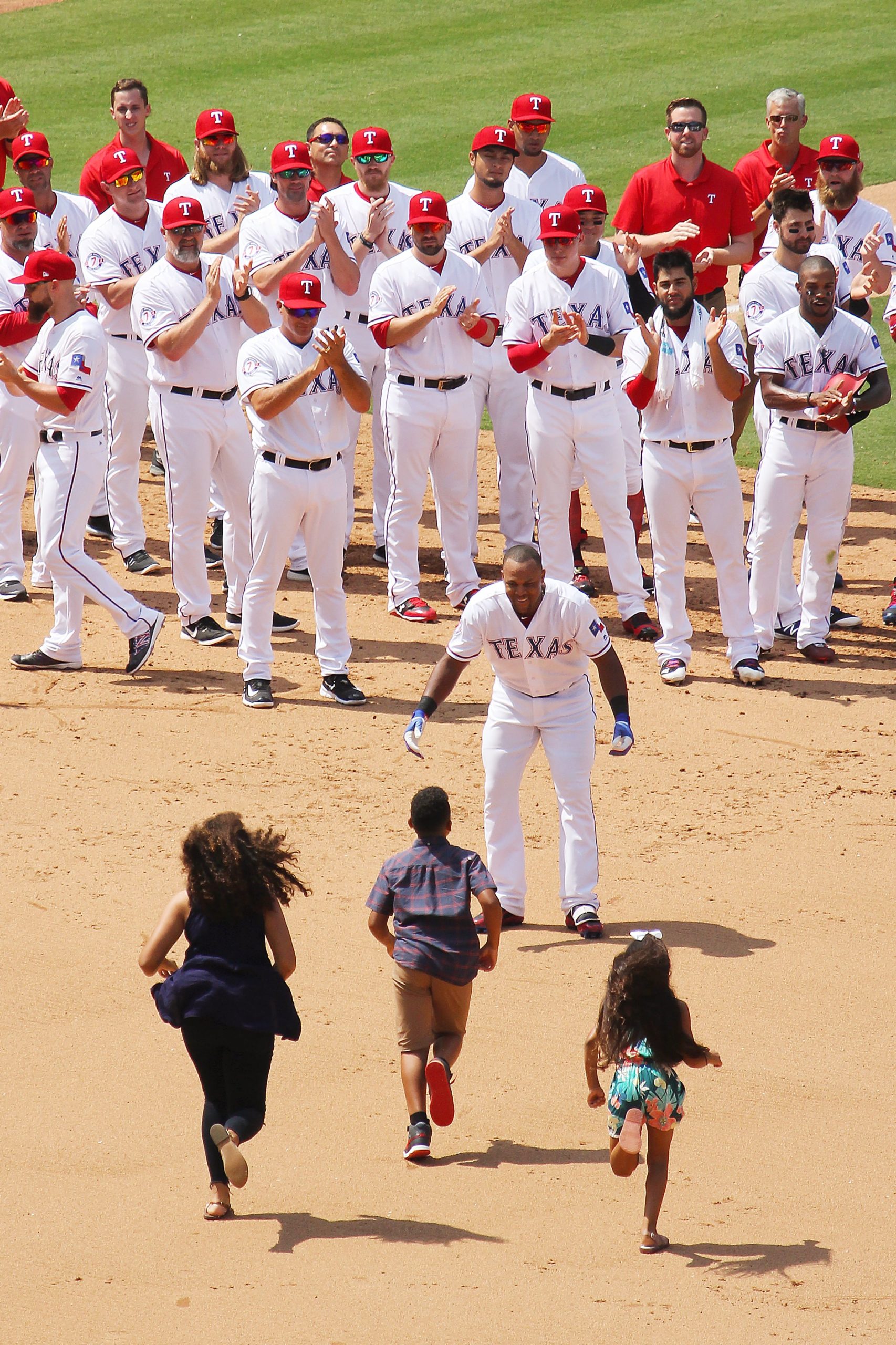 Beltre records 3000th hit
July 30, 2017
Adrián Beltré records a double in the 4th inning to reach 3,000 career hits. Beltré became the 31st player in MLB history to reach the milestone.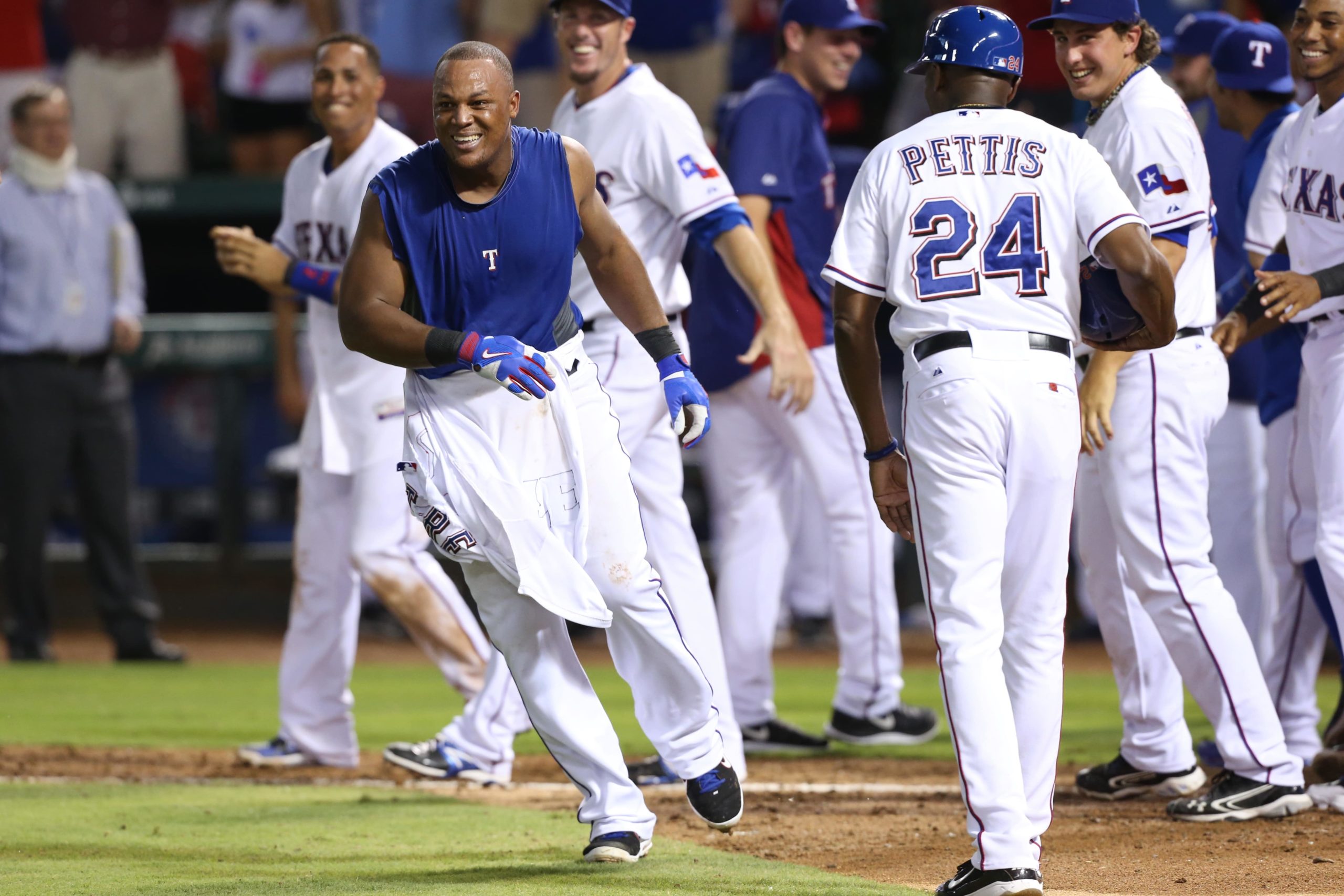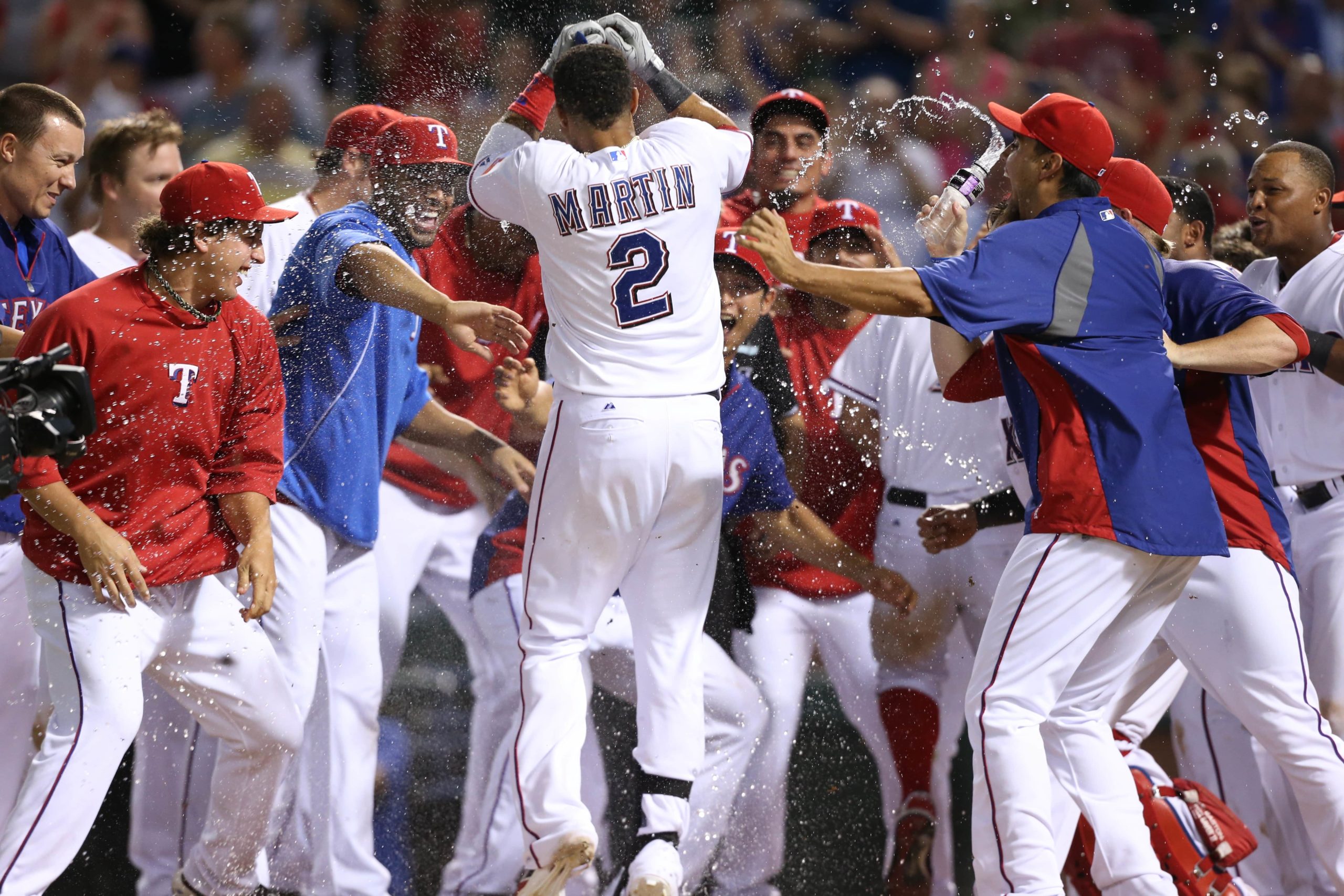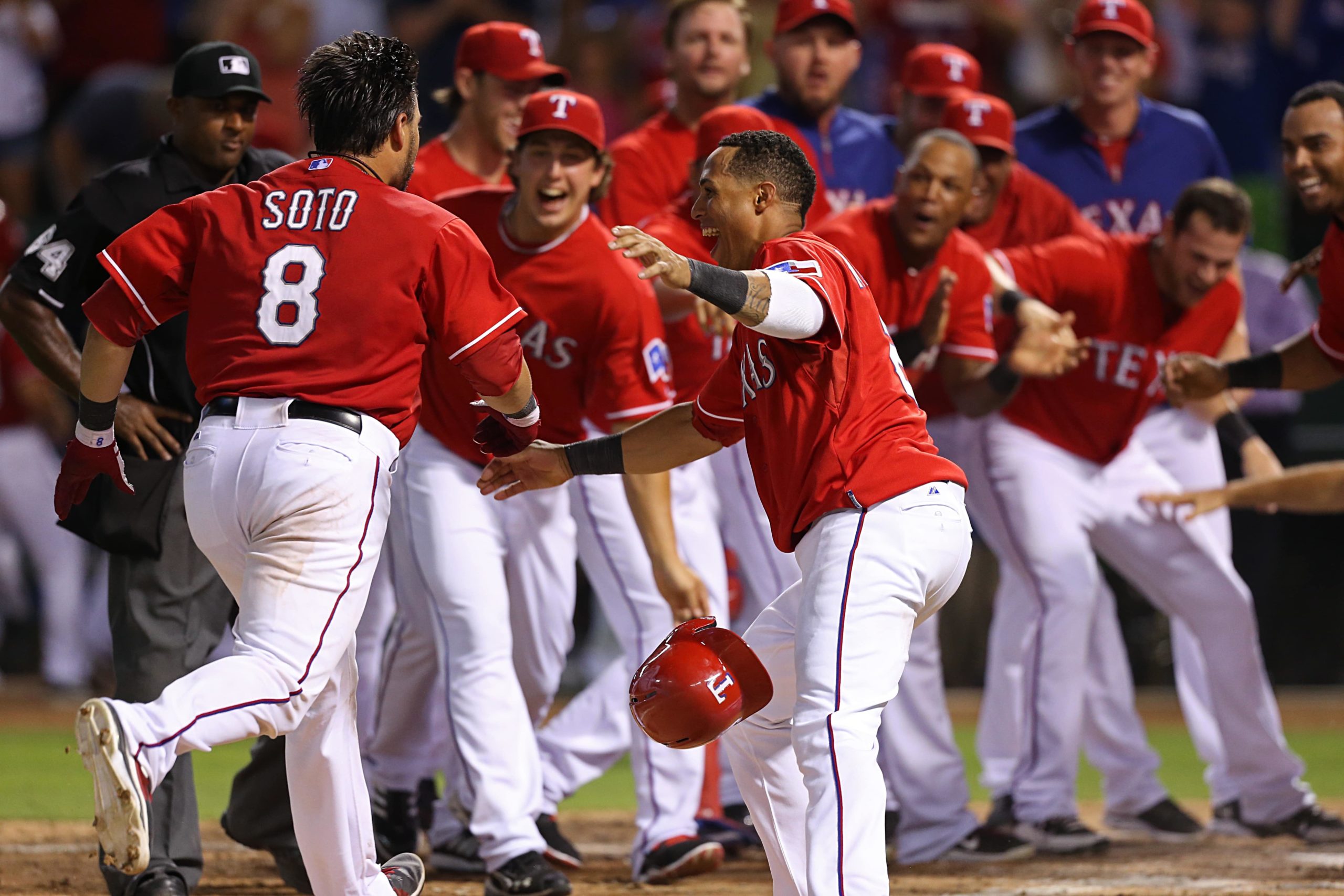 Three straight walk-offs vs. LAA
July 31, 2013
Rangers hit a walk-off home run in three consecutive games to complete 3-game sweep of the Angels.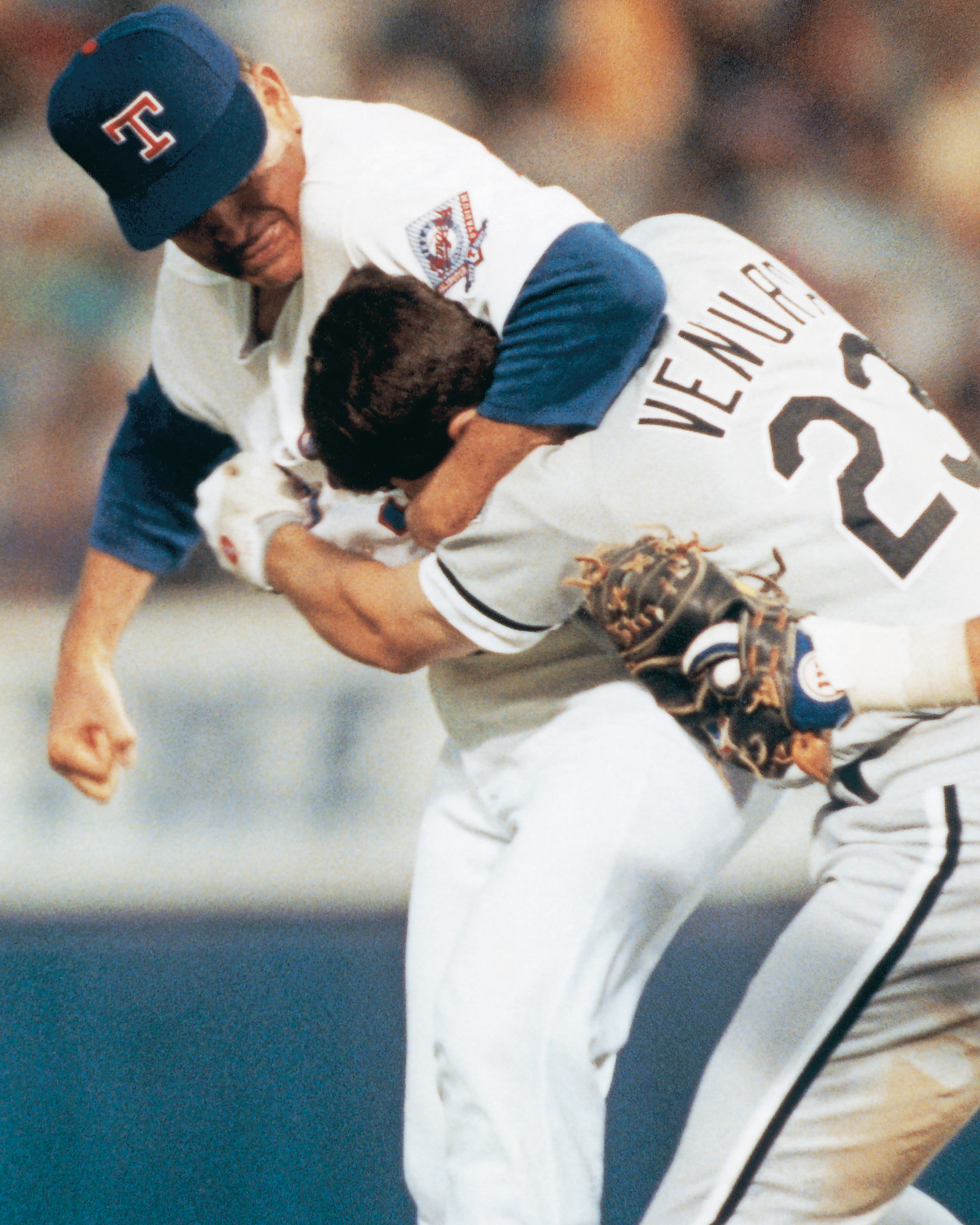 Nolan Ryan beats up Robin Ventura
August 4, 1993
After being hit by a pitch, 26-year-old Robin Ventura decided to charge the mound at 46-year-old Nolan Ryan. Ventura probably should've just walked to first base...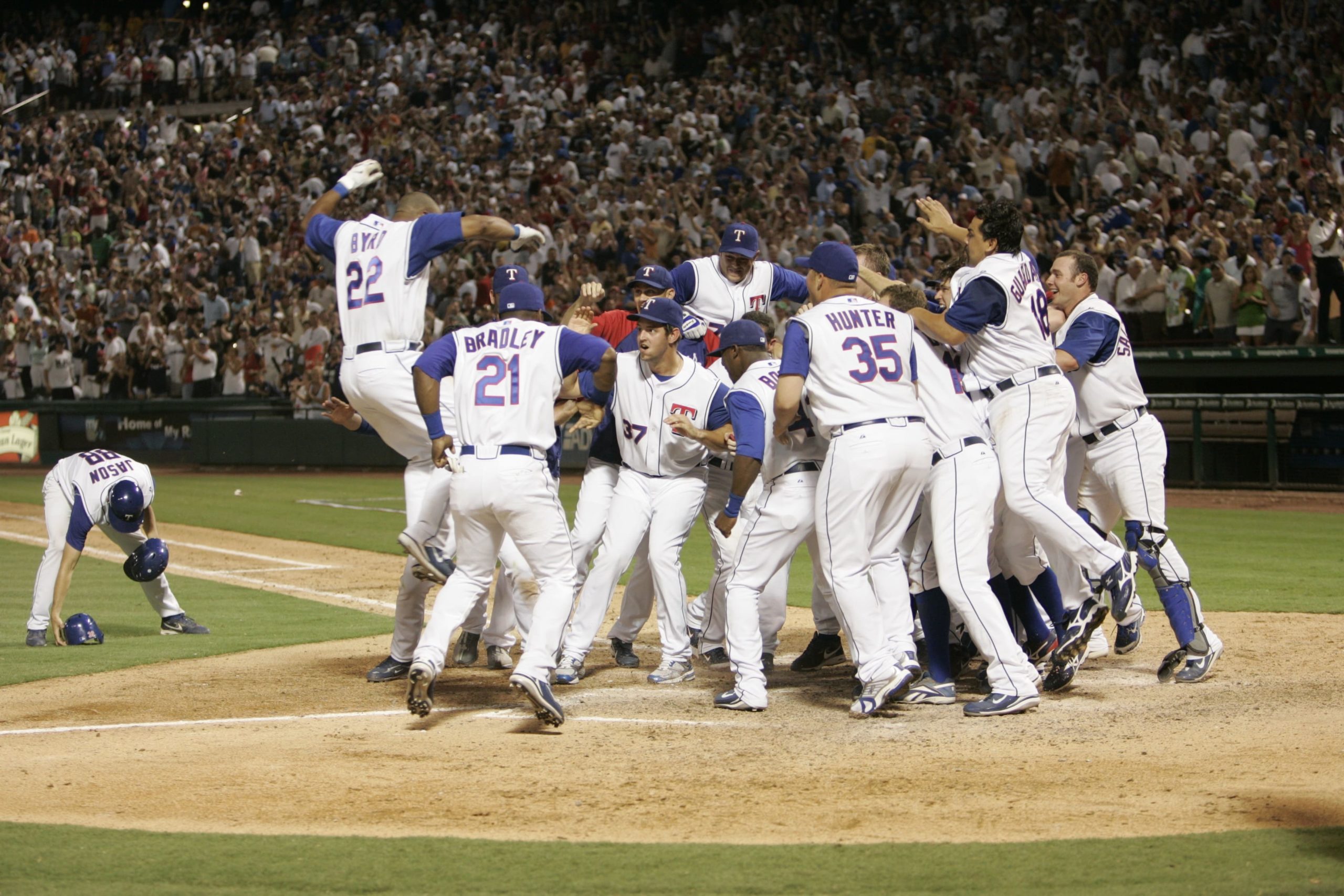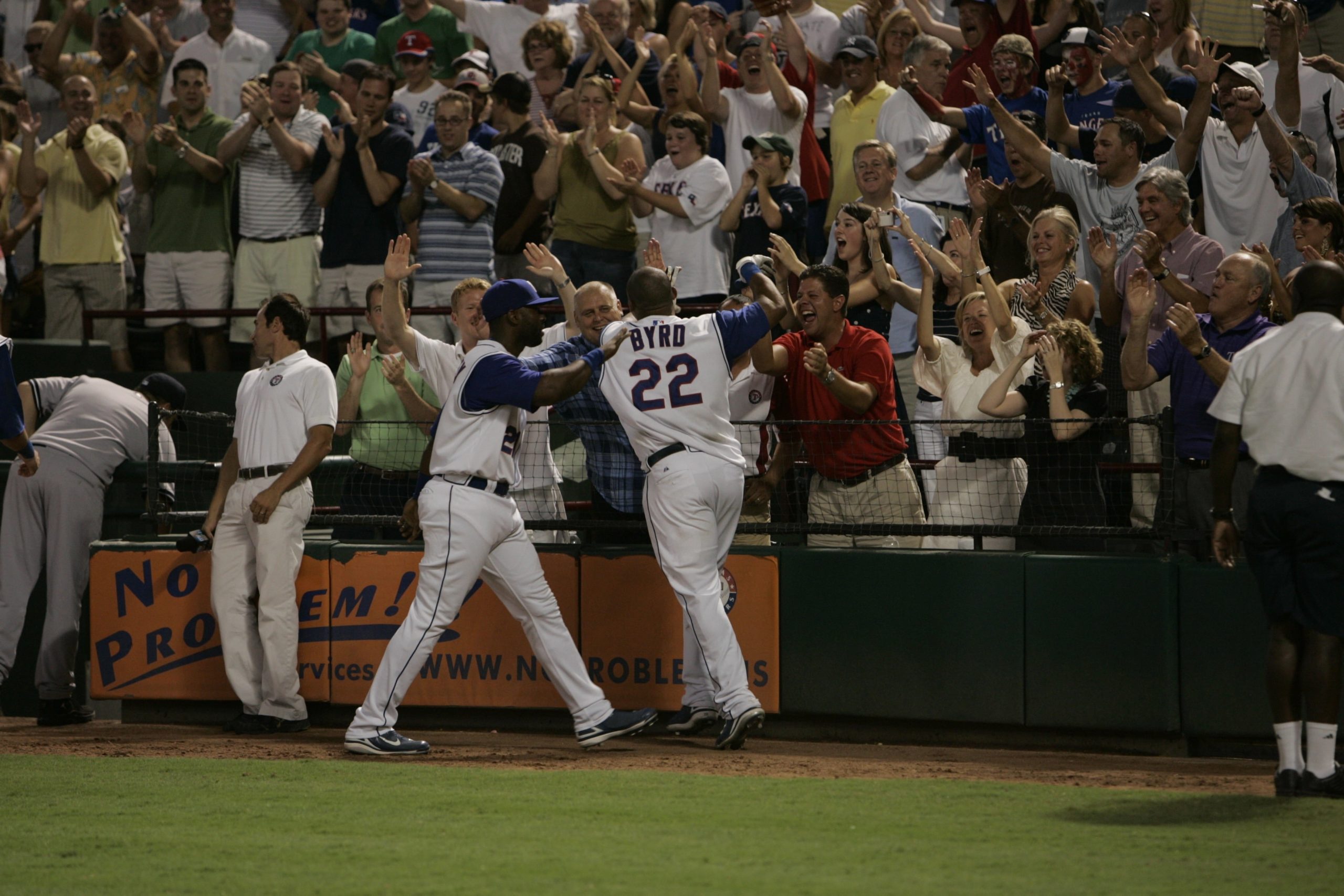 Marlon Byrd belts walk-off grand slam vs Yankees
August 4, 2008
Marlon Byrd steps up to the plate with 2 outs and the bases loaded in the bottom of the 9th and smashes a first pitch fastball over the wall in right-center for a walk-off grand slam to give the Rangers a 9-5 win over the Yankees.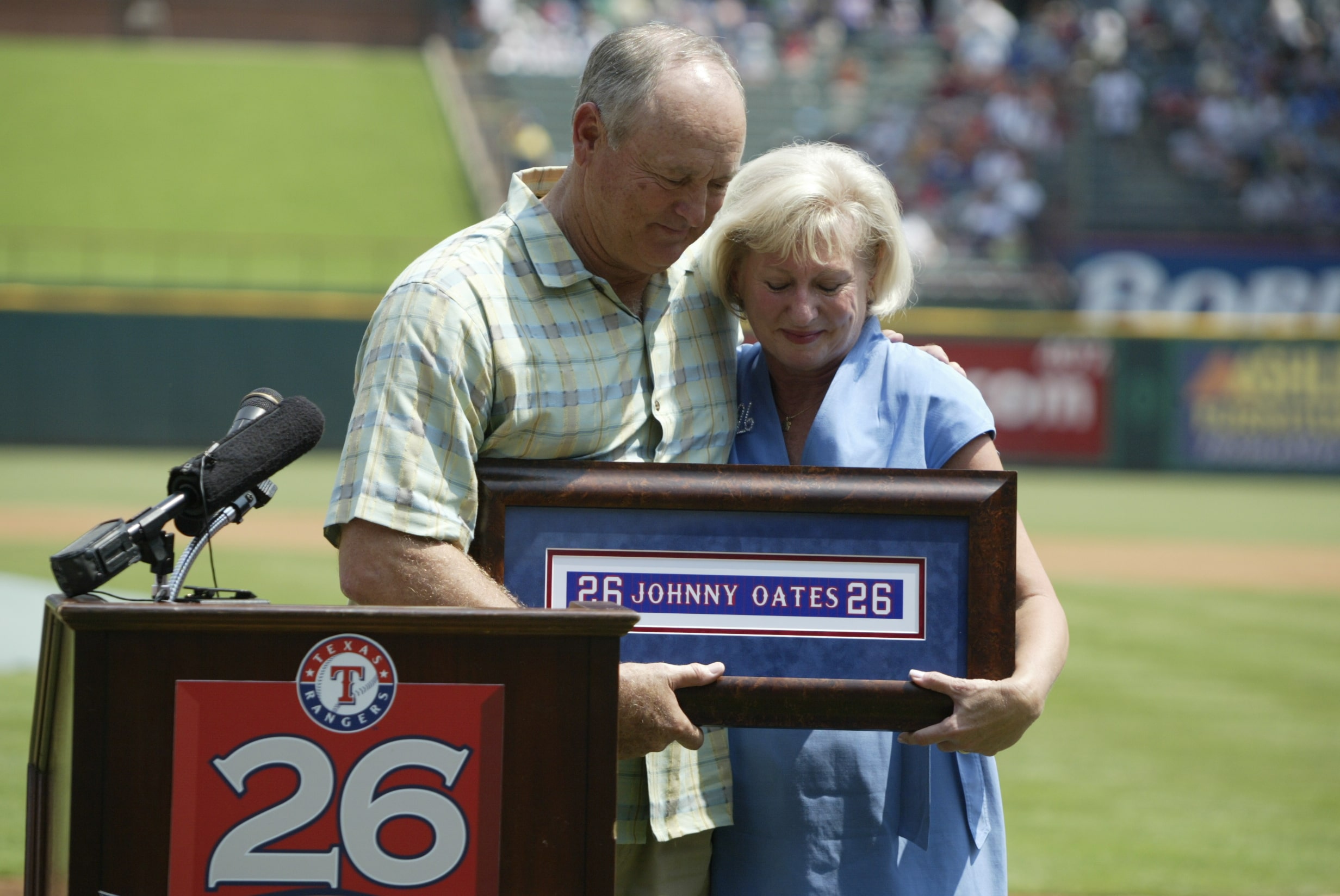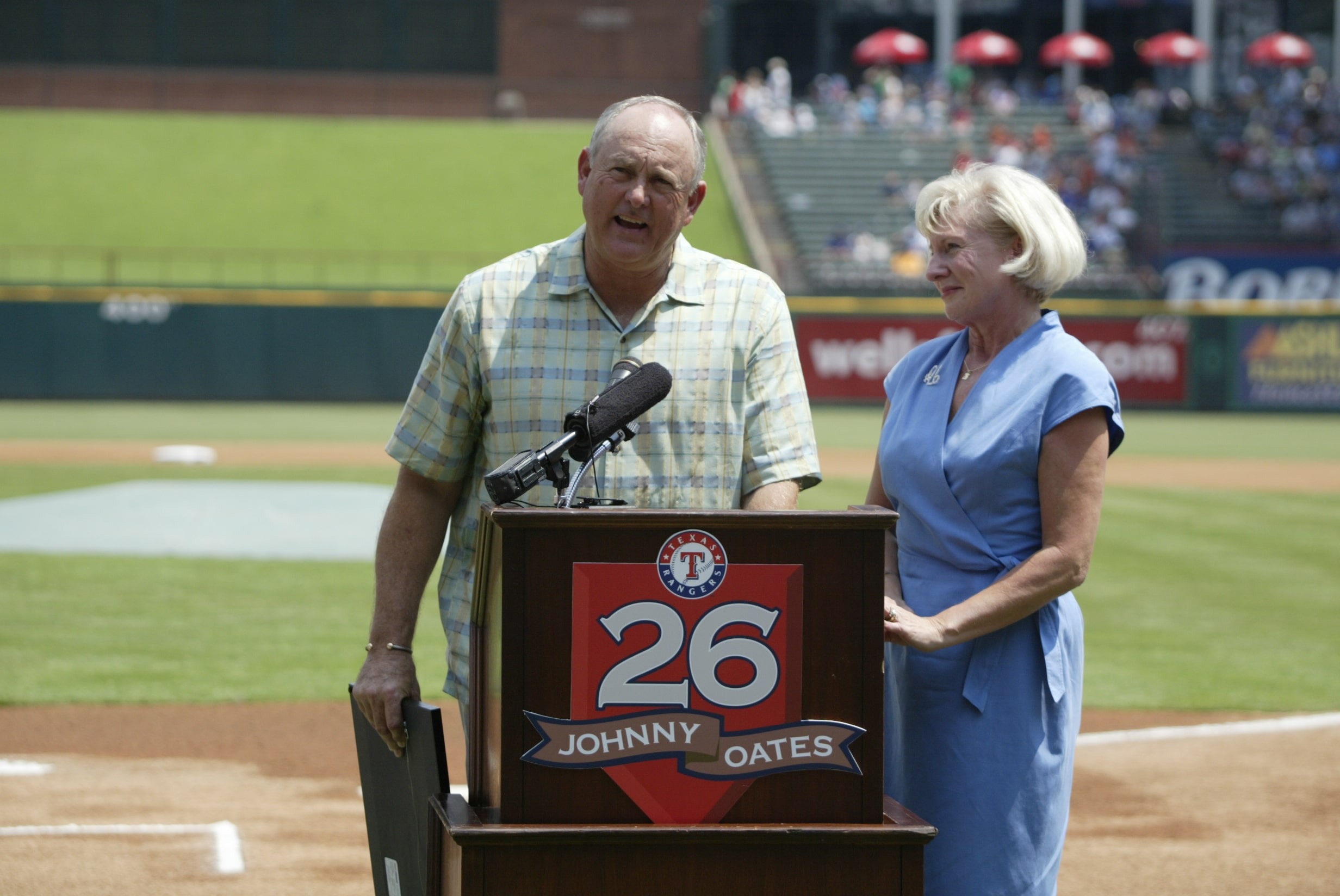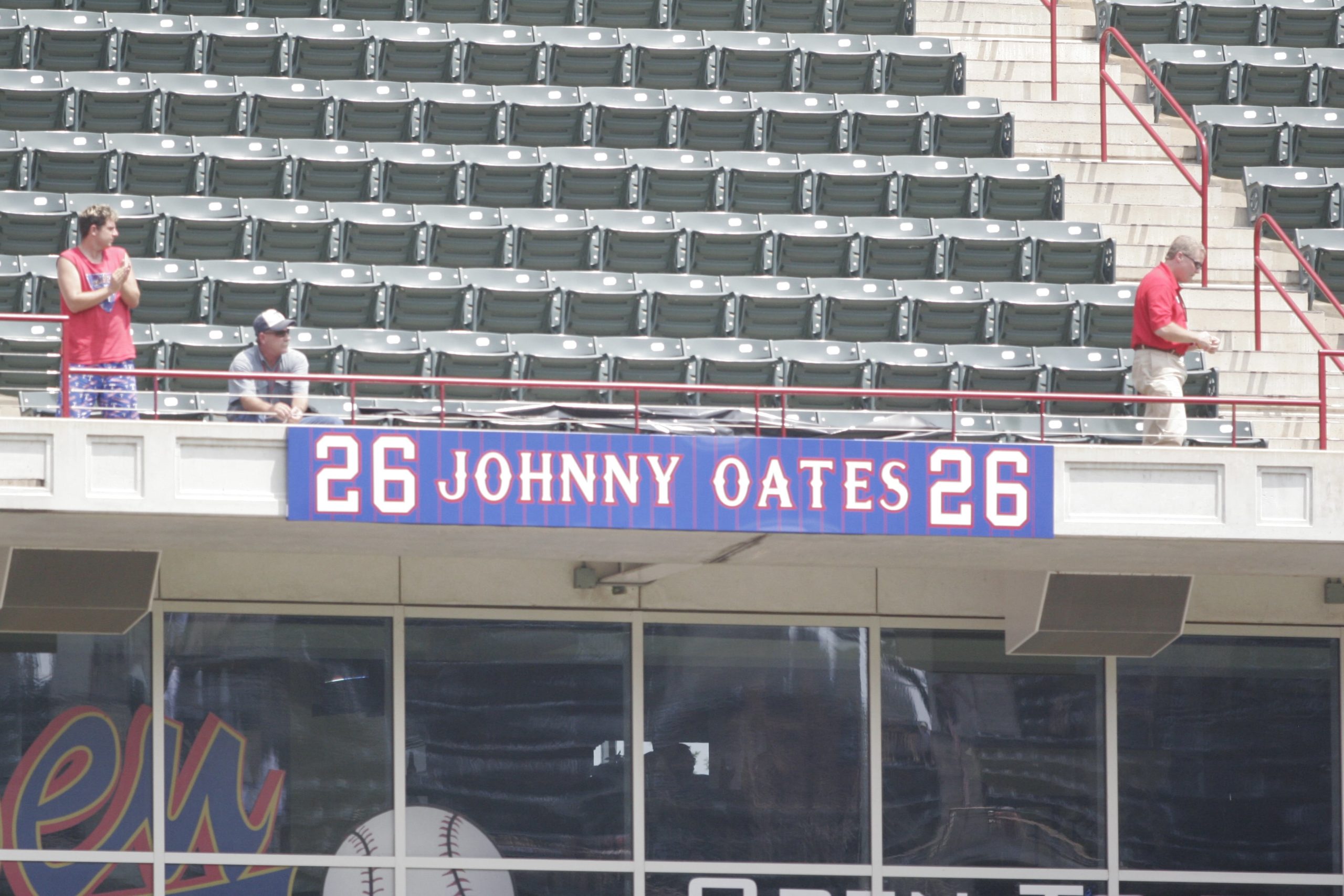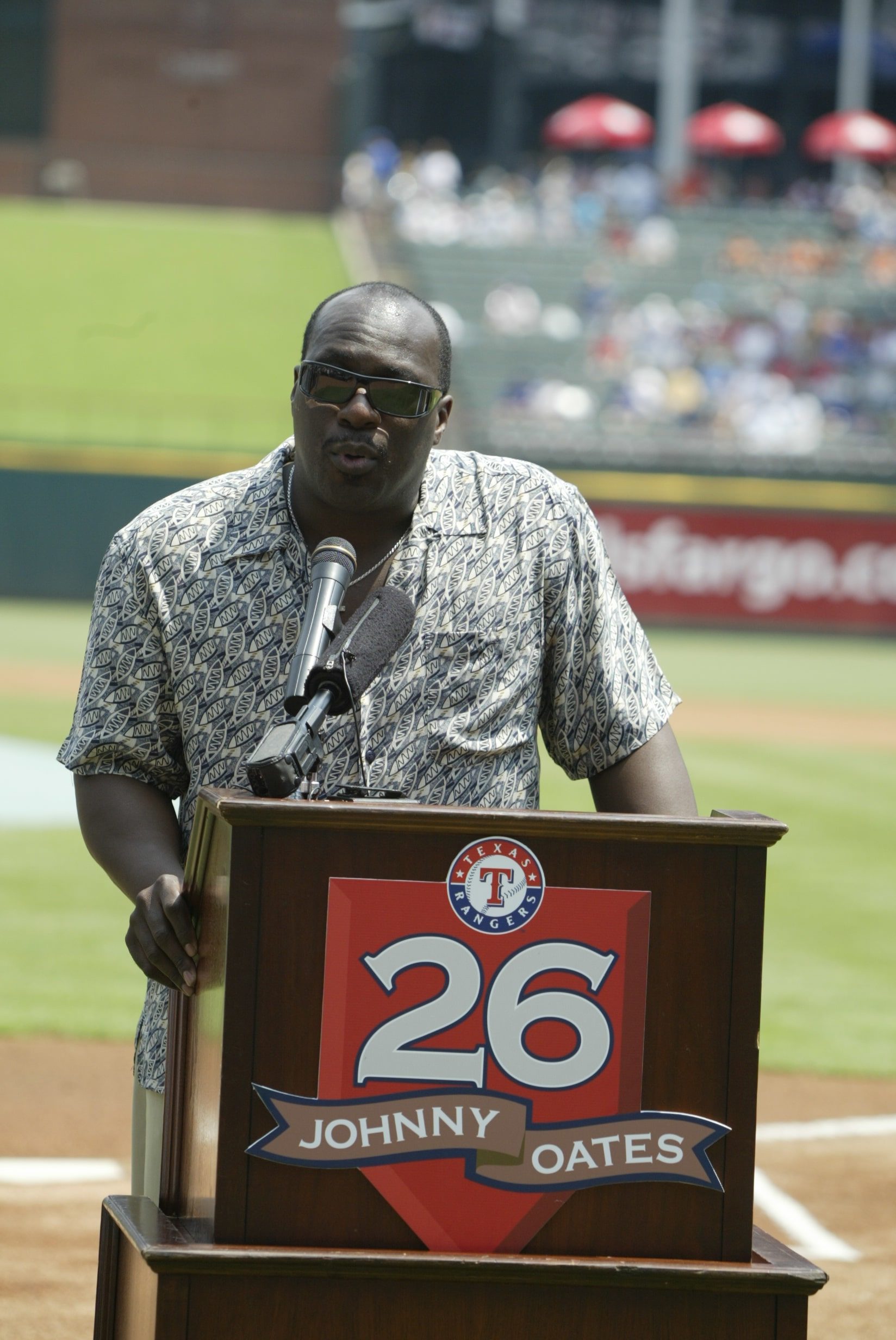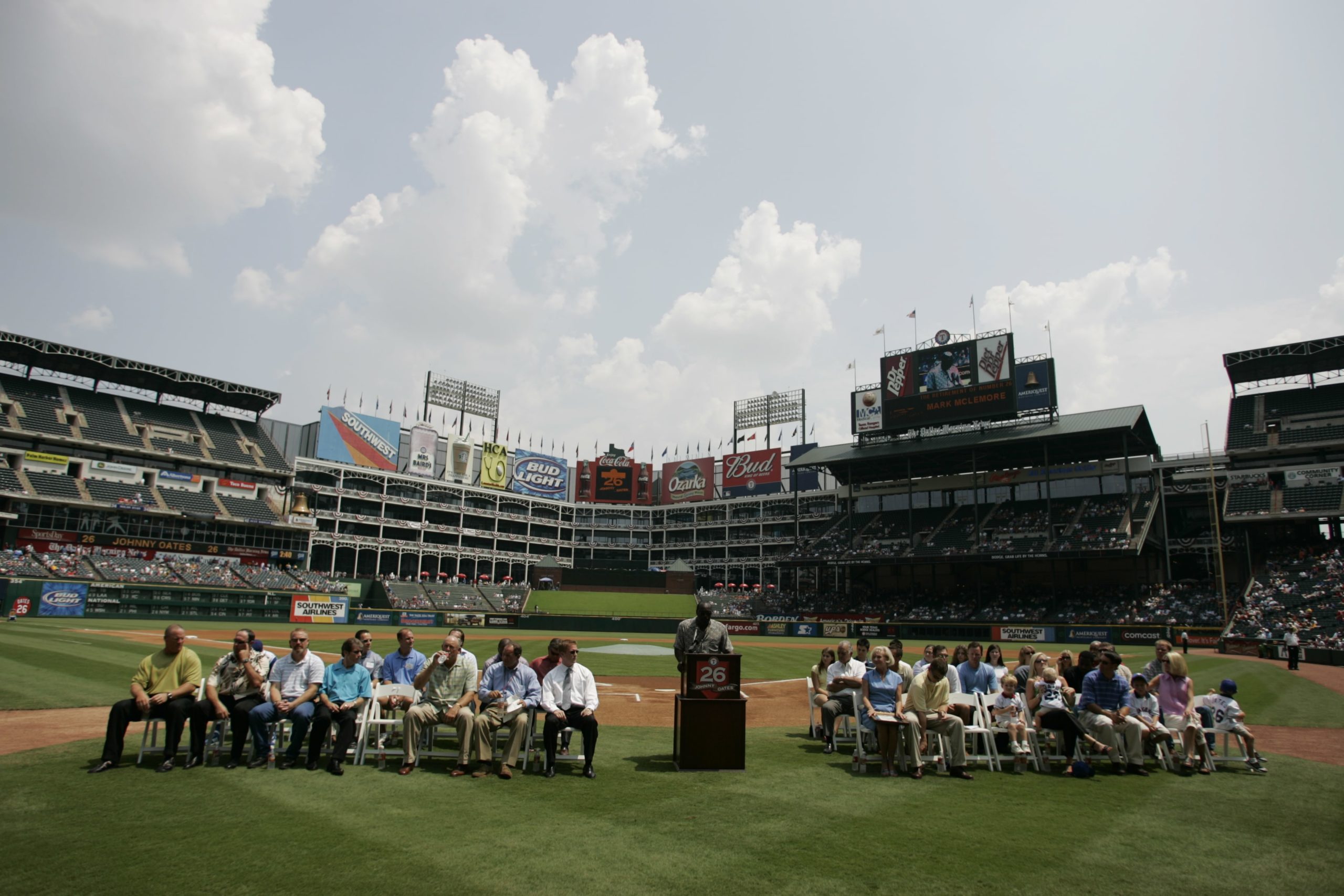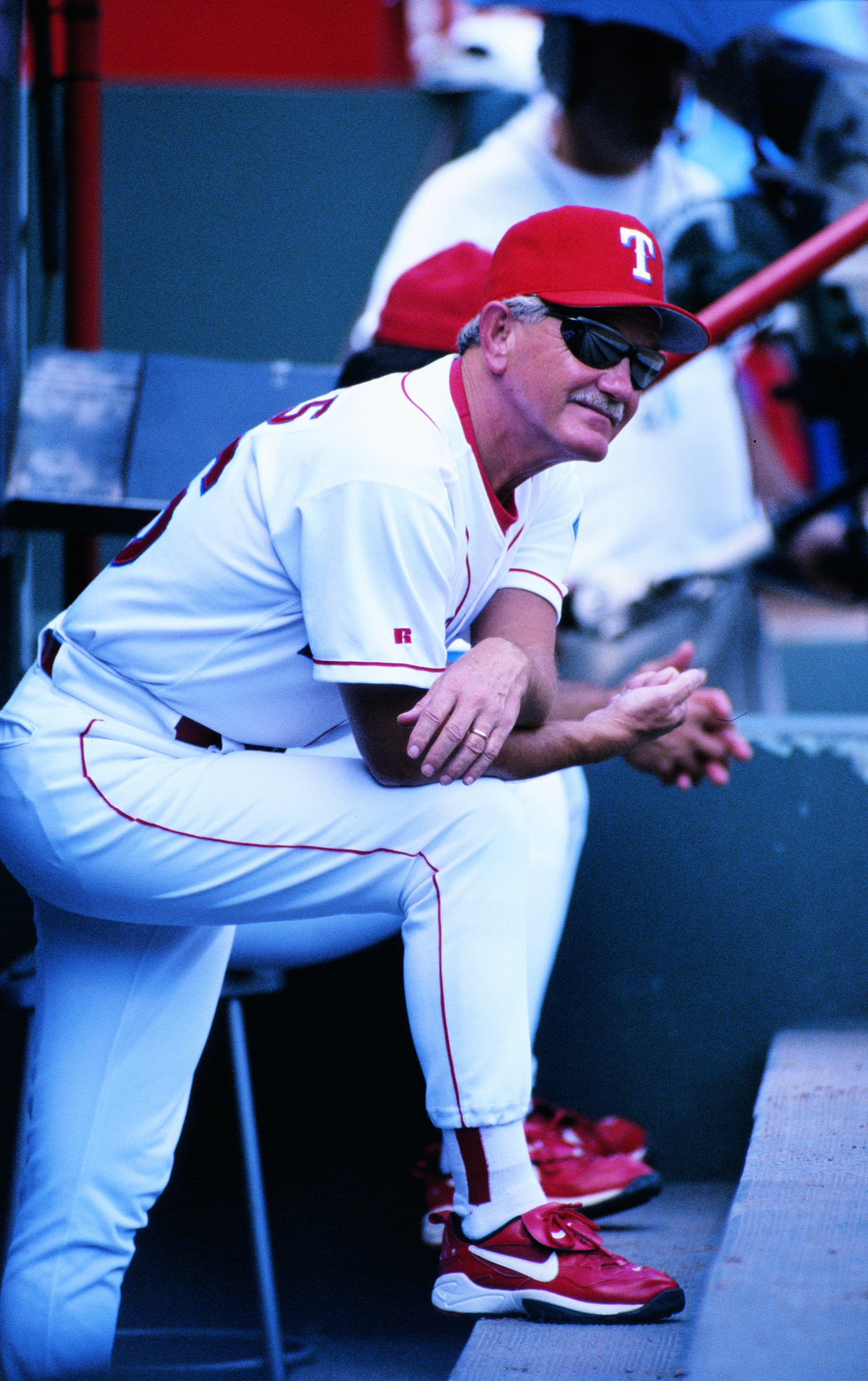 Rangers retire Johnny Oates' No. 26
August 6, 2005
The Rangers retired the late Johnny Oates No. 26 after passing away in December 2004. Oates led the Rangers to the first division title in franchise history in 1996 and claimed three playoff apperances in seven years as Rangers manager.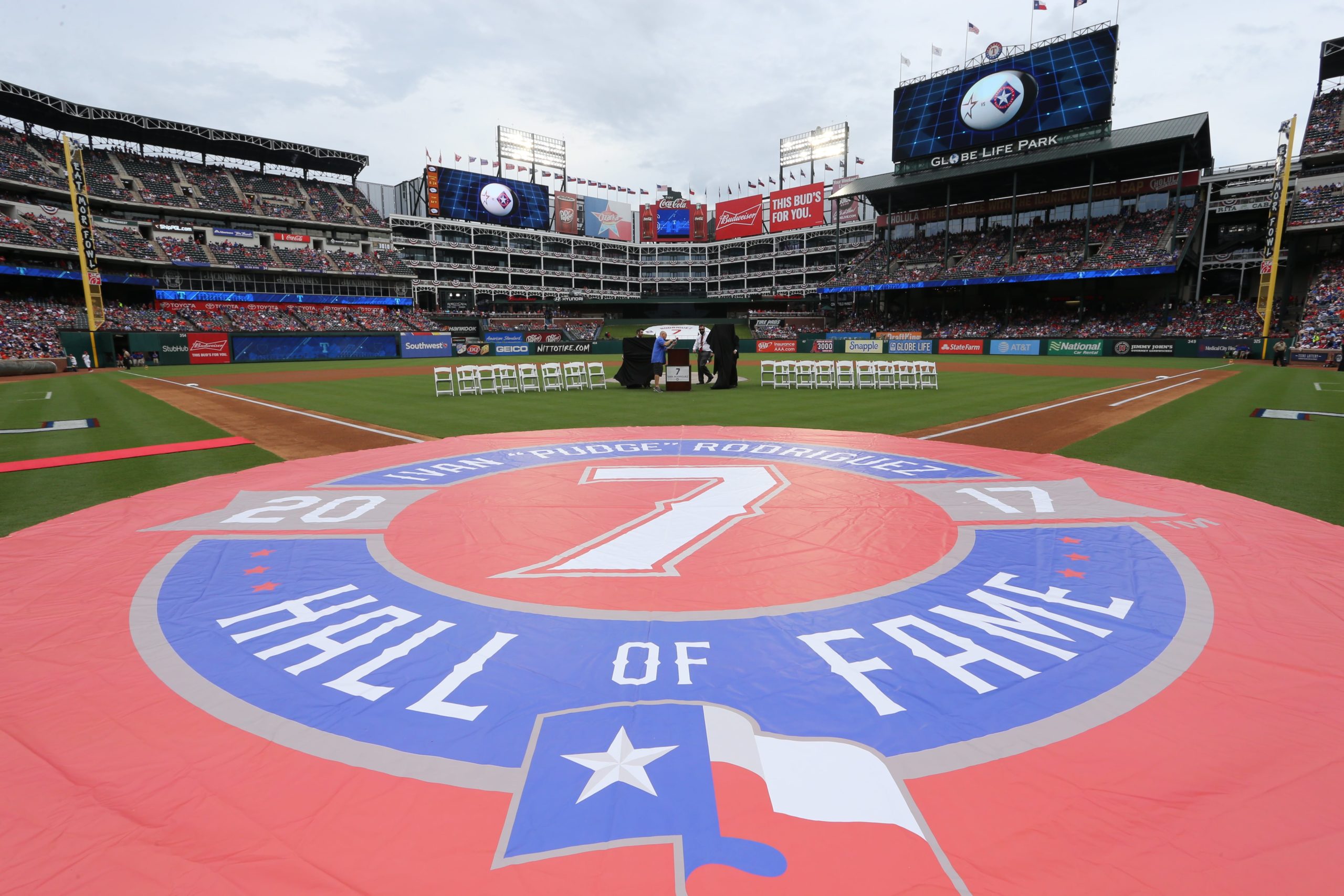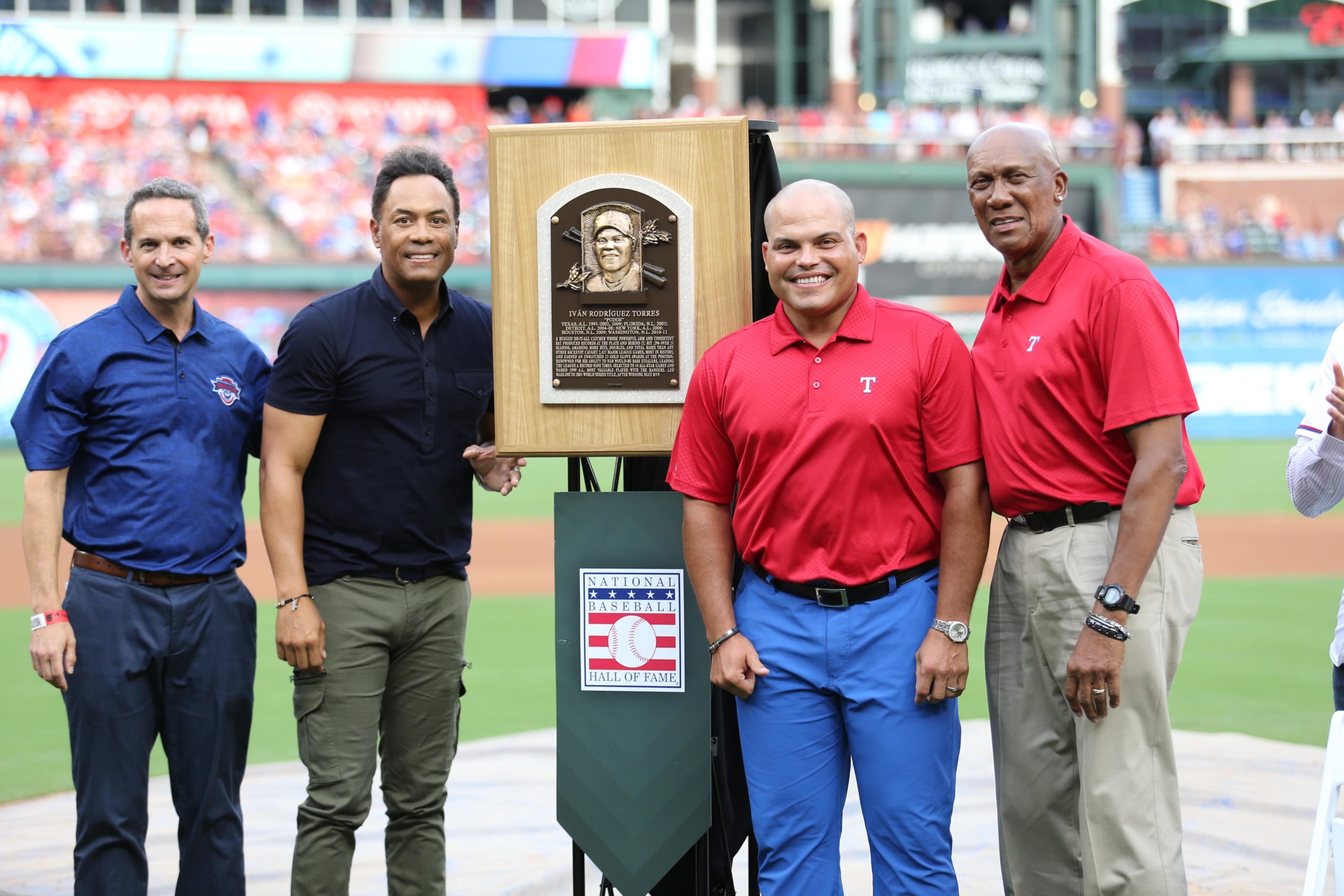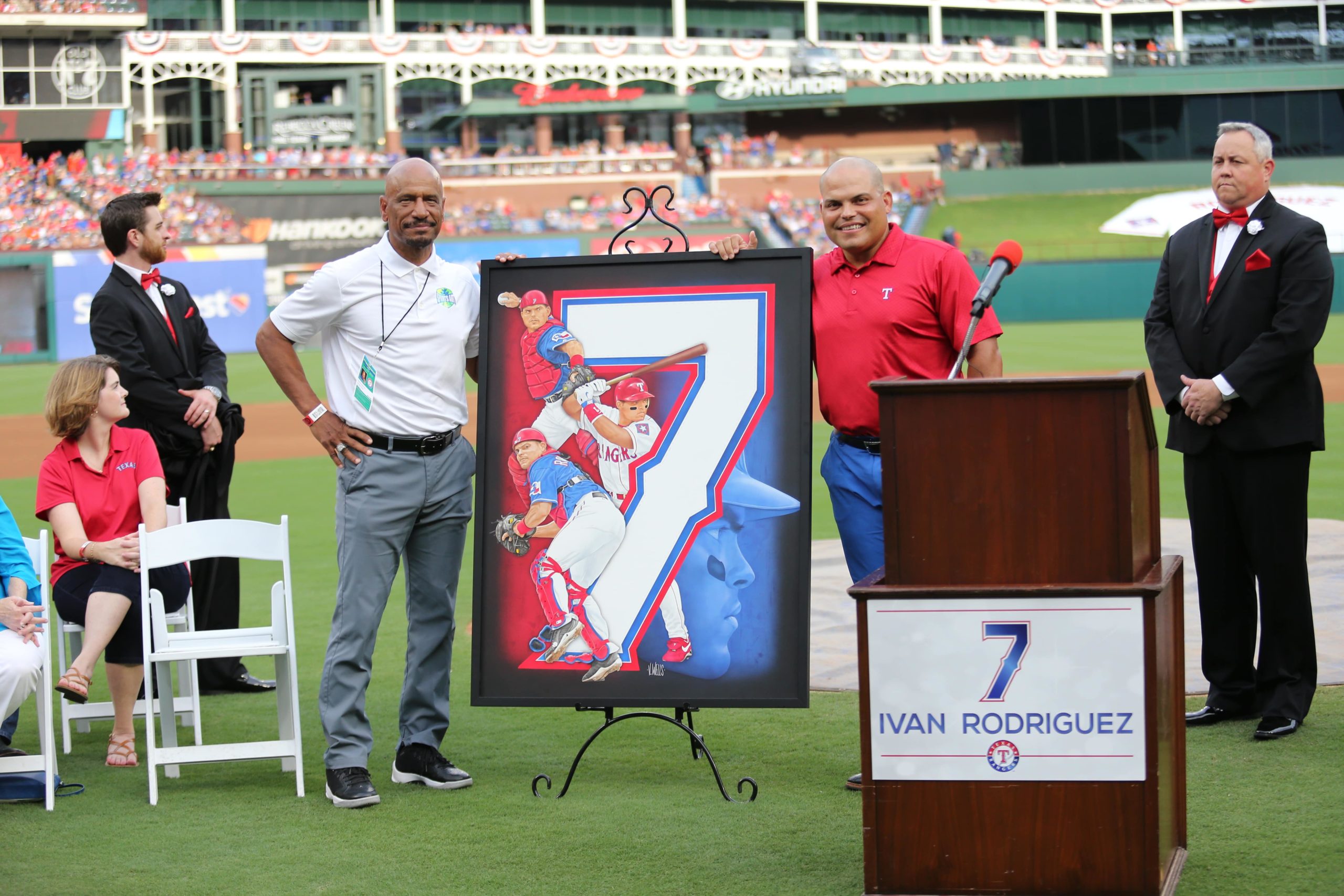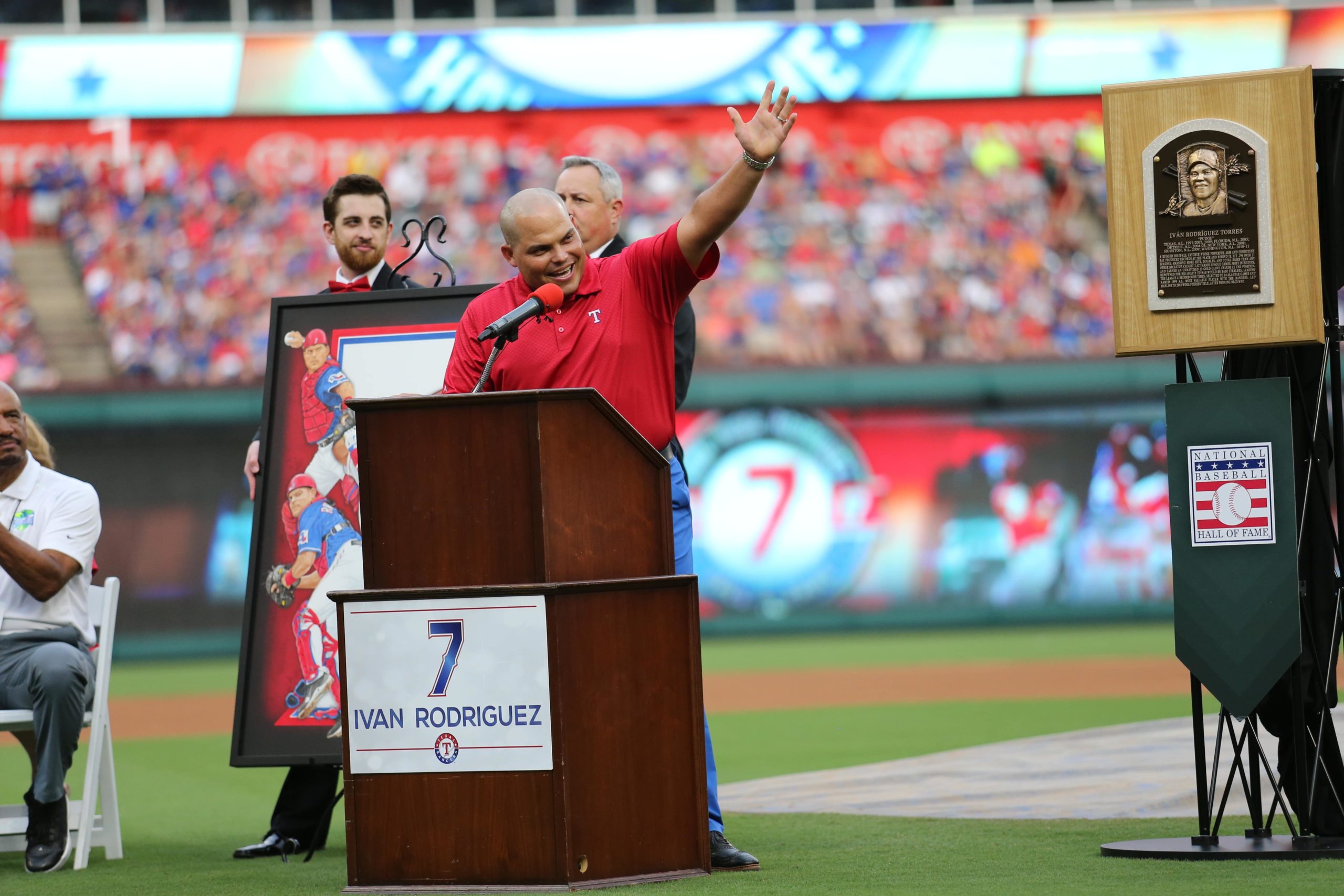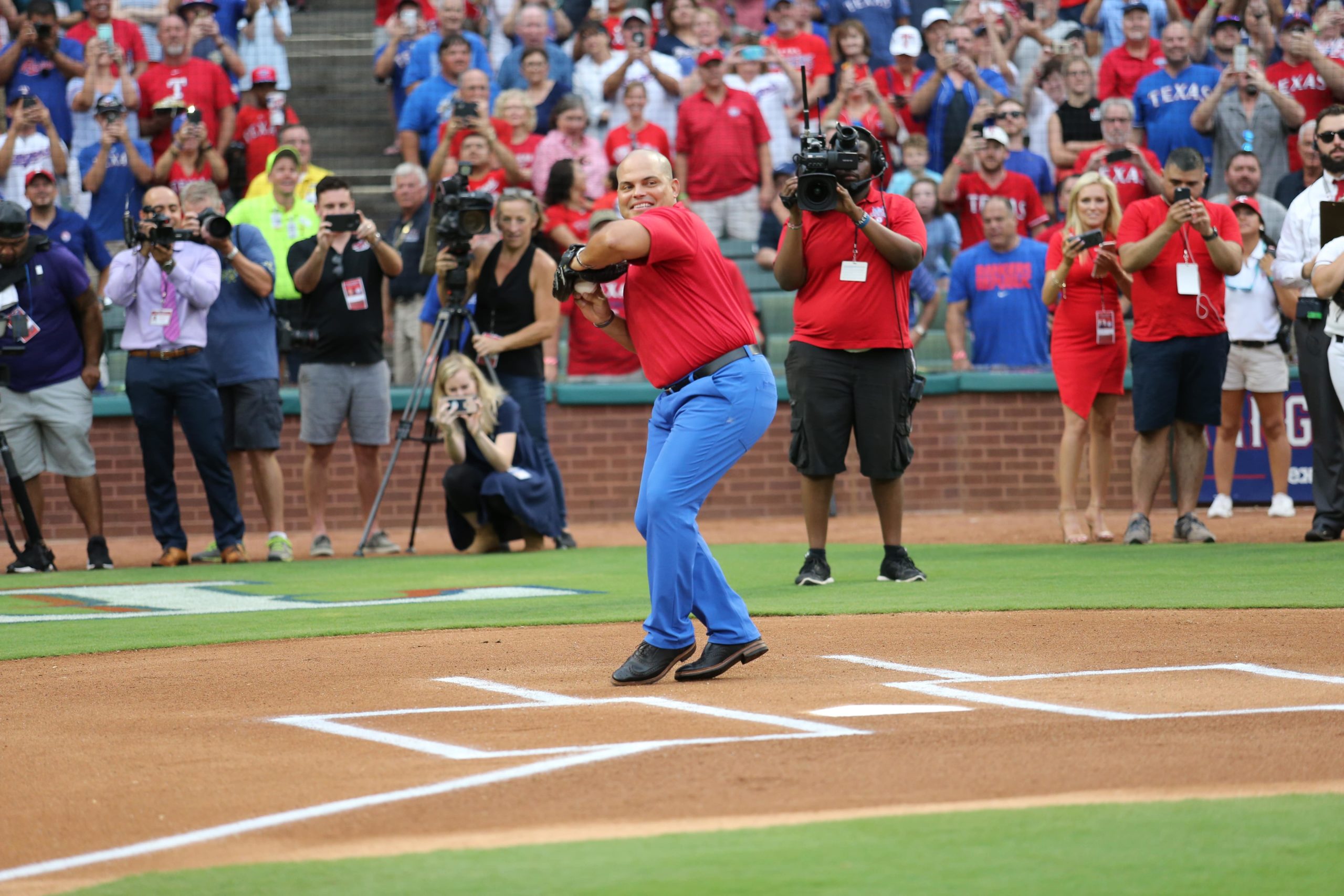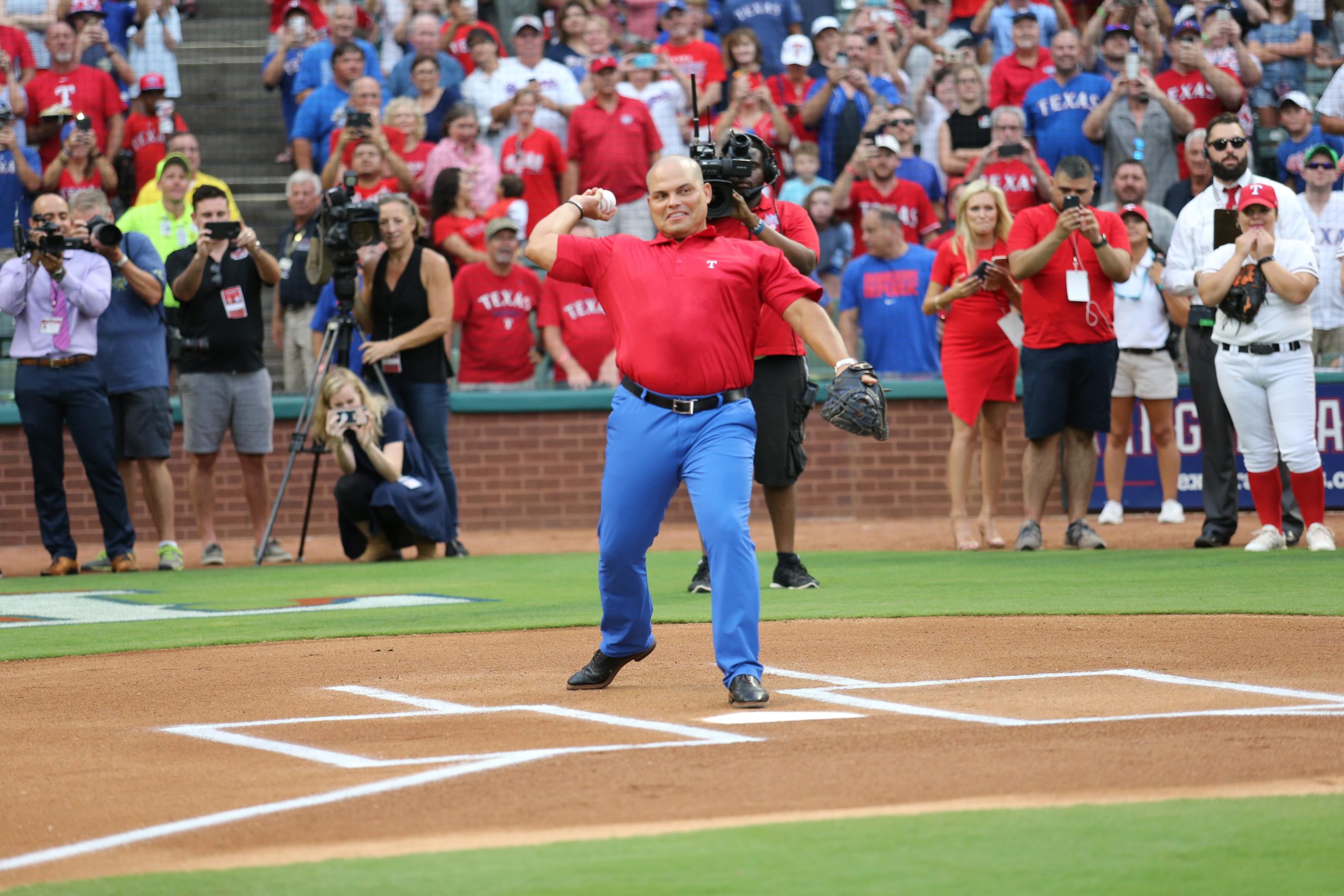 Rangers retire Ivan Rodriguez's No. 7
August 12, 2017
The best catcher in Rangers franchise history saw his No. 7 go to the rafters the same year he was inducted into the National Baseball Hall of Fame. In 13 seasons with the Rangers, Pudge racked up 10 All-Star selections, 10 Gold Gloves, 6 Silver Sluggers and 1 MVP award while also being the all-time franchise leader in WAR (50.0).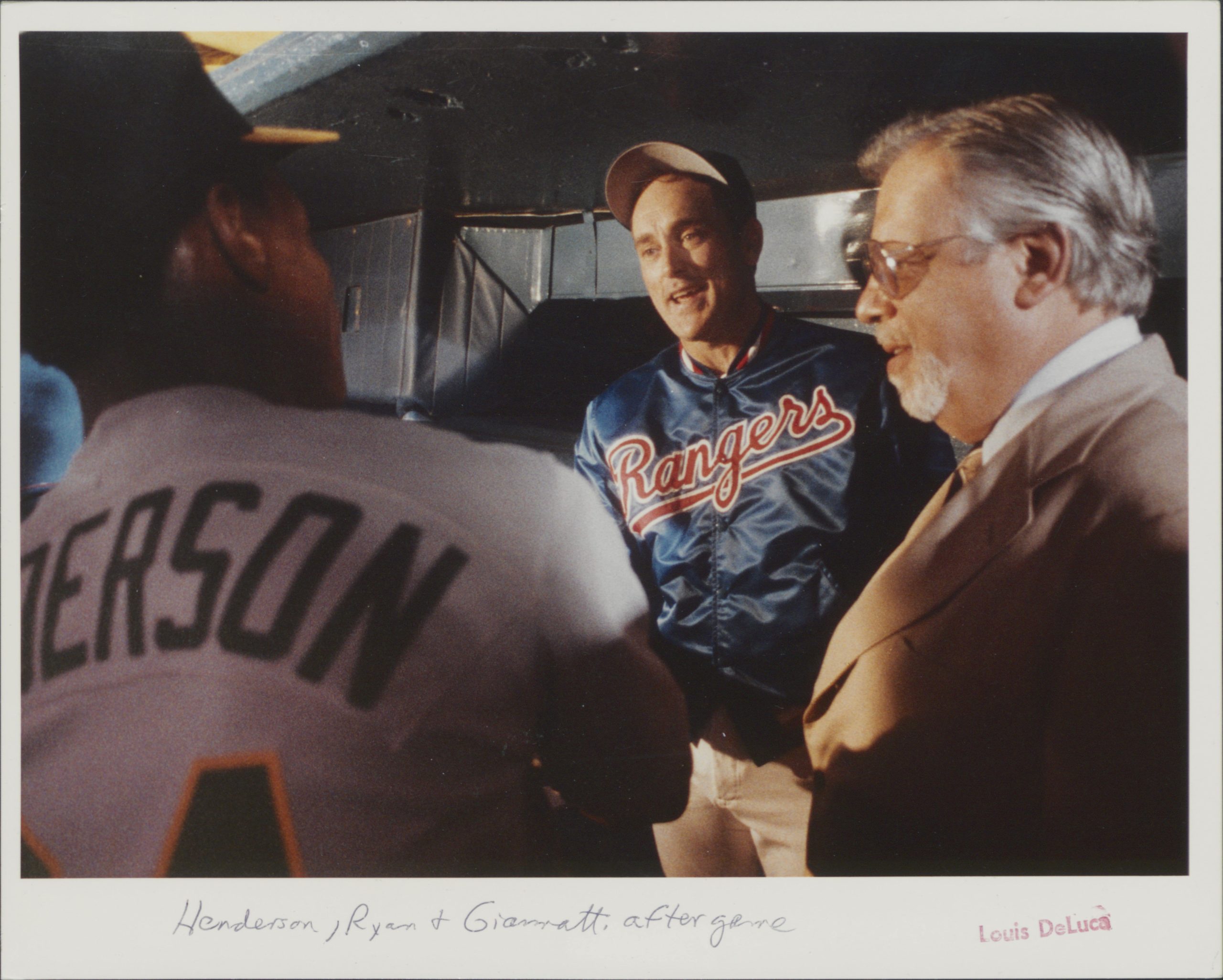 Nolan Ryan records career strikeout No. 5,000
August 22, 1989
The all-time strikeout king, Nolan Ryan, gets Rickey Henderson of the Oakland A's swinging to become the first and only pitcher in MLB history to record 5,000 career strikeouts. Henderson famously said after the game "If he ain't struck you out, you ain't nobody." Ryan's career strikeout record of 5,714 still stands to this day and is 839 better than Randy Johnson in 2nd place.

Rangers score MLB record 30 runs in win at Baltimore
August 22, 2007
Trailing 3-0 after 3 innings, the Rangers score 30 unanswered runs against the Baltimore Orioles and set the MLB single-game record for most runs scored. Texas tacked on 5 runs in the 4th, 9 runs in the 6th, 10 runs in the 8th and 6 runs in the 9th to accomplish this feat. Every Rangers starter records at least 2 hits in the game with Jarrod Saltalamacchia and Ramon Vazquez leading the way with 2 home runs and 7 RBI each.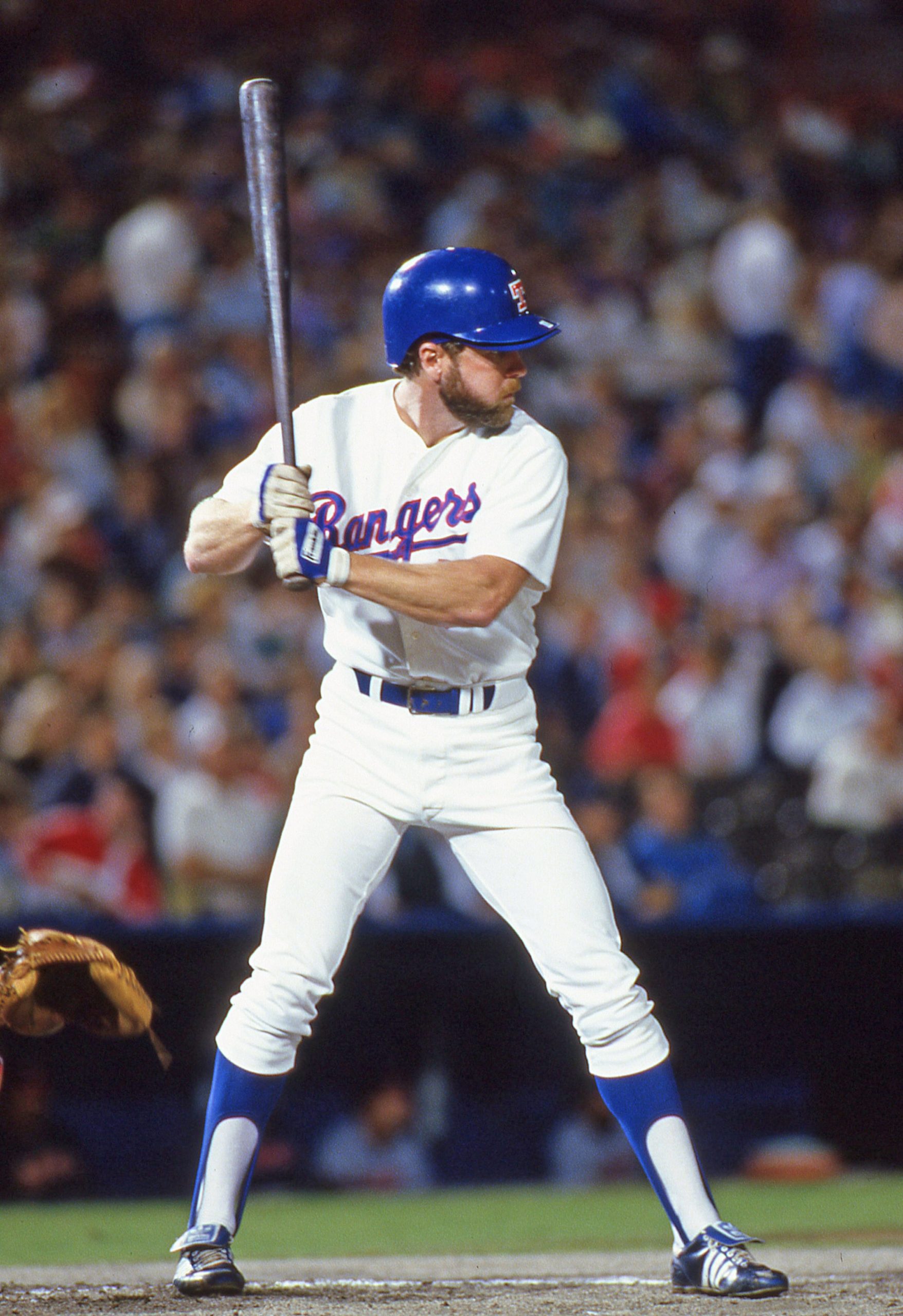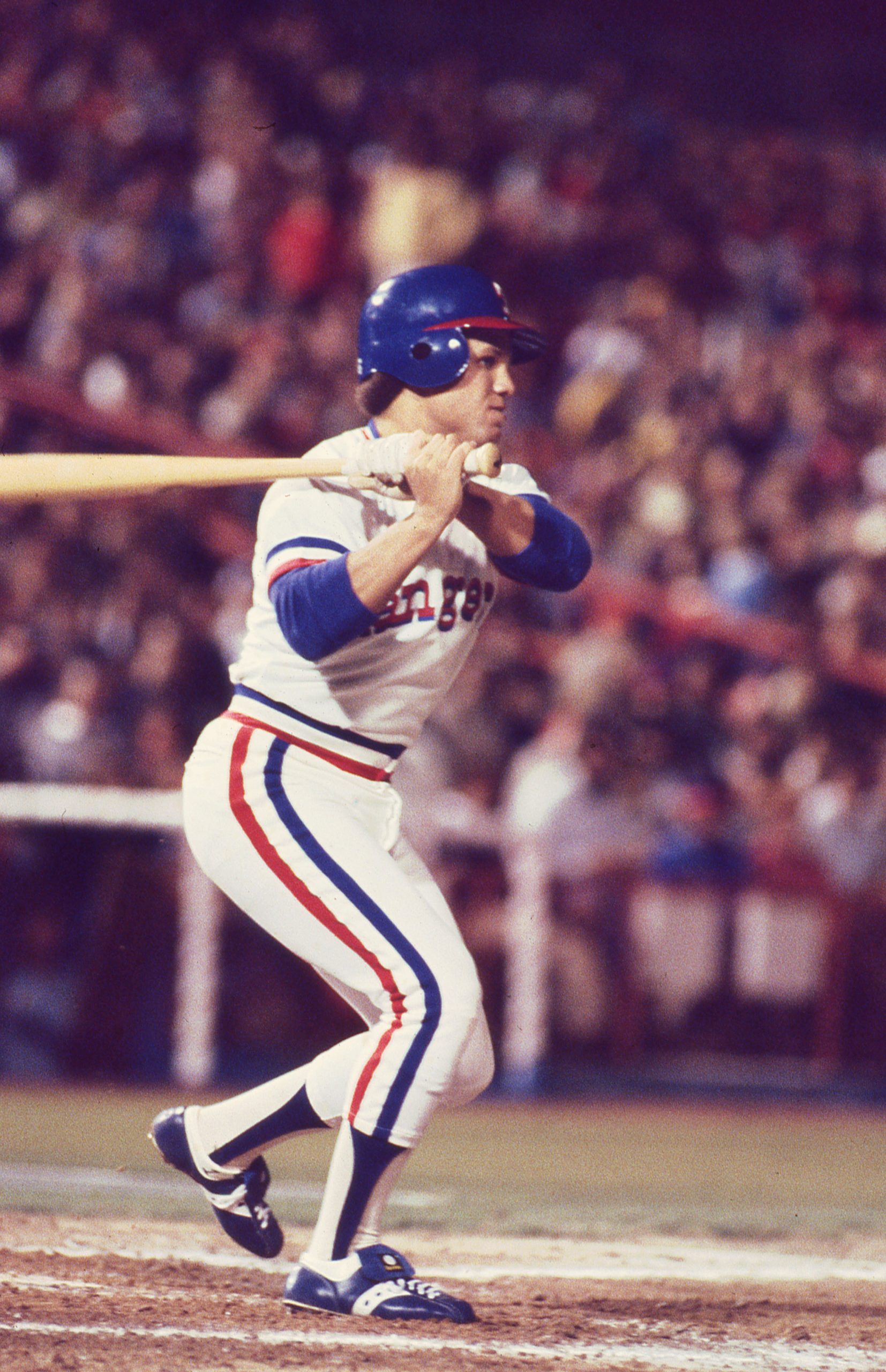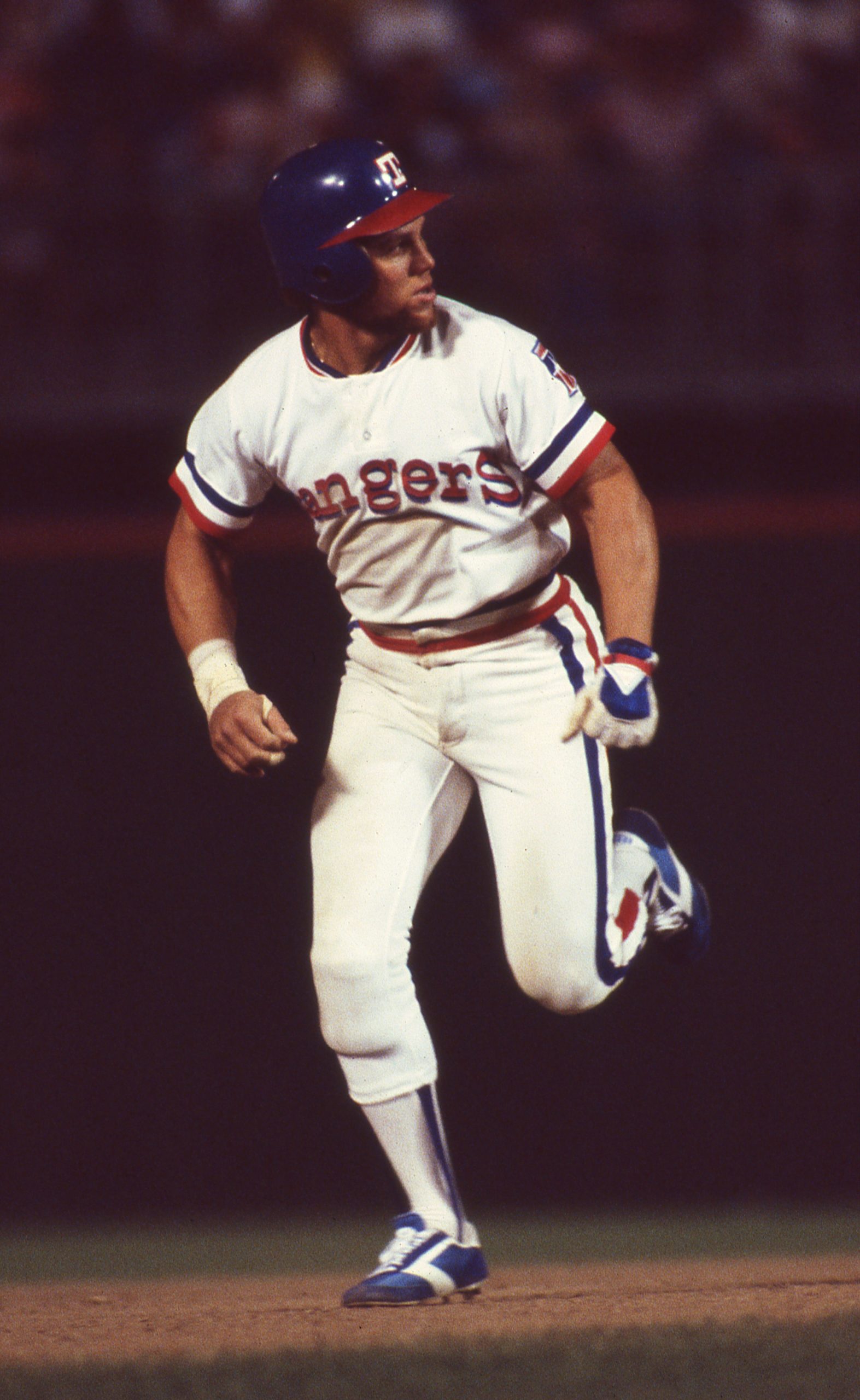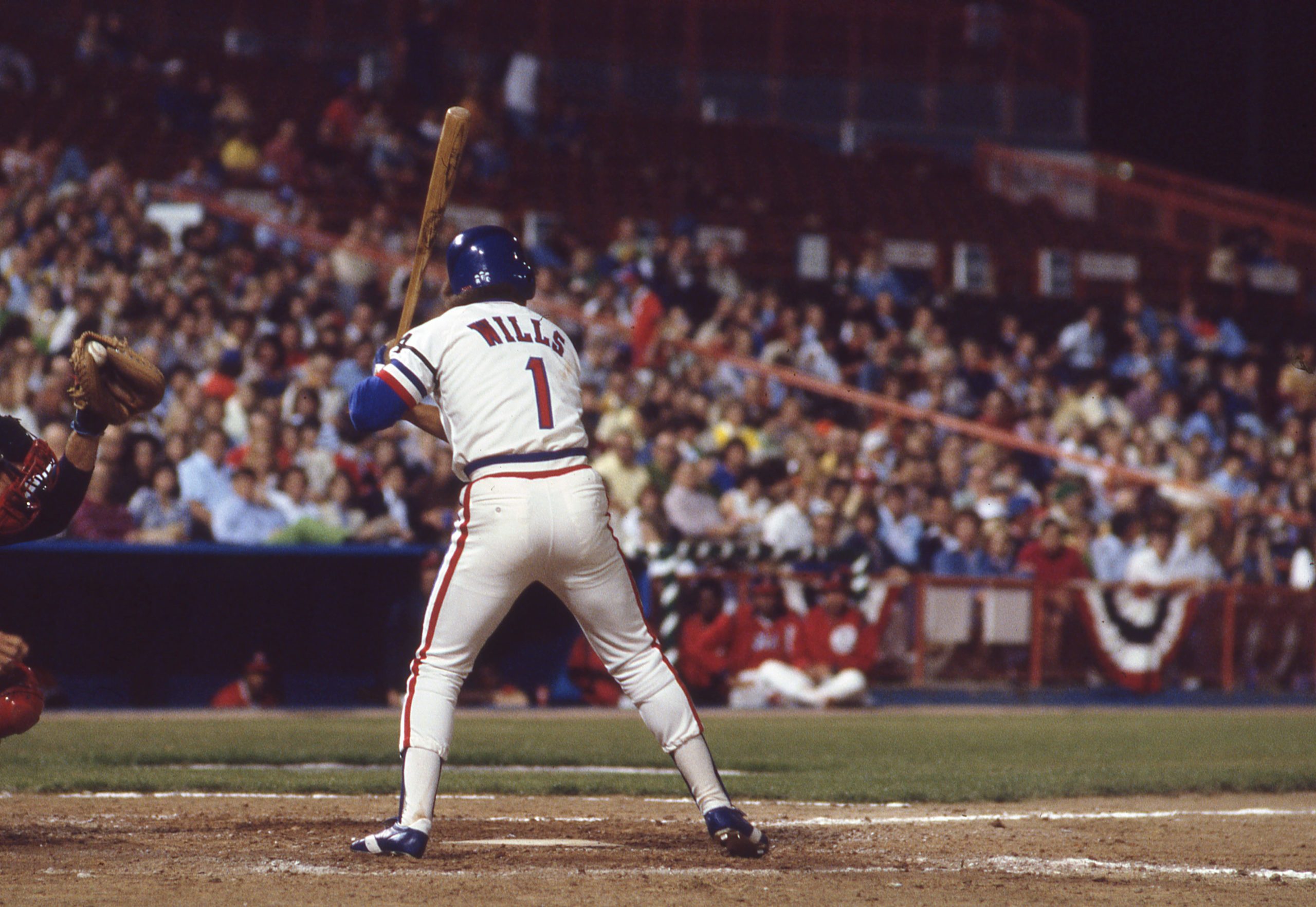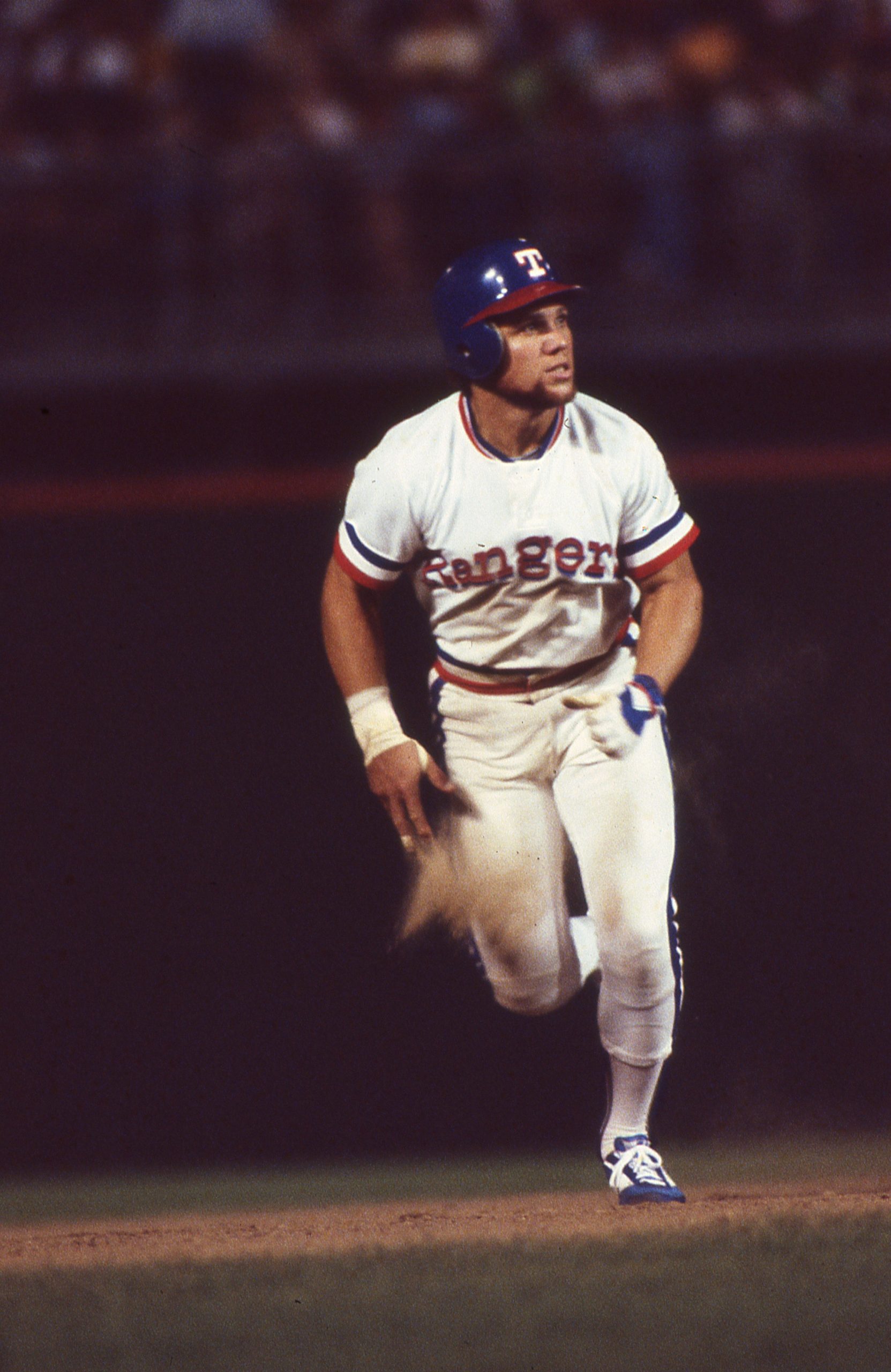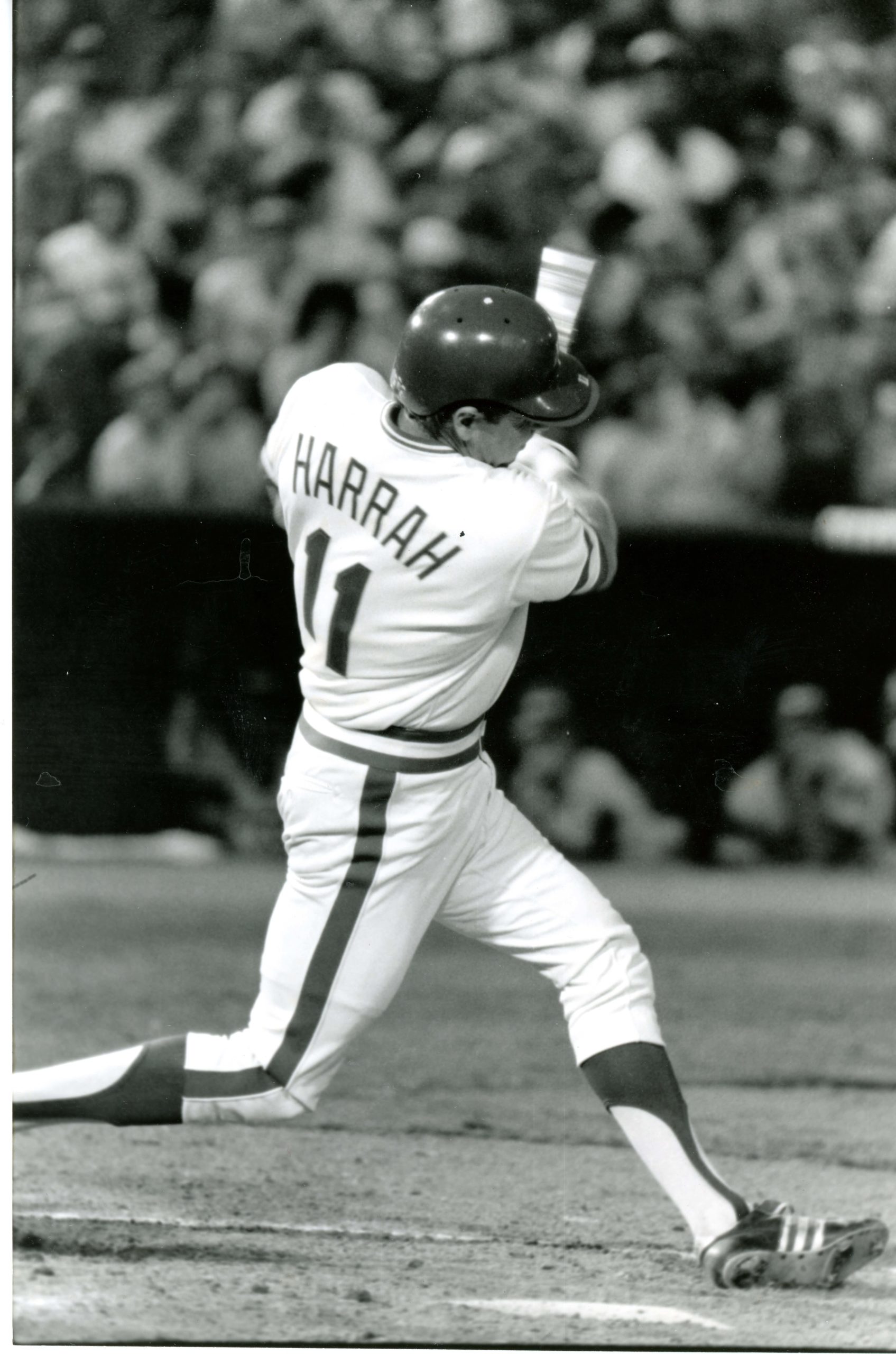 Toby Harrah & Bump Wills hit back-to-back inside the park home runs at Yankee Stadium
August 27, 1977
In the top of the 7th inning of a 4-2 ballgame vs the Yankees, the Rangers extend their lead when third baseman Toby Harrah hits an inside-the-park 3-run home run to right field. Second baseman Bump Wills follows with an inside-the-park home run of his own to centerfield, after hitting a home run over the left field fence earlier in the game.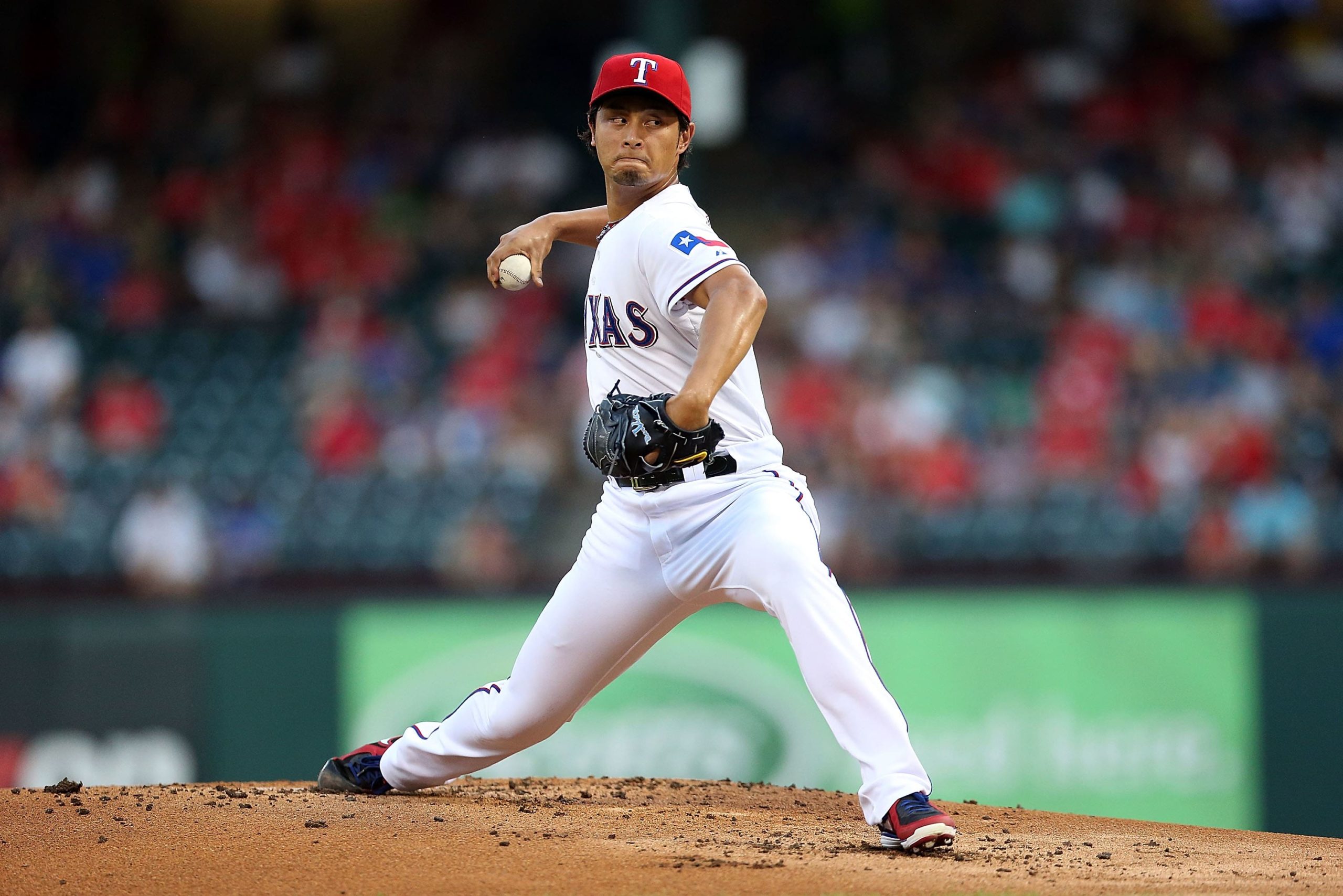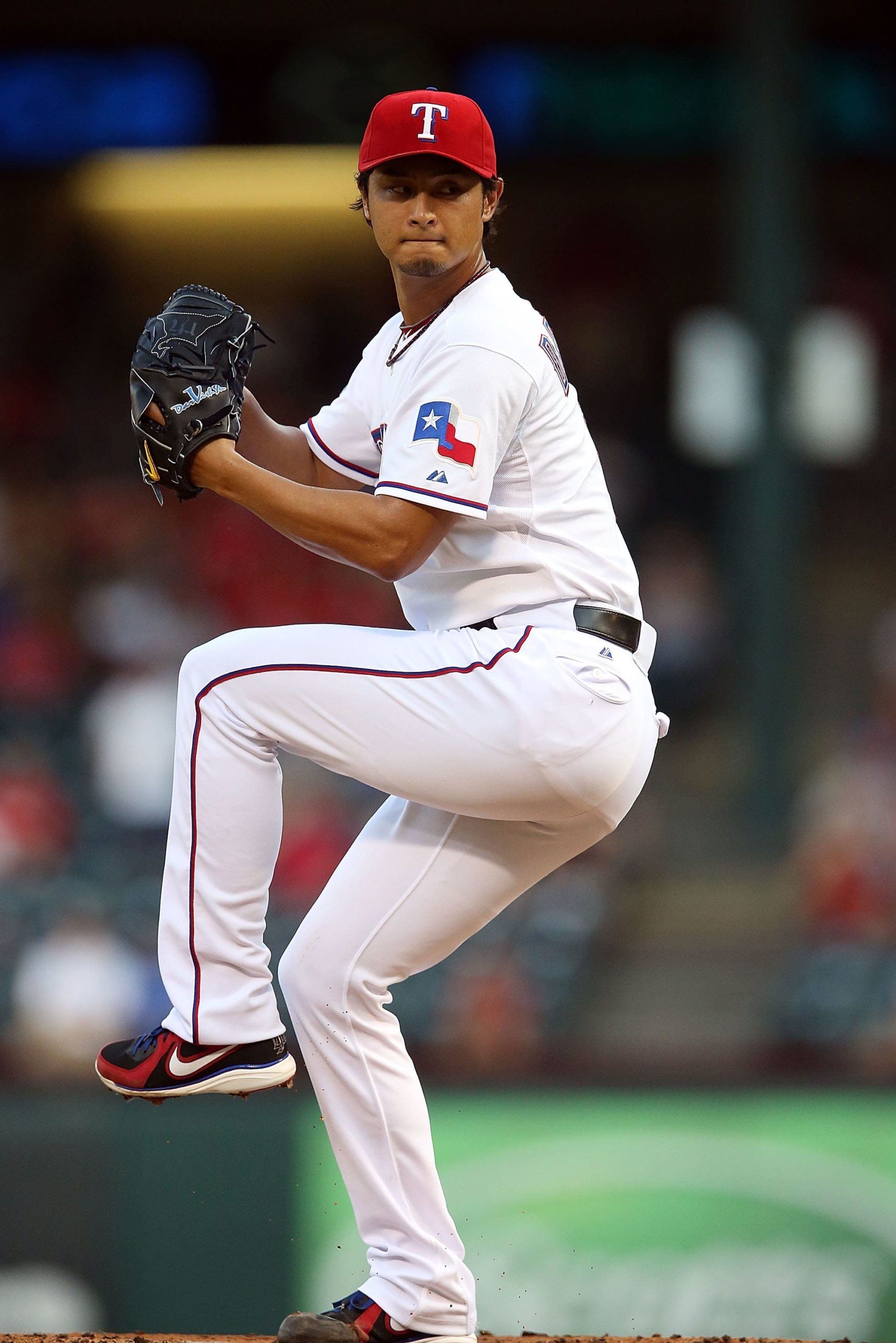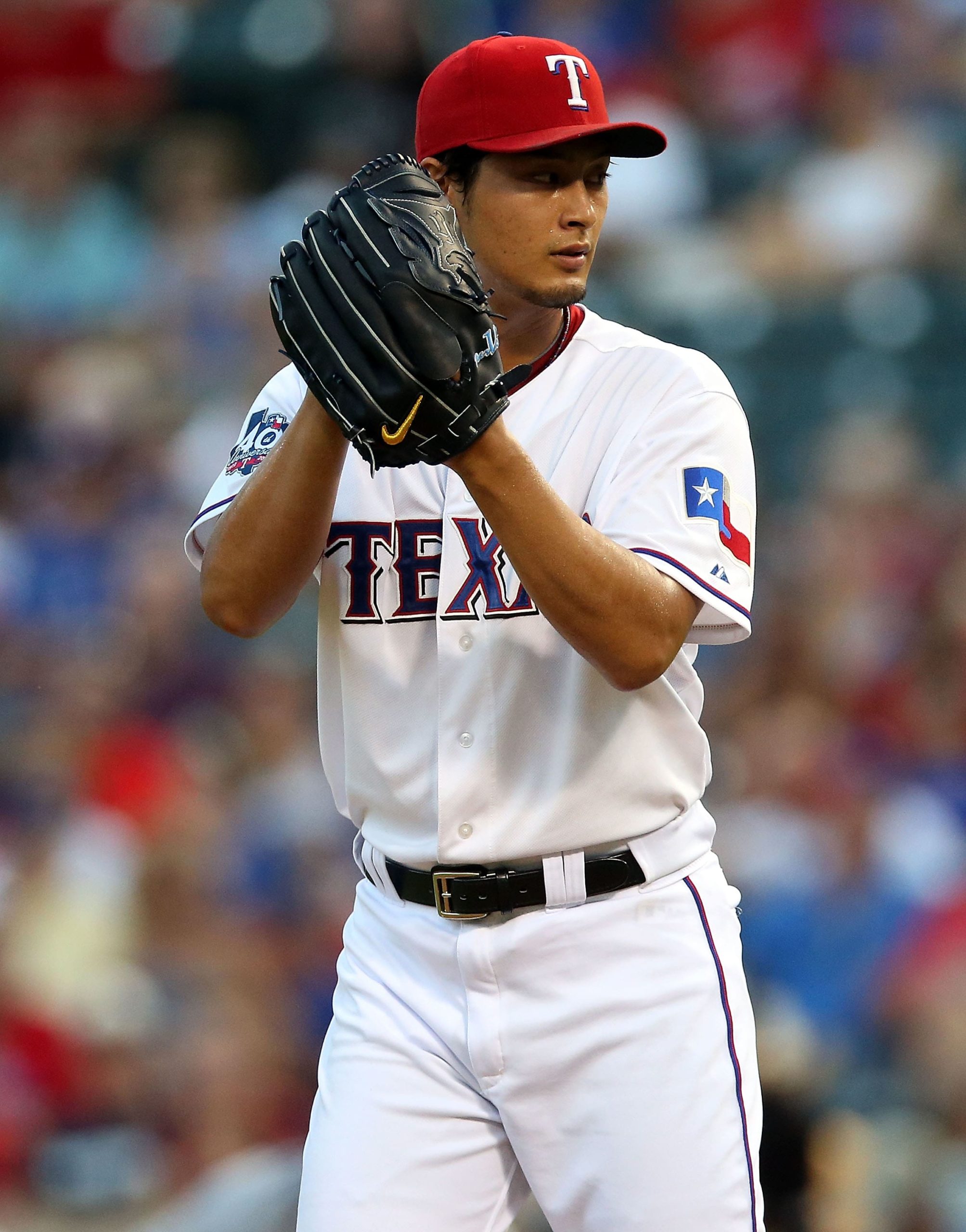 Yu Darvish breaks TEX rookie record with his 13th win of the season
August 28, 2012
Yu Darvish goes 7 scoreless with 10 strikeouts vs the Tampa Bay Rays and picks up win No. 13 on the season, the most ever by a Rangers rookie pitcher.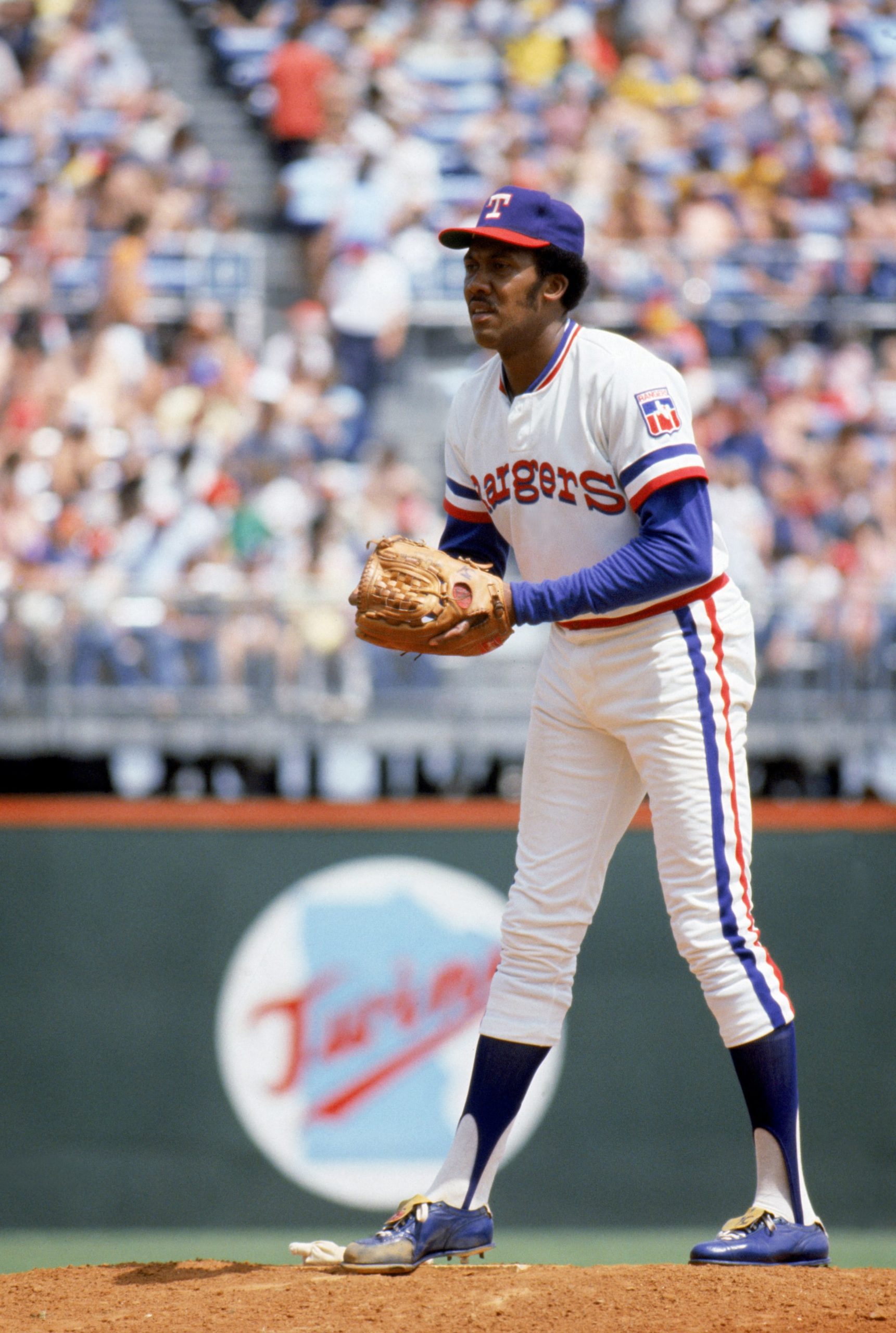 Fergie Jenkins wins his 20th game of the season
August 31, 1974
Fergie Jenkins tosses a 2-hit, 9 strikeout shutout vs Cleveland to pick up win No. 20 in his first year as a Ranger.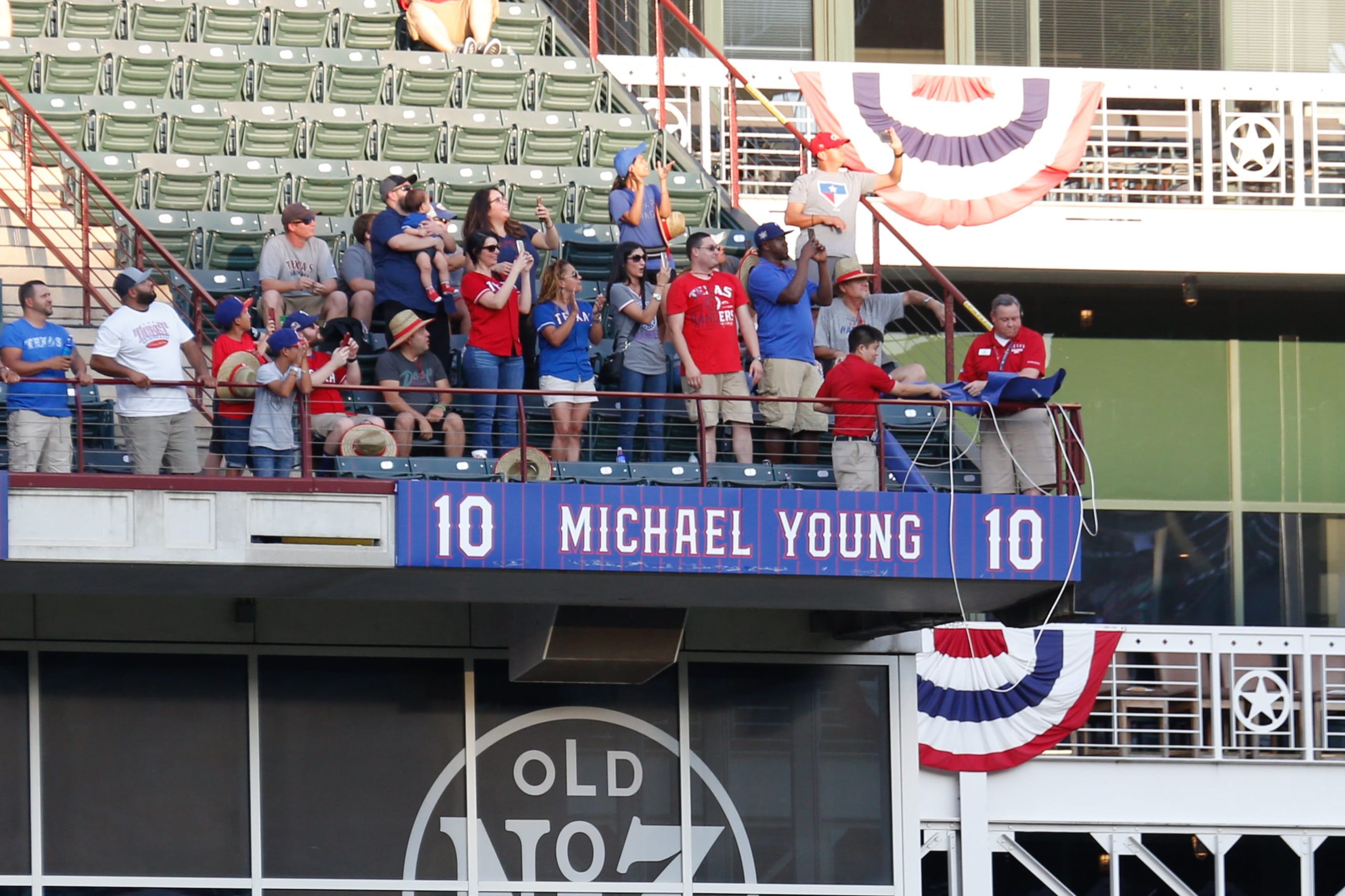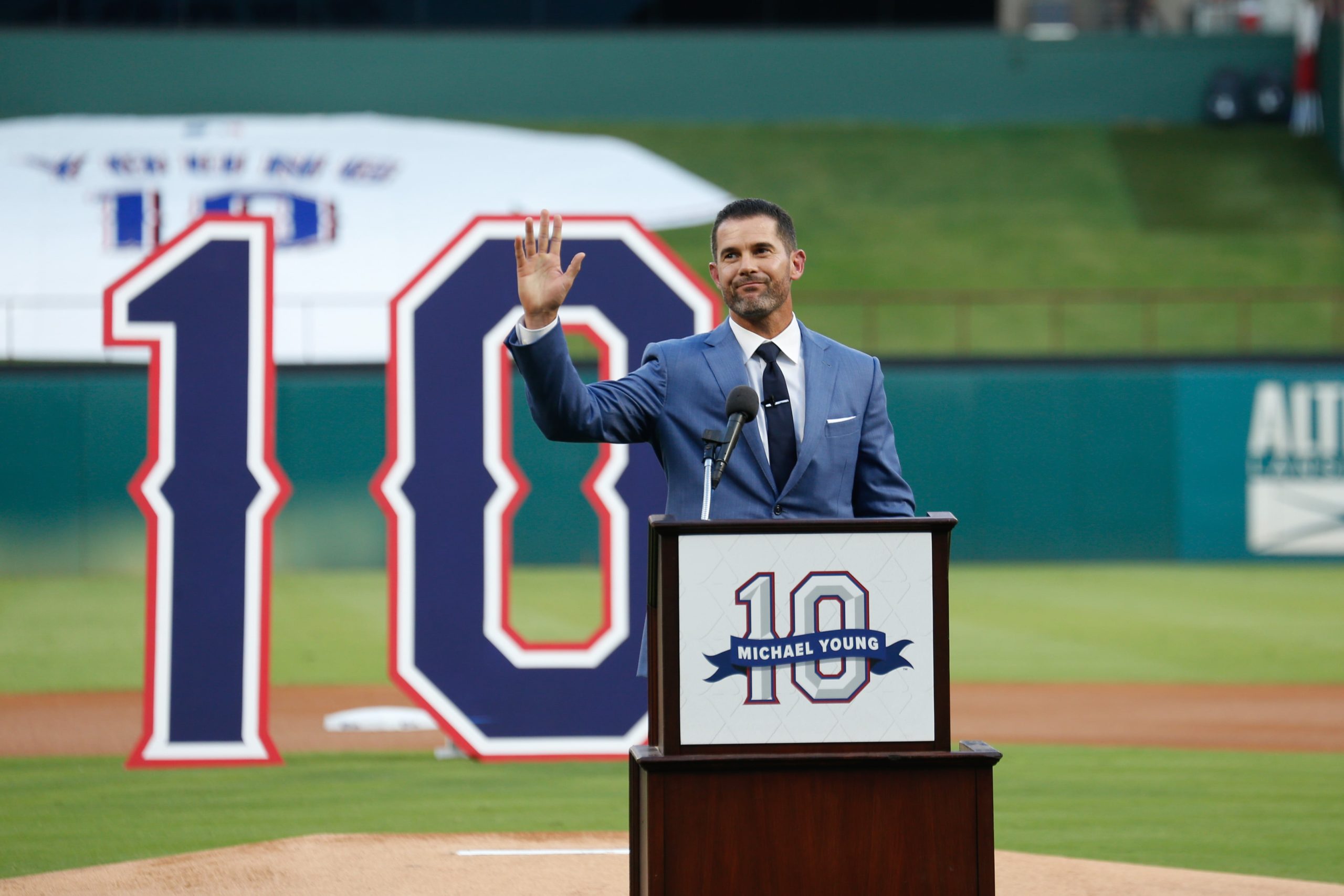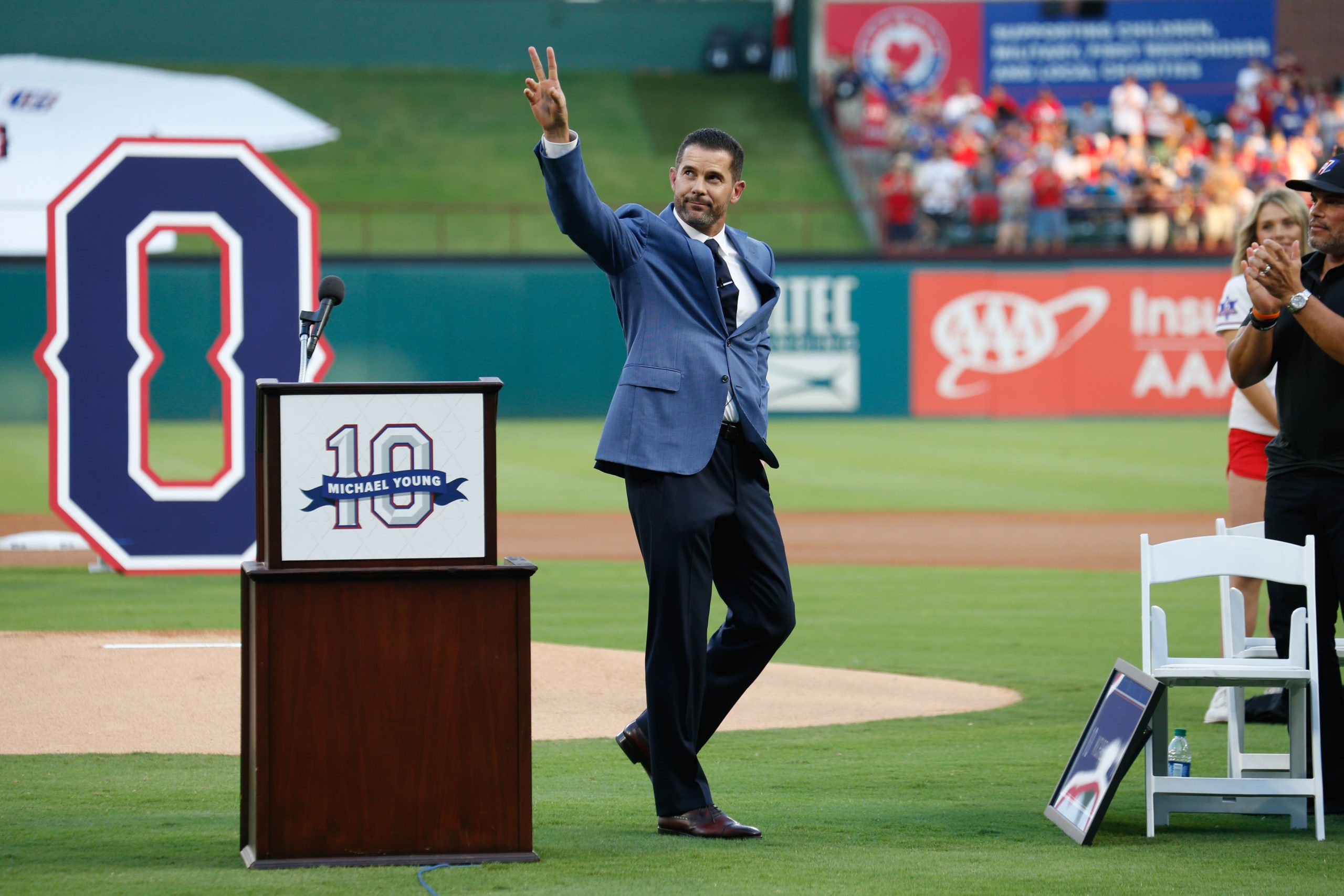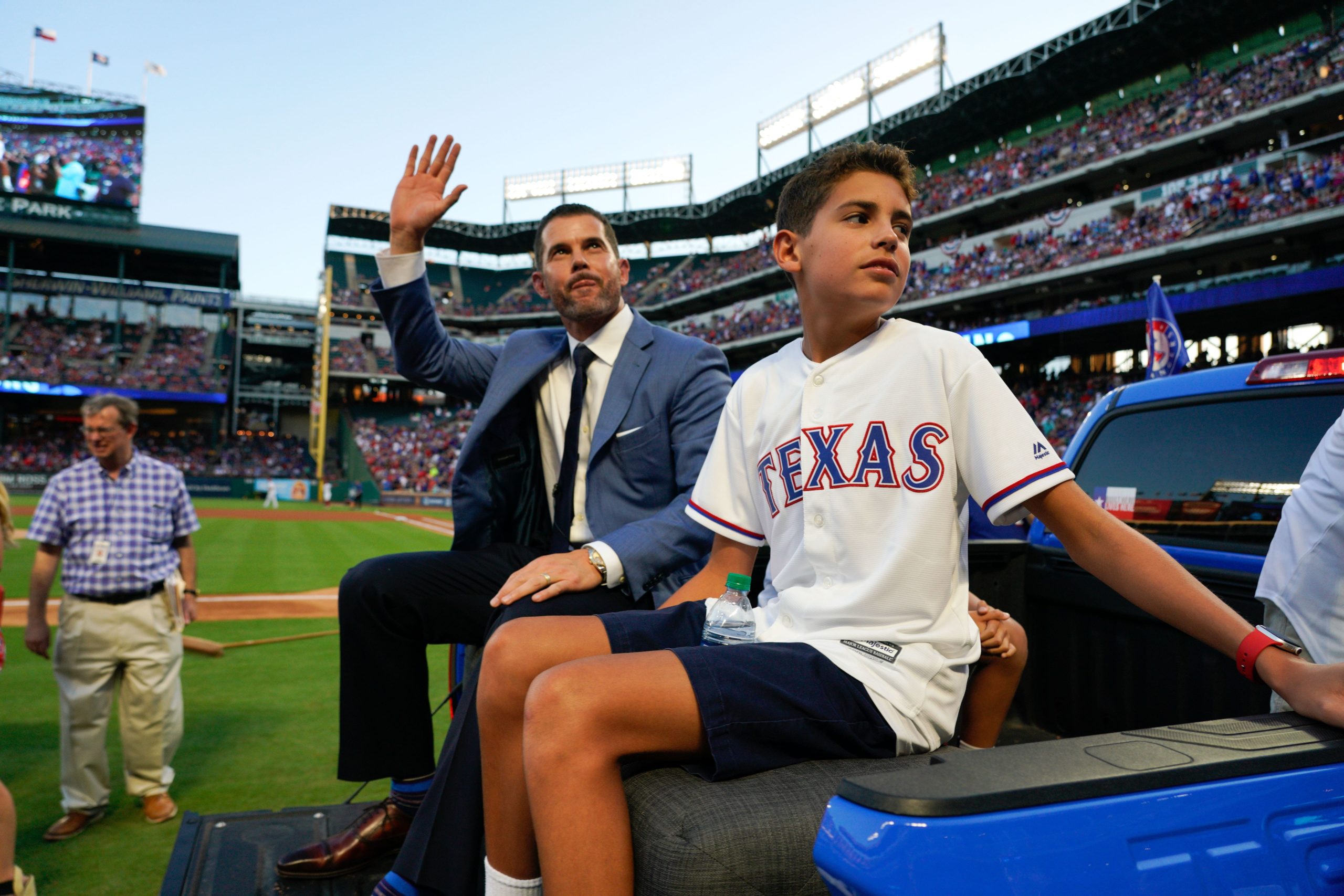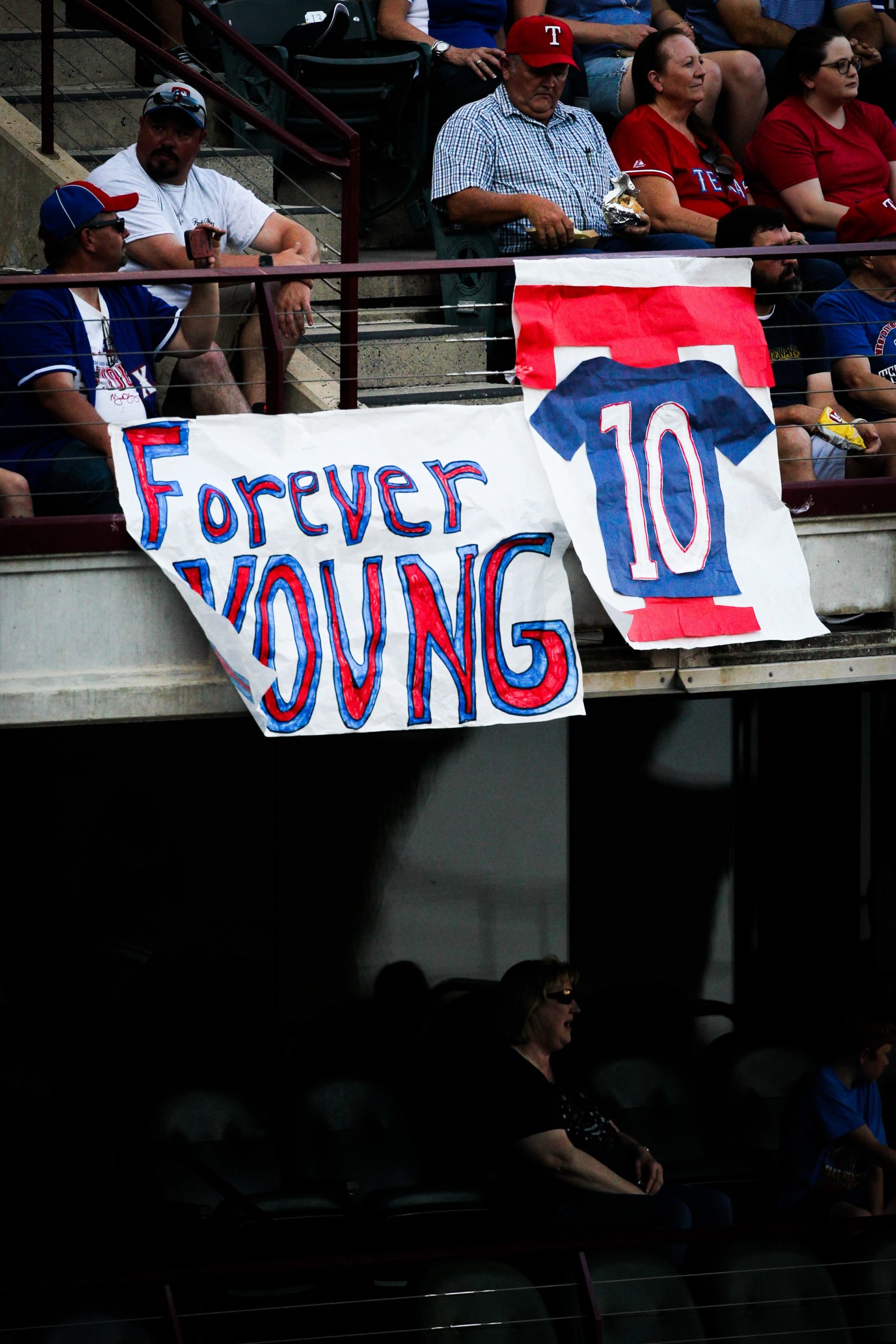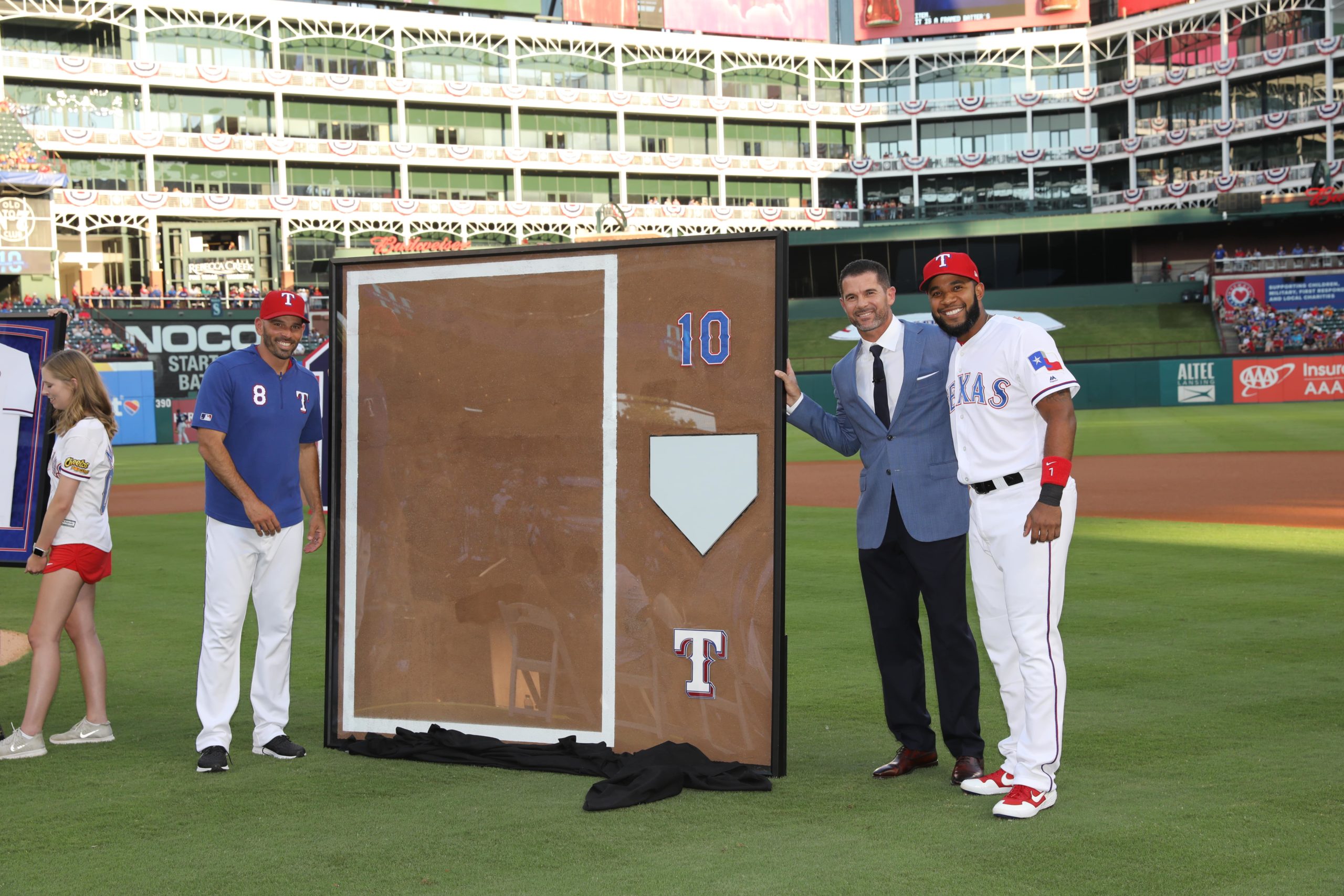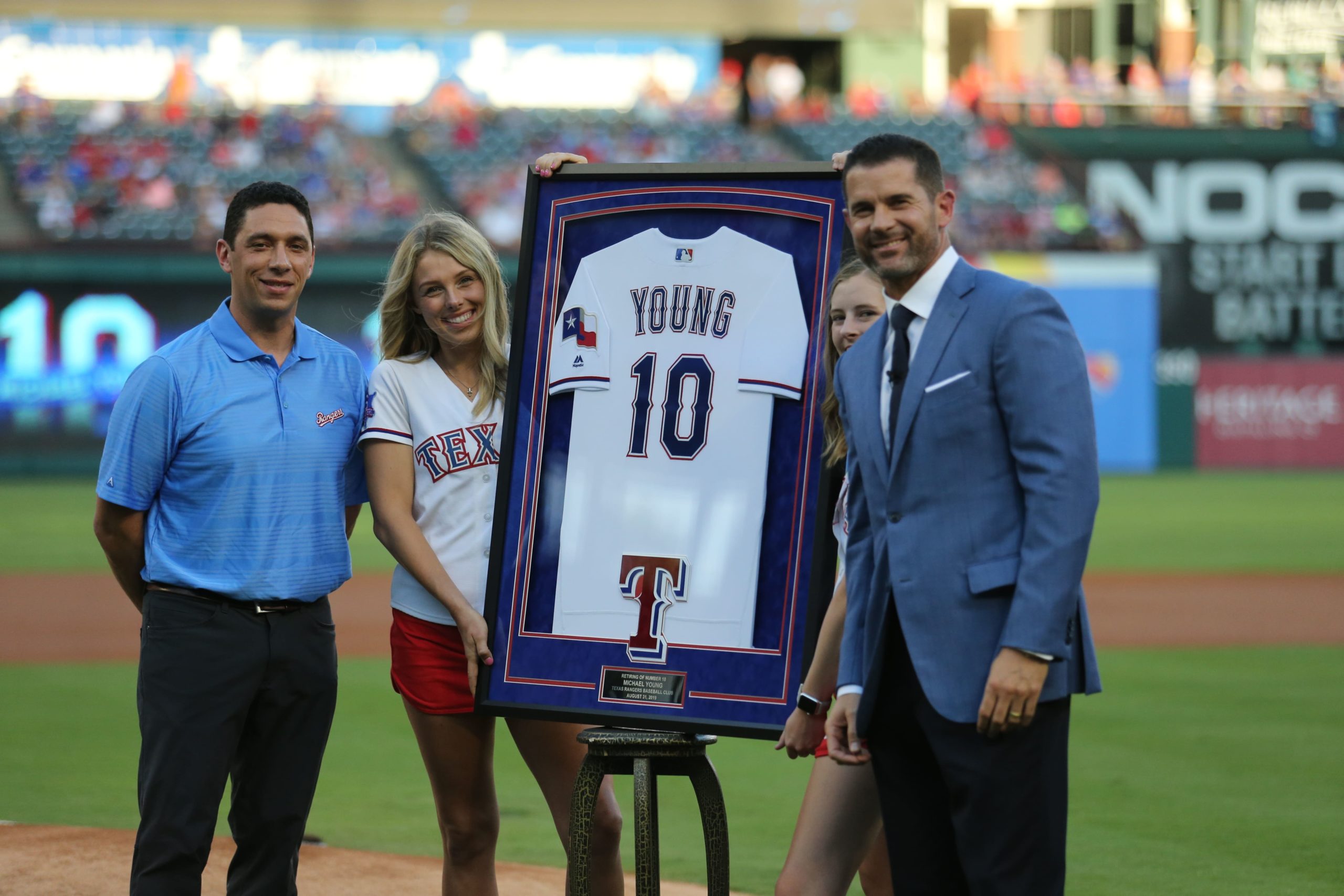 Rangers retire Michael Young's No. 10
August 31, 2019
The 7-time All-Star and franchise leader in career games played, hits and several other categories saw his No. 10 officially become retired from the Rangers.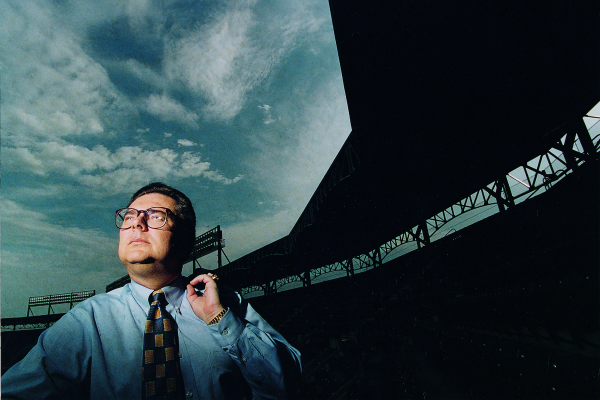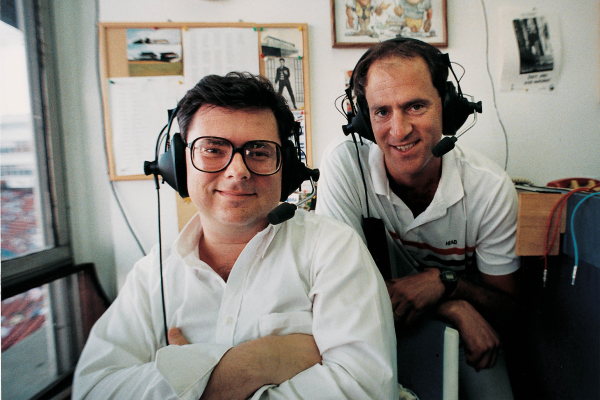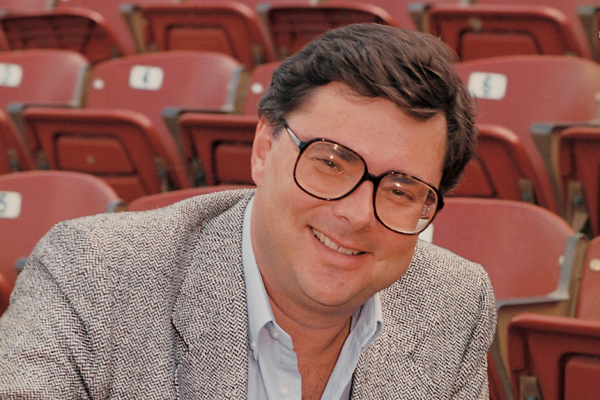 Mark Holtz dies from leukemia
September 7, 1997
Longtime Rangers broadcaster Mark Holtz loses his battle with leukemia at age 51. Holtz broadcasted Rangers games from 1981-1997. He began every home Rangers broadcast by stating "It's baseball time in Texas!" and closed out every Rangers win with "Hello win column!"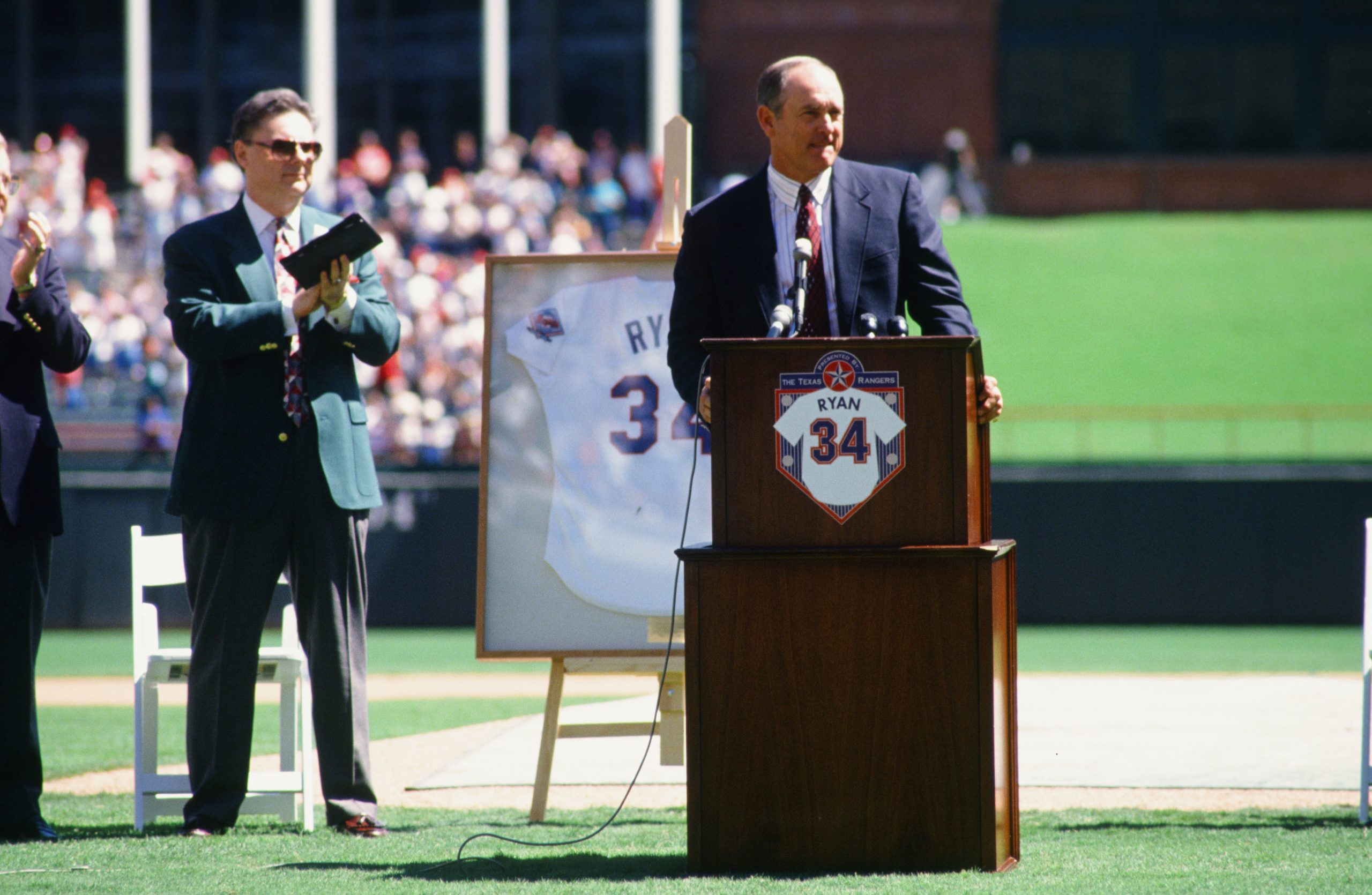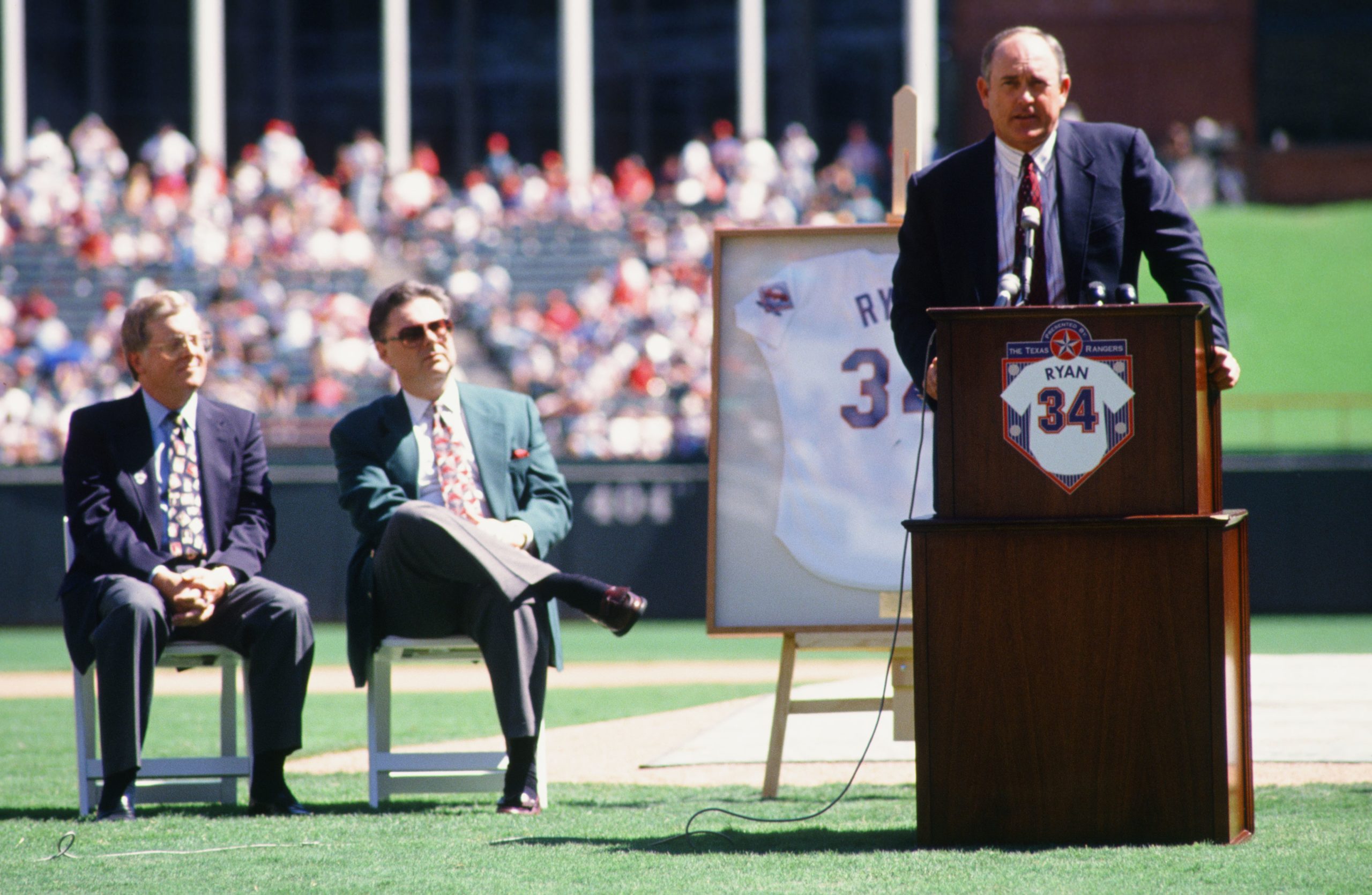 Rangers retire Nolan Ryan's No. 34
September 15, 1996
Nolan Ryan saw his No. 34 retired from the Rangers after pitching with the club for 5 seasons from 1989-1993. In his first season in Arlington, Ryan struckout 301 batters and picked up career strikeout No. 5,000.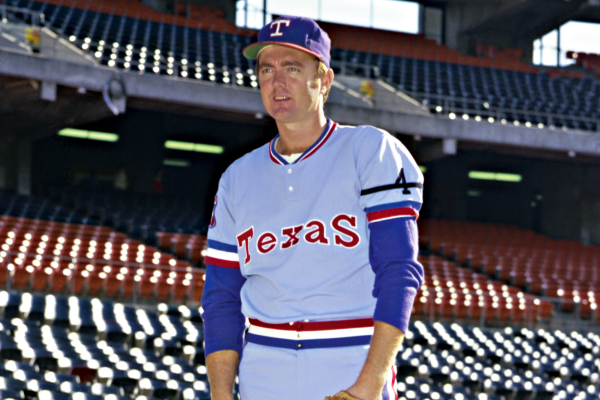 Bert Blyleven throws the second no-hitter in Rangers franchise history
September 22, 1977
Rangers right-hander Bert Blyleven caps off an impressive 1977 campaign by no-hitting the Angels in his final start of the season. Blyleven strikes out 7 batters and allows just 1 walk, becoming the second Rangers pitcher to throw a no-hitter and finishes his year with a 2.72 ERA.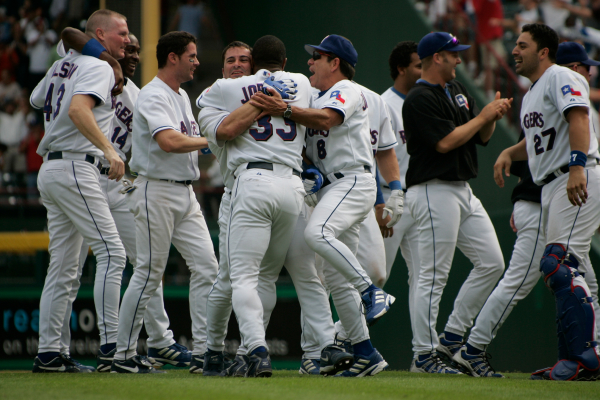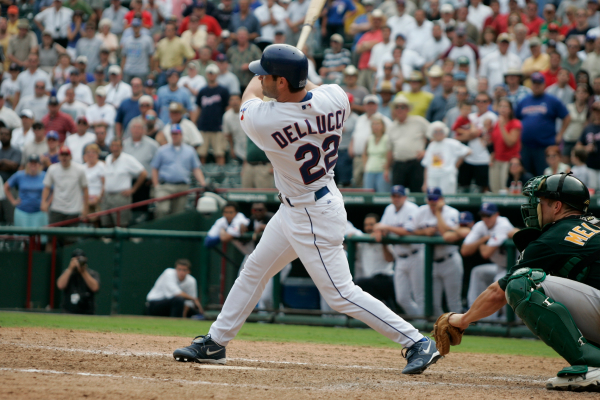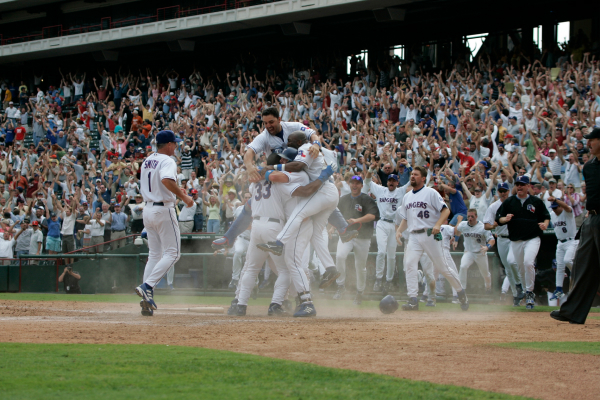 David Dellucci hits a walk-off 2-run double vs Oakland
September 23, 2004
Trailing by two runs entering the 9th inning, Hank Blalock's solo home run cuts the deficit to one and David Dellucci caps off the comeback with a walk-off 2-run double to give the Rangers a critical late season win.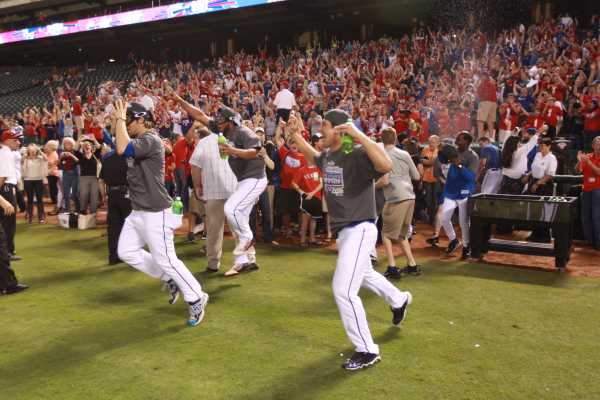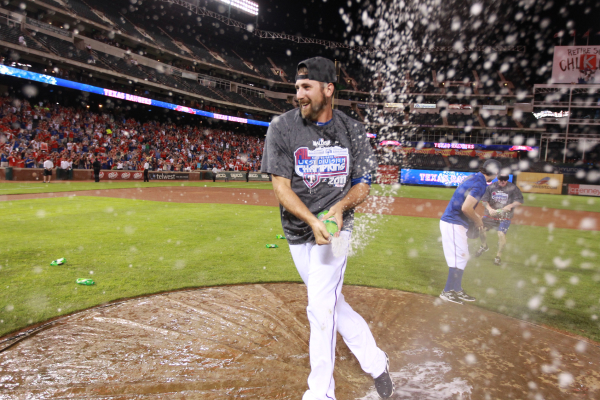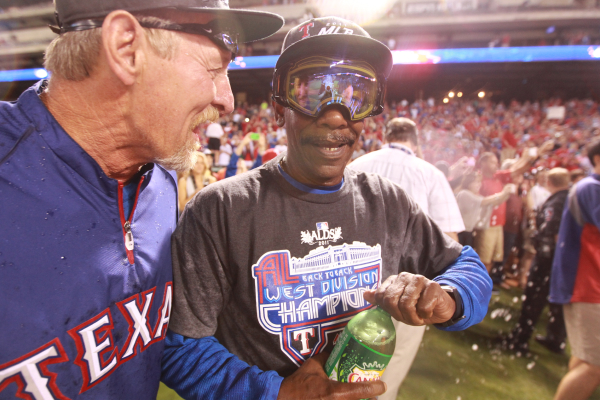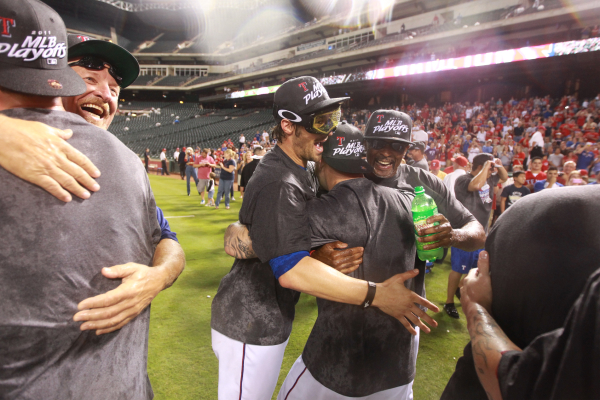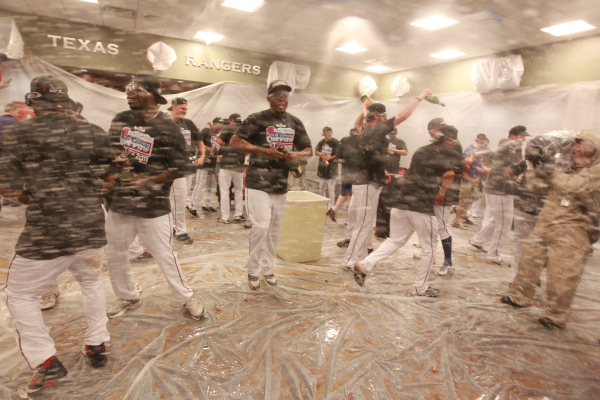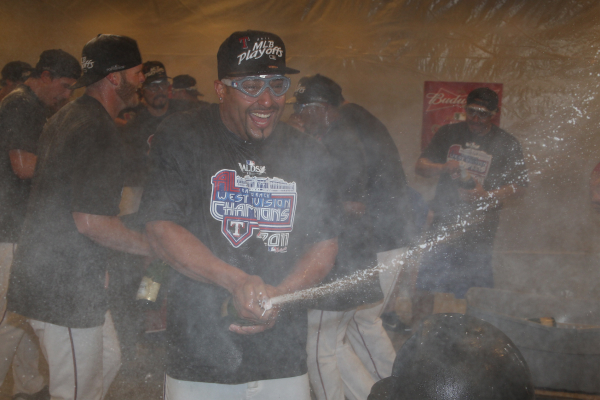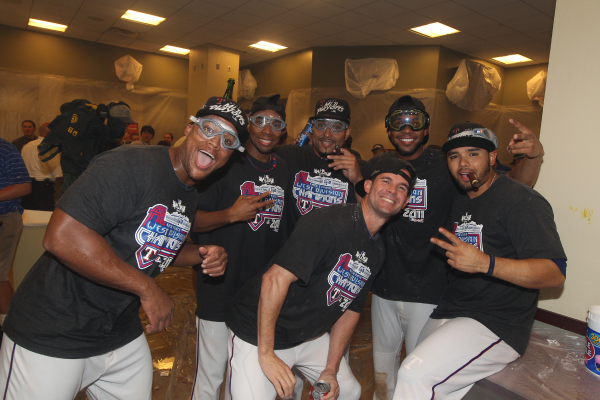 Rangers clinch AL West for the second straight season
September 23, 2011
The Rangers defeat the Mariners 5-3 at home and move their magic number to 1. With a 3-1 Angels loss later in the night against Oakland, the Rangers clinch the AL West in consecutive seasons for the first time in franchise history.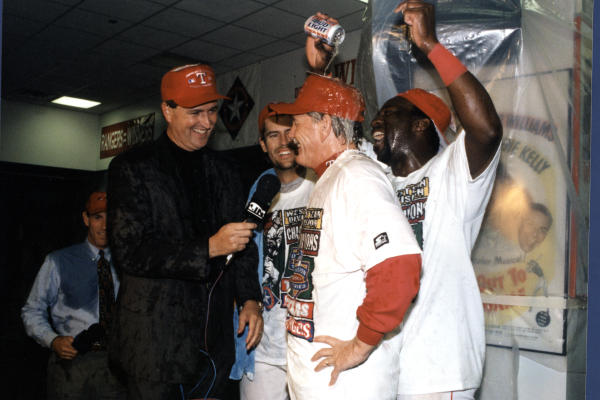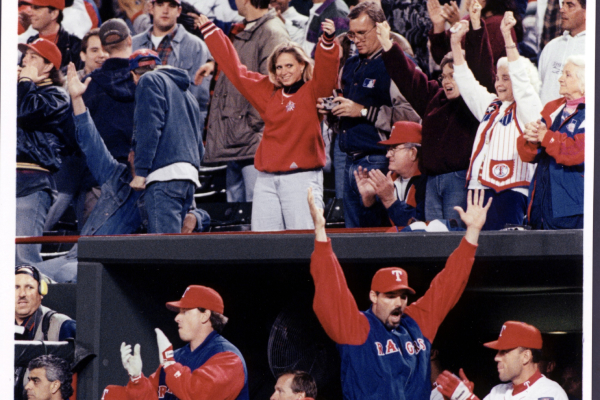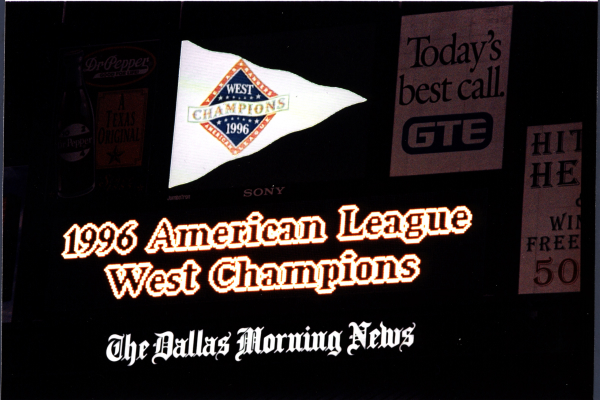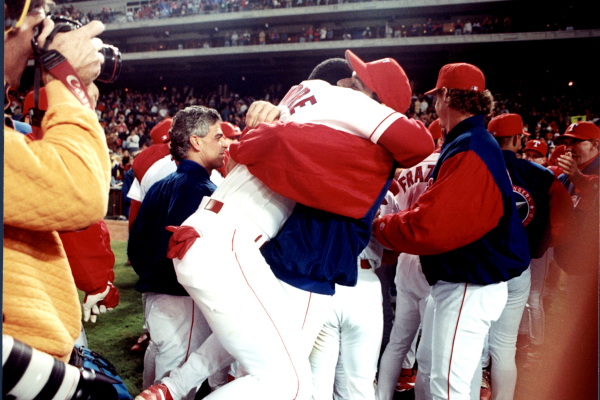 Rangers clinch first division title in franchise history
September 27, 1996
In the middle of an extra inning game against the Angels, the Rangers see the final score "Oakland 8, Seattle 1" posted on the scoreboard, giving the Rangers their first AL West division title in franchise history.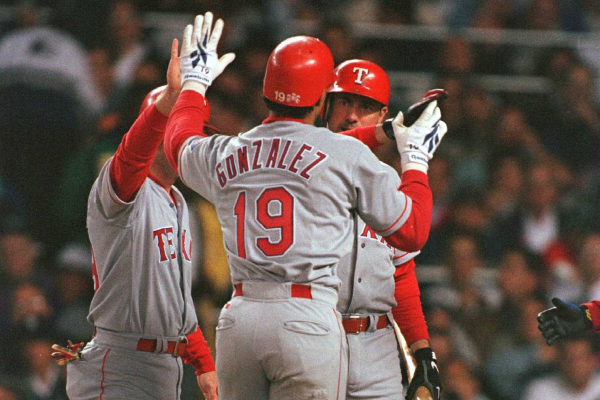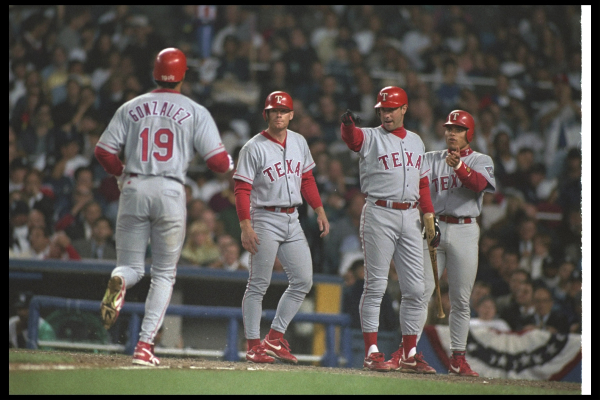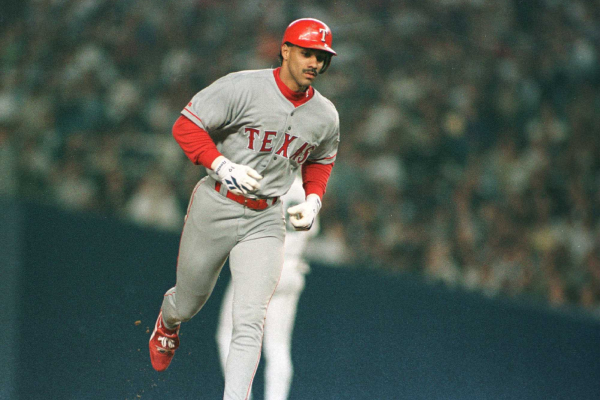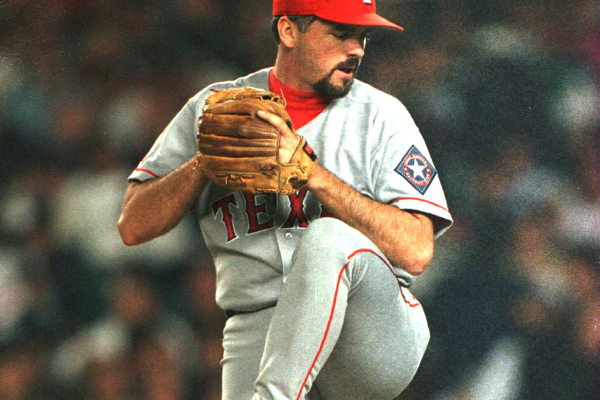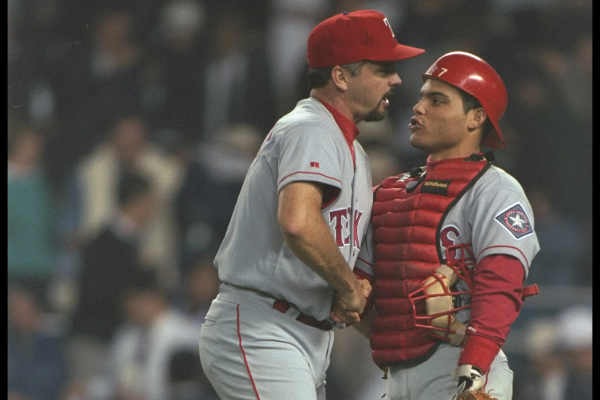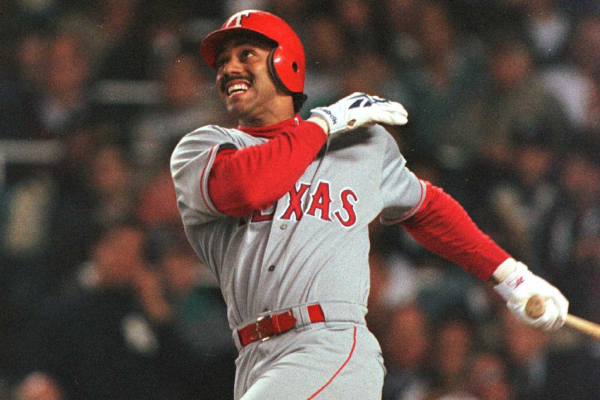 Rangers beat the Yankees 6-2 in their first ever playoff game
October 1, 1996
The Rangers win their first ever playoff game 6-2 against the New York Yankees. Home runs from Juan Gonzalez and Dean Palmer in the 4th paired with John Burkett's complete game powers the Rangers to victory in Game 1 of the ALDS.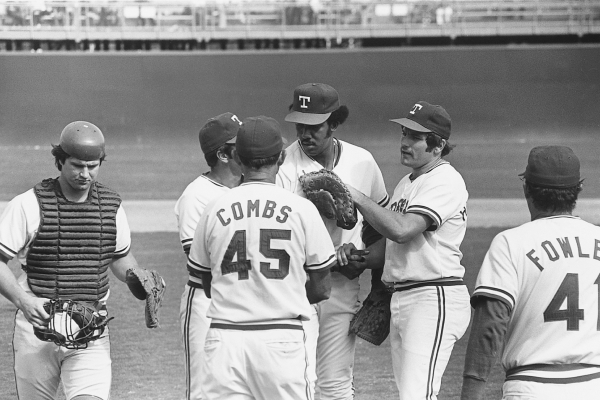 Fergie Jenkins wins his 25th game of the season
October 2, 1974
Fergie Jenkins tosses 7 innings of 1-run ball against the Twins in the 1974 season finale and picks up win No. 25 on the season to set a Rangers franchise record that still stands to this day.
DOWNLOADS
Keep the anniversary vibe alive on all your screens all season long.
Desktop Wallpaper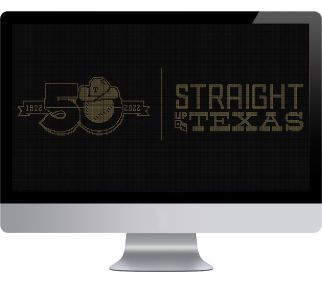 Phone Wallpaper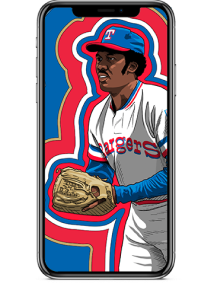 Schedule
Make your plans to join us at Globe Life Field during this special season.